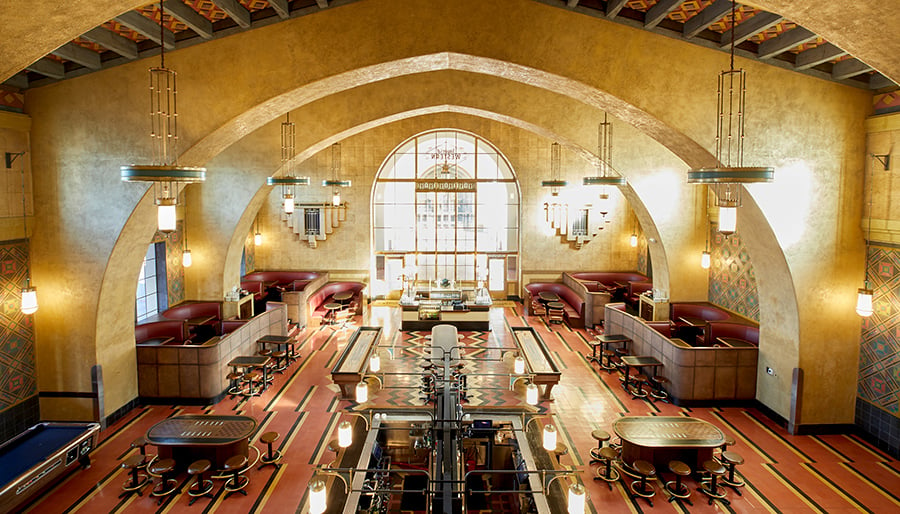 April 23, 2019
L.A.'s Flourishing Hospitality Industry Is Embracing Historic Architecture
Metropolis speaks with Historic Resources Group, 213 Hospitality, Design, Bitches, and other key hospitality designers and developers working in the city.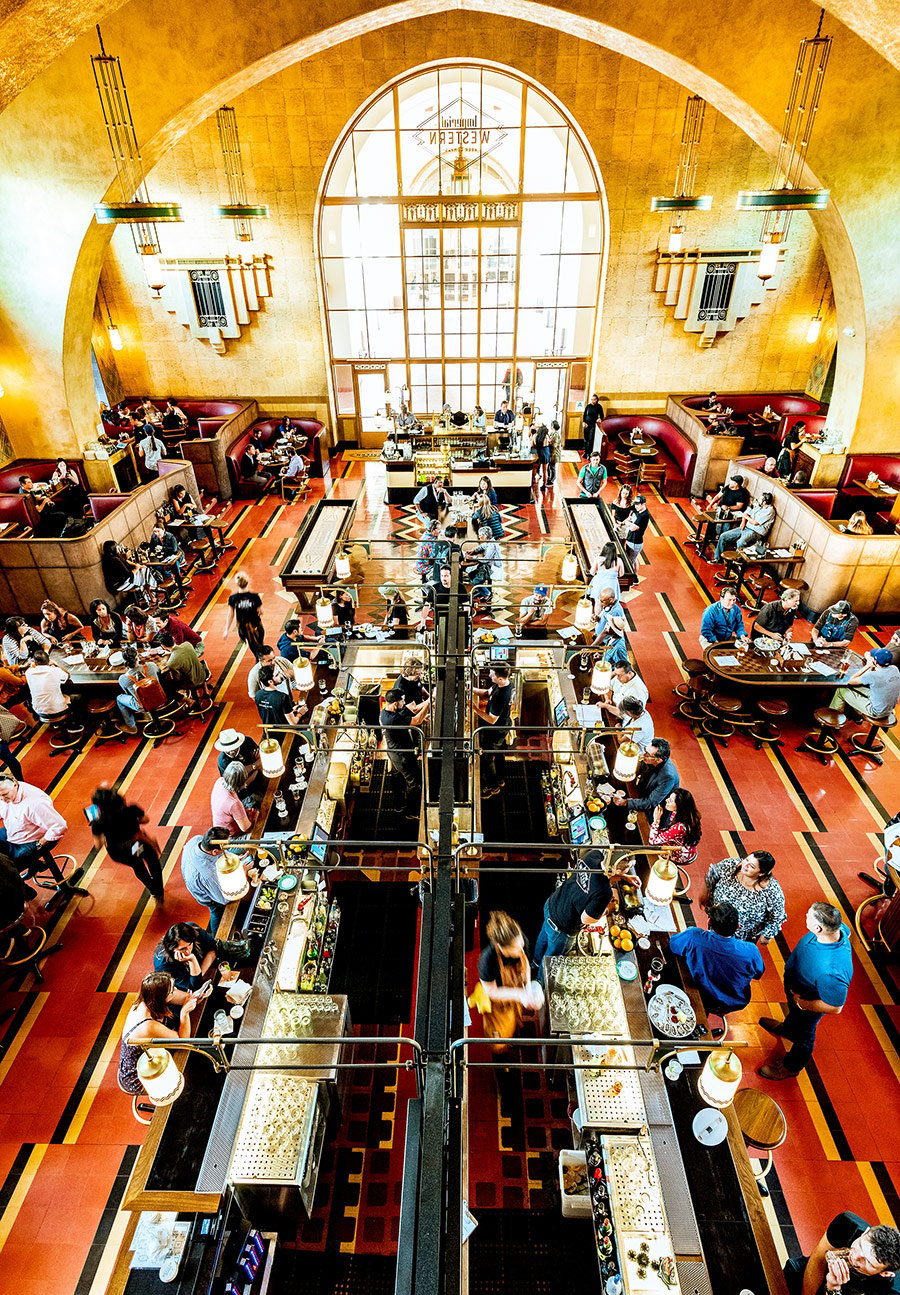 ---
Peyton Hall laughs when he remembers a call he got in 2003 from a developer client fresh off a successful hotel launch in Los Angeles. The developer, whose transformation of a neglected midcentury building into a boutique hotel had turned heads among the hipper-than-thou set, was in search of another L.A. property ripe for reuse.
"We've come a long way from 1980, when people didn't want to touch historic buildings because they were too much trouble and too expensive," says Hall, who is a principal architect at the Pasadena-based Historic Resources Group, a historic preservation consulting firm. When Hall first moved to the city, interest in local architectural relics was arguably at its nadir. "Now we have a developer looking for them," he recalls. That the client's enthusiasm included postwar structures, a style then only tepidly appreciated by the general public, made the call all the more memorable.
Though adaptive reuse may have been a novelty in the early aughts, it is now an in-demand practice in Los Angeles—and one that's dovetailed with the city's recent hotel and restaurant boom.
"L.A. has a reputation for being a progressive city architecturally, and a city that's always transforming itself," says Eric Needleman, cofounder of 213 Hospitality. Needleman and his partner Cedd Moses develop and operate bars known for, aside from top-tier mixology, their siting in older building stock. "We have an amazing amount of architecturally significant historic buildings. I think people have grown to appreciate what those have to offer."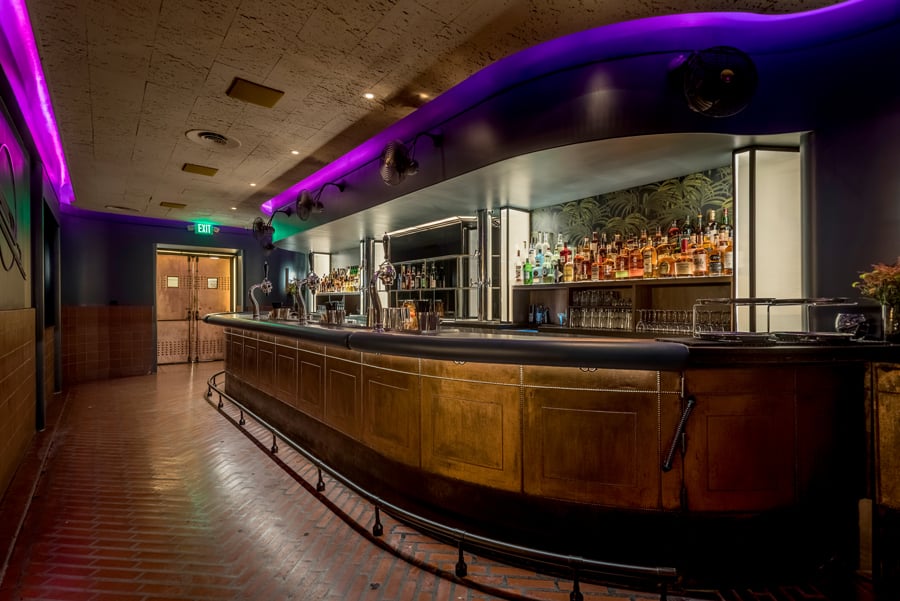 ---
213 Hospitality gambled on downtown L.A. early on, opening spots including the Golden Gopher, Seven Grand, and the Varnish between 2004 and 2009. And 213's latest project, built within a 1939 landmark designed by John and Donald Parkinson, is one loaded with civic importance. Impressed by the firm's track record, the Los Angeles County Metropolitan Transportation Authority approached the group to renovate and revive what had been the Fred Harvey Room restaurant (designed, in fact, by Mary Colter) and an adjacent, more intimate bar in Union Station—a space whose use for years had been limited to private events and film production.
After over two years of construction with lead interior architect Janel Wright in collaboration with AvroKO and preservation consultancy Architectural Resources Group, the Imperial Western Beer Company and Streamliner Bar, a cocktail lounge, opened in fall 2018, infusing the beloved Art Deco and Spanish Colonial Revival–style transit hub with new energy. The former kitchen commissary behind Imperial Western now boasts a fully operational craft brewery, where details such as sea green–hued ceramic glazed tiles were exactingly matched and reproduced wherever the originals were missing or broken. "We had to be very precise about what we were doing, and how we were doing it," Wright explains about the overall process.
In the Imperial Western's double-height main space, interiors feature restored hand stenciling and deluxe banquettes, brought back to their original appearance following intensive research. Revelers enjoying food and drinks in this painstakingly rehabilitated hall are mere steps away from mass transit, in what feels like a symbolic move for a city making a genuine effort to move past its automobile-centric habits. "It's supposed to be for the public, and honoring the history of what the original architects did was the guiding principle for all of us," Wright says.
"People are looking for spaces that feel like they belong in a place," observes architect Catherine Johnson of L.A.-based studio Design, Bitches. With her partner Rebecca Rudolph, Johnson renovated the underutilized second story of a 1920s Masonic lodge in the quickly gentrifying Highland Park neighborhood, transforming it into Checker Hall, a bar and restaurant, and the Lodge Room, a live performance venue.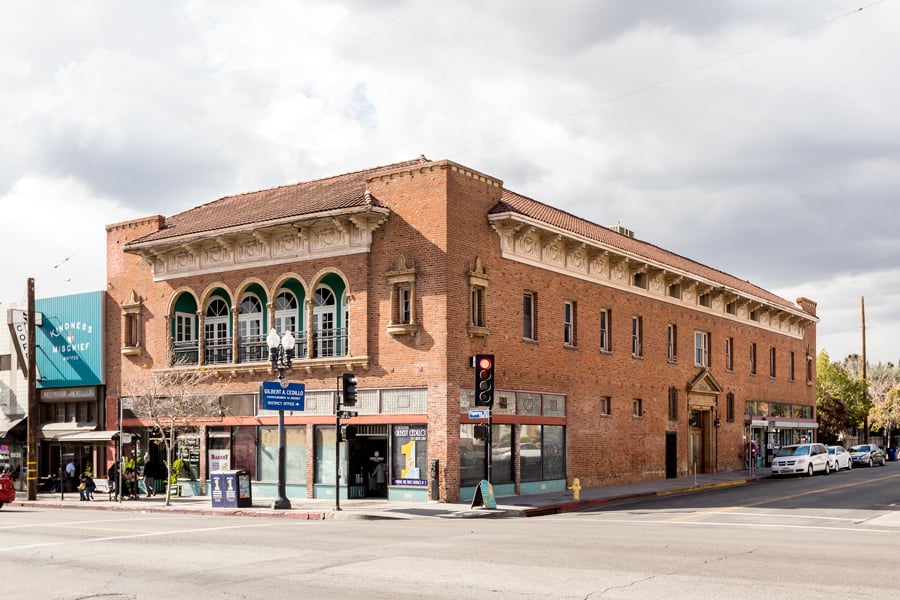 ---
In this type of setting, there's an opportunity "to bridge time periods together," Johnson says, thanks to the intact elements that reveal the site's Masonic roots (think original moldings, murals, and hardware). Johnson and Rudolph had fun with new features, too: The shape of Checker Hall's central bar is a stylized Square and Compass in plan. "A little wink and a nod," Johnson says.
Los Angeles's regulatory environment has been an encouraging factor in the citywide embrace of adaptive reuse. The State Historical Building Code "helps in solving problems with building and fire departments," notes Historic Resources Group's Hall. The city's Adaptive Reuse Ordinance is also important, he adds, referencing a 1999 policy that was first rolled out downtown before being expanded to other communities. Through the ordinance, developers of adaptive-reuse spaces benefit from an expedited approval process, and leniency in zoning and code requirements.
Financial assistance programs including the Mills Act, which offers reduced property taxes, and the federal Historic Rehabilitation Tax Credit have also proved to be important tools. And because historic preservation has outgrown its stepchild role, the City of Los Angeles established the Office of Historic Resources as an arm of the Department of City Planning in 2004, a shift from when the Historic Preservation Division operated within the Cultural Affairs Department.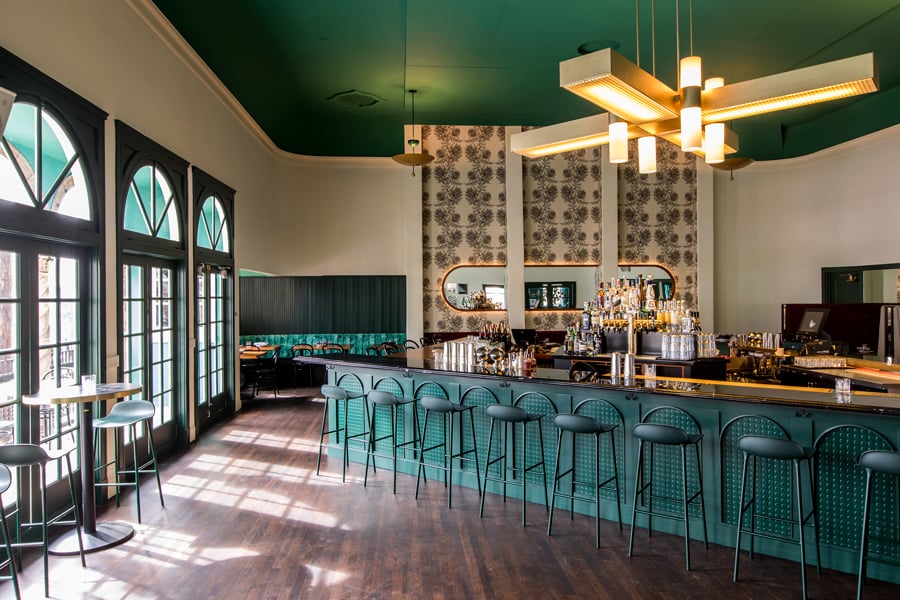 This ethic and excitement affects a range of building types and neighborhoods. In Santa Monica, celebrated chef Jeremy Fox's Birdie G's restaurant at Bergamot Station, a onetime railroad depot that's been an arts complex since the 1990s, will open this spring in a structure that once contained the Santa Monica Museum of Art. (That institution has since rebranded as the Institute of Contemporary Art, Los Angeles, and moved to a building Kulapat Yantrasast of wHY Architects repurposed in the Arts District.) Montalba Architects' scheme at Birdie G's accounts for the multiple layers of history in the 5,000-square-foot space. There's also an Expo Line light-rail stop nearby.
And the movement keeps gaining momentum. The ten-room Firehouse Hotel and restaurant from entrepreneur Dustin Lancaster and interior designer Sally Breer is positioned to be the Arts District's next hot hangout, along with the Warehouse from Soho House nearby. Proper Hospitality is on track to open luxury hotels in vintage architecture downtown and in Santa Monica this year, both with designer Kelly Wearstler's stamp, and with marquee food-world names attached.
"Hospitality is a great way to bring [these structures] back to life because so many people get to experience them on a daily basis," Needleman says of gems within L.A.'s built environment. "The opportunity is wonderful, and the impact of a food and beverage space, or a hotel, is that much greater."
You may also enjoy "The Hospitality Industry Is Increasingly Stepping Up to Reuse Historic Buildings."
Would you like to comment on this article? Send your thoughts to: [email protected]