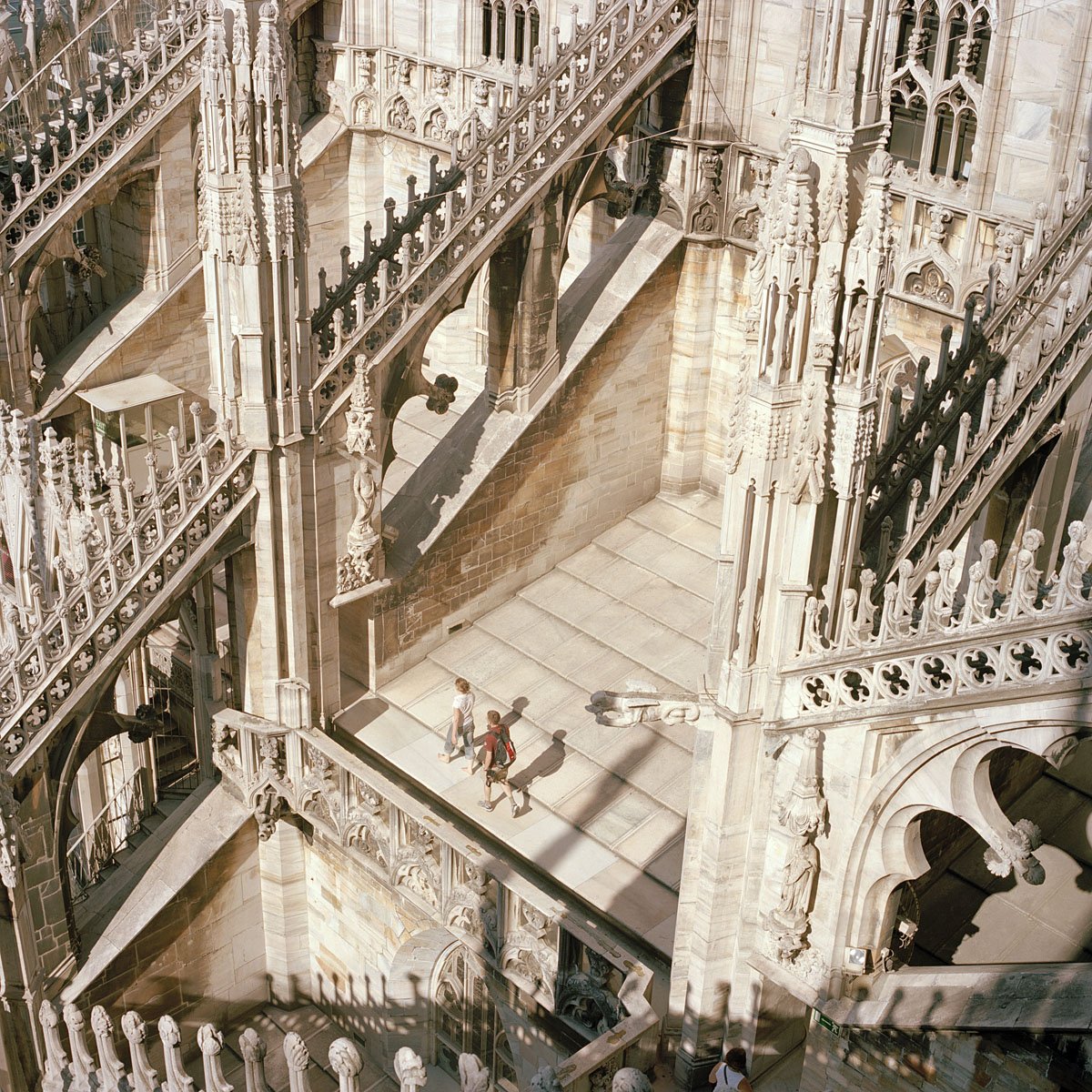 August 11, 2014
Lyle Rexer on Why Context in Architectural Photography Matters
Lyle Rexer examines the visual legacy of Metropolis.
Kevin Kunstadt
Duomo, Milan, Italy, 2010
To find Horace Havemeyer III's self-portrait, look among the kind of photographs he published in Metropolis. You'll glimpse the lover of form, the intellectual aesthete, the bearer of an animated gaze. And yet appearances always point toward those things not immediately visible, things he was most interested in: the use of objects, the ways in which design registers bodies and mediates responsibilities and desires. Above all, the way it connects bodies one to another, in space and over time. Context is what I am describing, and, with architecture especially, that relationship between form and context—adventitious or incongruous, synergistic or hostile, but above all dynamic—is the true subject of the photographs Metropolis publishes.
There is a paradox at the heart of photography's relation to architecture, captured by its two pioneers, Louis-Jacques-Mandé Daguerre and William Henry Fox Talbot. They both shot almost identical views of Paris boulevards, and, in both cases, the streets appeared empty. Primitive photo emulsions required long exposures, rendering moving things invisible. Inanimate architecture persisted, but its human users vanished. Photography evolved toward the capture of the fleeting instant, so that all things would be endowed with the same velocity and the same degree of presence—but only in appearance.
So buildings continue to haunt photography with questions not of form, but of scale and process: incommensurate time frames, incommensurate landscapes, incommensurate senses of habitation (bodies as vessels versus buildings as containers), disparate socioeconomic experiences, all within the same frame. Many of the photographs in Metropolis turn on the question of how things belong to each other, how they exist in the same world, and, by implication, how they came to be that way. The photographs of Martien Mulder in Chandigarh depicting isolated figures moving or at rest within the city's spaces comment on—pass an equivocal judgment on, really—Lucien Hervé's photograph of Le Corbusier at work directing the building of a city. What is context?
A city comes largely out of a Frenchman's head, itself a black box of personal history and cultural inheritance, to be built all at once—not haphazardly but according to design, universal in ambition yet conceptually bound to its moment. Then the scheme must yield to its enacting. Context is the thoughts in the mind of the Sikh who walks its corridors, and on a different level it is the budget demands, met or unmet, of maintaining the concrete. Context might even extend to the nearby Rock Garden, a visionary environment created by the outsider artist Nek Chand, who worked as a road builder on the city's original construction.
Schemes must everywhere yield to their enacting, which has to be the great joy of critics and the secret frustration of architects—why else would they insist on those empty, pristine, soulless photos in their portfolios? Mausoleum photos, without the profundity of Guido Guidi. If Palladio had known photography, wouldn't he have wanted for his portfolio a snap of Goethe eating grapes under the arcade in Vicenza, a picture of perfect happiness (Goethe said so) promoted by a building?
Ezra Stoller
United Nations, New York City, 1950
Architect: Wallace K. Harrison, with Oscar Niemeyer and Le Corbusier
©Ezra Stoller/Esto
In Ezra Stoller's photograph, the United Nations building rises from the muddy, confining chaos of an East Side construction site. Isn't context also about our contemplating, or perhaps recovering, our own lost dreams and better intentions? World peace is a process of construction and—like Le Corbusier and Oscar Niemeyer, who merged their designs for the complex—one of negotiation and compromise. The photograph becomes part of the building, part of the cloud of interpretations and experiences that form an invisible nimbus around every made thing. Robert Polidori's photograph of cows outside a housing complex in India is not an example of cheap irony: The presence of the "primitive" (and the sacred) is fully cognate with an aspiration to become modern.
In a time of relentless political criticism of the built environment on the one hand, and the triumph of semiotics (building as a structure of signs) on the other, Metropolis appears almost Pollyannaish. But the point of most photos in the magazine is not to judge outright or to stake out positions on the edge of theory, but to sharpen perception, to hone understanding in order to judge what happens to us in the presence of our productions. If that complicates things, then all the better. Iwan Baan's photographs of Tokyo and other cities might have been read differently 50 years ago, but now we tend to see them as harbingers of urban catastrophe, of a future of simultaneous sprawl and claustrophobic density. And yet, like every panoramic photograph made of a city since the 1920s, the solicitation to marvel is inescapable. Look what we've done. Look what we are doing and will do. Is it a comedy? Is it a tragedy? No photograph can carry the answer to that question.
Robert Polidori
Chandigarh, Punjab, India, from the book Robert Polidori's Metropolis
Martien Mulder
Untitled #2 (On The Roof), 2011 Palace of Assembly, Chandigarh, India
Architect: Le Corbusier
© F. L .C. /ADAGP, Paris/Artists Rights Society (ARS ), New York 2014
Christoph Morlinghaus
Atlantic locks of the Panama Canal, Panama, 2013
Simona Rota
Polytechnical Institute, Kiev, Ukraine, 2012, from the series Ostalgia
Architects: V. Dovgalyuk, A. Dumachev, V. Kryuchkov, V. Likhorodov, V. Sydorenko, A. Zykov
Iwan Baan
ZA-KOENJI Public Theatre, Tokyo, Japan, 2009
Architect: Toyo Ito & Associates
Courtesy Iwan Baan
Chen Jiagang
Night of Fengjie, 2011 From the Great Three Gorges series
Chen Jiagang courtesy the artist and Edwynn Houk Gallery, New York