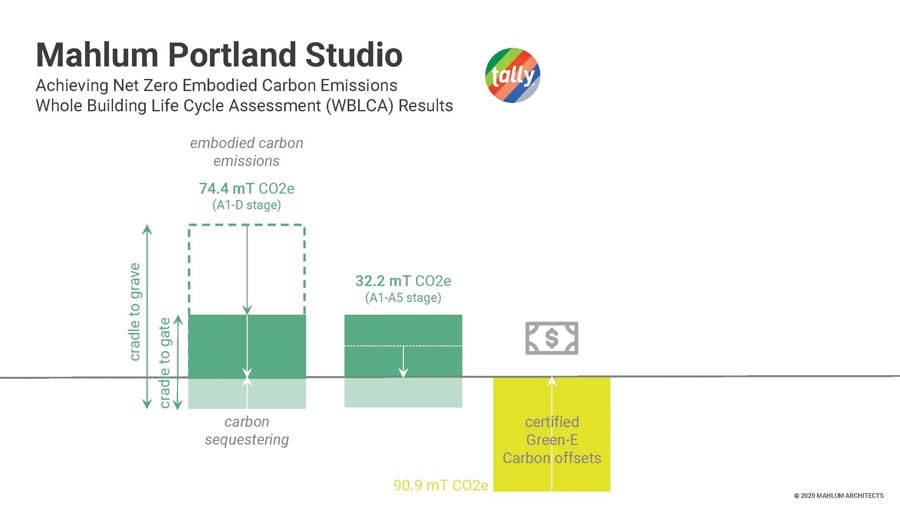 August 14, 2020
Mahlum Architects' New Office is the First Living Building–Certified Project in Portland
By following rigorous LBC guidelines, the group has turned the location into a model of its organizational values, including sustainable design.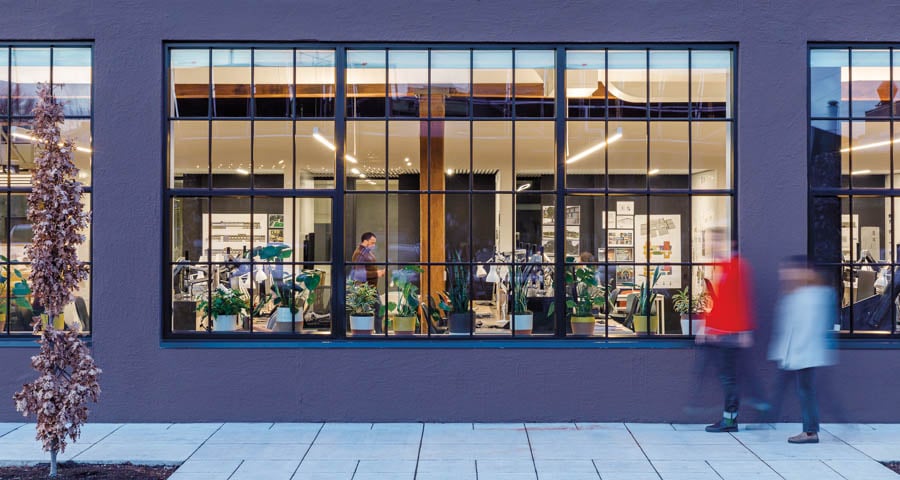 ---
The Custom Blocks complex in Portland, Oregon's Central Eastside Industrial District was an unlikely candidate to become the city's first Living Building Challenge (LBC)–certified project. Owned and occupied for more than half a century by the Custom Stamping company, a machineparts fabricator, the two-block cluster of warehouses was soaked in oil and grime. Yet after developer Capstone Partners commissioned a 2018 core-and-shell renovation to clean up and seismically bolster the structures, they proved ideal for a sustainable regeneration.
Mahlum Architects moved its Portland office to the Custom Blocks in November 2019. By following rigorous LBC guidelines, the group has turned the location into a model of its organizational values, including sustainable design.
---
The firm had previously occupied a space in the city's Pearl District, until concerns about that building's unreinforced masonry prompted a search for a new local office. (The company's HQ is in Seattle.) Mahlum polled local employees to gauge priorities for a new workspace. "Number one was more collaborative space, followed by daylight and resiliency," recalls Mahlum partner Kurt Haapala.
The southwest corner of the Custom Blocks, which was built in the 1930s as a Chevrolet dealership, checked those boxes and met the team's requirements for location, daylight, seismic protection, and historic charm. Custom Blocks was becoming a community of creative companies, united by a shared lobby that cut through the entire block. At 7,500 square feet, there was space not only for desks (and, though it couldn't have been foreseen at the time, post-pandemic social distancing) but also for a large kitchen, collaborative breakout spaces, and a large community room that could be used to host events. The location—just across the Willamette River from downtown and with Bike and Walk Scores of 100 and 94—was also hard to beat.
Despite all of these attributes, when employees initially suggested following LBC criteria for the build-out, Mahlum's leadership was unsure. "We considered the cost and we wrung our hands. But we also asked ourselves, 'What's the damage of saying no to staff?' It wasn't pressure. But it wouldn't send the right message. We wanted our values in alignment," Haapala recalls.
---
While Mahlum had never designed an LBC-certified building before, Miller Hull, a Seattle firm next door to its headquarters, had and was willing to share its lessons. You can do this, the Miller Hull team told Mahlum's. But it may take twice as long as you think. "They were right," Haapala says with a laugh.
The LBC comprises seven performance categories, or "Petals": Materials, Place, Water, Energy, Health, Equity, and Beauty. Buildings achieving full Living Building status, like Seattle's Bullitt Center, meet standards in all seven areas. Satisfying only some can earn Petal certification. Mahlum's tenant improvement in the Custom Blocks attained certification in Materials, in addition to Place, Equity, and Beauty. "You have to hit one of three main Petals—such as Energy, Water, or Materials—as a starting point, then two or three others," explains Mahlum associate principal and specifier Jay Hindmarsh. The Place category was achieved by renovating the existing warehouse and not adding to its embodied carbon. The team met the Equity component by designing adjustable workstations, and Beauty by repurposing floorboards salvaged from historic Fort Vancouver in a new foyer entry display dubbed the Curio Cabinet, now personalized with employee mementos.
---
Additionally, the structure's massive old-growth Douglas fir ceiling beams and posts were left exposed. From cabinetry and wall panels to desks and screens, Mahlum vetted over 350 manufactured materials, working with partners to confirm ingredients and avoid Red List chemicals and VOCs. The firm also commissioned a 50-year life-cycle assessment to help achieve net-zero embodied carbon emissions.
"The good news is the industry is moving in the right direction. Large and small companies are rallying around this, and coalitions of companies are coming together around material transparency," Hindmarsh says. "They're saying, 'Come to us first.' But it's still a fairly select group of people. When you call suppliers to trace their material ingredients, you still hear a lot of things like 'It's a trade secret.' We need these LBC projects to prompt manufacturers to invest in transparency."
You may also enjoy "An East Austin Fabrication Shop Is Transformed Into a Refined Beer Hall."
Would you like to comment on this article? Send your thoughts to: [email protected]
---
Register here for Metropolis Webinars
Connect with experts and design leaders on the most important conversations of the day.