December 9, 2020
How Mass Timber Could Help Reduce Wildfire Risk
The burgeoning industry has the potential to drastically reduce the carbon footprint of buildings, but also help with wildfire mitigation.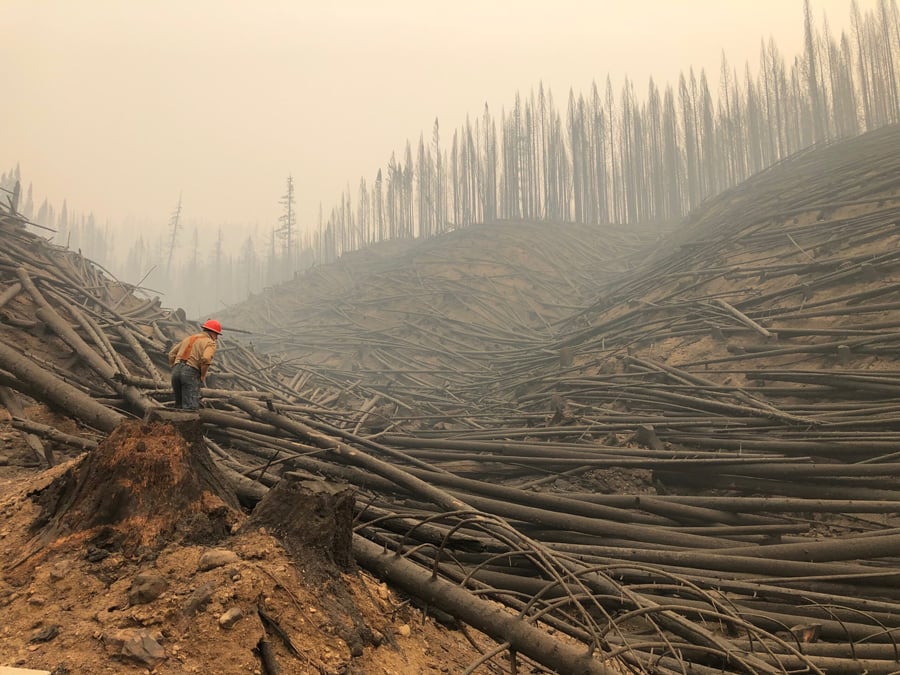 In September, severe wildfires began ravaging forested areas in Oregon, ultimately burning 1 million acres. The state's lumber industry was hit hard, including Freres Lumber, located in in Santiam Canyon, in the foothills of the Cascades. The nearly-100-year-old company lost about 7,500 acres out of its 17,000 acres of timberland to the flames. Fortunately, its production facilities remained intact, including a three-year-old $40 million mass timber plant. But despite the recent setbacks, the company thinks it has a good path forward. "We truly believe that [our mass timber product] is a win-win situation not only for the environment, but also for our forests, by encouraging proper forest management, and for our local communities, which have suffered due to a lack of economic activity since the early '90s," says Kyle Freres, vice president of operations at the family-owned company.
While climate change has clearly increased the severity of wildfires, forestry experts say the situation on the ground has also been a contributing factor. Fire suppression and exclusion practices have created a build-up of flammable material in forests, which could be reduced through controlled burns as well as thinning of small trees and shrubs.  Mass timber products, which are surging in popularity as a low-carbon alternative to concrete and steel, could create an economic incentive for thinning. This virtuous cycle could help drive the mass timber market, estimated to be more than $2 billion worldwide by 2025.
The lumber industry has, for the most part, been uninterested in small trees, or "small-diameter trees." But mass timber, which is structurally engineered of many layers to reach a gestalt of greater strength and stability, is by its very nature well suited for smaller trees. "You end up with less defects and more consistent grain fiber that meets a higher engineered capacity," says Freres, whose company has traditionally produced plywood from Douglas fir.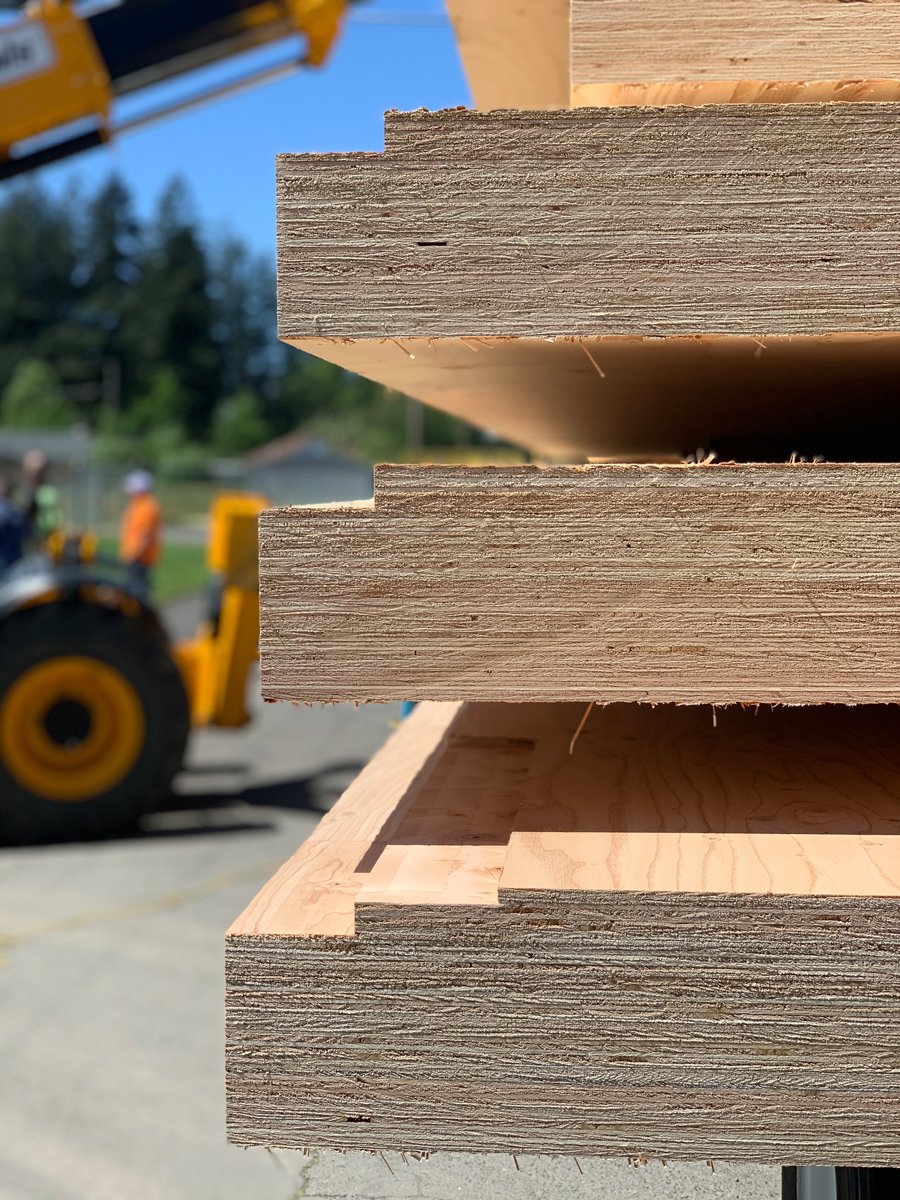 And a wider range of tree species can come into play. "What would really move the dial is to use [wood] fiber that doesn't have much commercial value for standard uses," says Iain Macdonald, director of the TallWood Design Institute at Oregon State University. Initial research has been encouraging: Studies of glued laminate timber (glulam) and cross-laminated timber (CLT) made from "low-value" small-diameter Ponderosa pine show that they perform as well as products made from larger-diameter trees of traditional lumber species.
One of the recent innovations in mass timber is Freres's mass plywood panels (MPP). Somewhat confusingly named, since plywood is not a structural material, these structural panels are similar to CLT. But instead of being made from pieces of standard lumber, the MPP are built up from much thinner 1/8-inch layers of veneer. To make the veneer that goes into engineered wood (versus decorative veneers), Freres peels logs like a roll of toilet paper, which minimizes waste. Like CLT, MPP can be used as floor and roof panels, as well as beams and columns in buildings up to 18 floors high, according to the latest International Building Code release. The ideal source of this veneer, according to the company, is smaller trees typically 9 inches in diameter (but as small as 5.5 inches). These trees are found in a forest's "2nd-growth suppressed understory"— just the type that would be thinned to mitigate wildfire risk.
Freres Lumber manages its Douglas fir forests via a schedule of thinning, clear-cutting, controlled burns, and replanting. A 2018 analysis by researchers at Oregon State University actually found that managed tree plantations fared worse in a fire than nearby forests. The findings suggest that diversity of tree species, of their height, and of their spacing are also important factors in mitigating wildfires. Thus obtaining the material for mass timber by thinning small trees from forests might make even more sense than growing it. Macdonald, the TallWood director, speculates that this approach could be useful to the USDA Forest Service, which devotes more than half of its annual budget to firefighting ($2.5 billion out of $4.77 billion in 2019). "Even if they supplied the fiber at no cost in order to make the supply chain viable, they would be in a better position because the cost of fighting fires is astronomical," he says.
In California, which has likewise been devastated by wildfires, the California Department of Forestry and Fire Protection (Cal Fire) is trying to encourage mass-timber production. There is currently no manufacturer in the state, although it is the largest consumer of engineered wood west of the Mississippi. Says Tim Robards, staff chief of forest health, wood products, and bioenergy at Cal Fire, "The idea is to get more work done to the landscape so that we're creating more resilient forests—to pests and to wildfires and to climate change in general."
---
You may also enjoy "Why Interior Designers Must Fight Climate Change"
Would you like to comment on this article? Send your thoughts to: [email protected]