July 17, 2019
Design Cities 2019: Memphis, Tennessee
A park in the city's long-neglected downtown illustrates that small, community-led changes are afoot.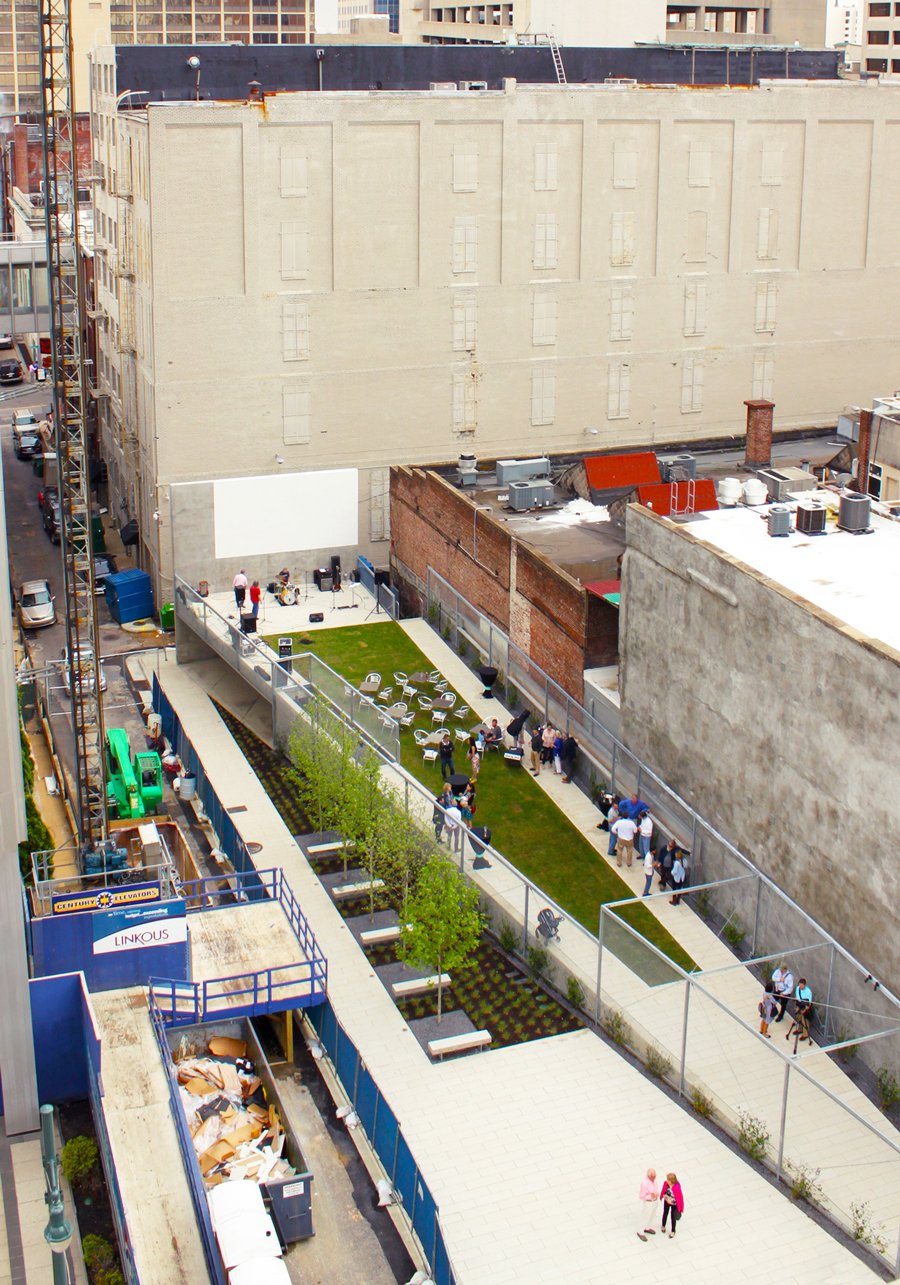 ---
Tennessee's second-largest city, Memphis, is beginning to recover from historic ills, even if high crime and poverty rates remain stubborn wounds. Urban sprawl has receded, and there is optimism about a return of investment to the downtown core. That mood is reflected in numerous adaptive reuse and infill projects, a new home for Ballet Memphis, and a bike-share system, to say nothing of a $75 million riverfront restoration and redevelopment plan. "Like many cities, Memphis is in competition to attract and retain a strong workforce by improving quality of life for residents," says architect Jeanne Gang, whose studio developed the riparian scheme.
Smaller in scale, and emblematic of the surgical and community-led moves to reshape the city, is the wedge-shaped Madison Avenue Park downtown. Opened in 2017 and designed by New York–based Davies Toews Architecture, the pocket park sits on an alley-facing rectangular lot where a Burger King once stood. Local lawyer Scott Crosby, who owns a stake in an Irish pub opposite the park, spearheaded the purchase of the site with help from foundation grants and private donations. (The nonprofit Center City Development Corporation now owns the property.) He then linked up with the PARC Foundation, which covered the design fees and construction costs.
In place of the fast-food relic, architects Jonathan Toews and Trattie Davies conceived a kind of surrealist stage set. "The PARC Foundation likes these odd Modernist things to add to the character of the city," says Toews.
Because the site is sloped, the husband-and-wife team designed the park as two adjacent triangles made of concrete pavers: One angles up toward the south, terminating at a concrete wall where movies can be screened. The other remains at grade and features concrete benches, trees, and grass. A vitrine cut out of the underside of the sloped wedge is home to rotating exhibitions from Memphis's Tops Gallery.
The small intervention is "trying to take advantage of weird adjacent scales" of the streetscape and remnants of signage on adjacent buildings, explains Davies. The project's four-year gestation period gave the architects an appreciation for slow change and imperfection—things Memphis will no doubt continue to experience in its evolution.
You may also enjoy "19 New Architecture and Design Books For This Summer."
Would you like to comment on this article? Send your thoughts to: [email protected]