October 4, 2018
Metropolis Launches Two-Day Symposium Devoted to Sustainability
Part of a broader, year-and-a-half-long probe into the definition of sustainable design, the magazine hosted a series of panels as part of its "Perspective" event series.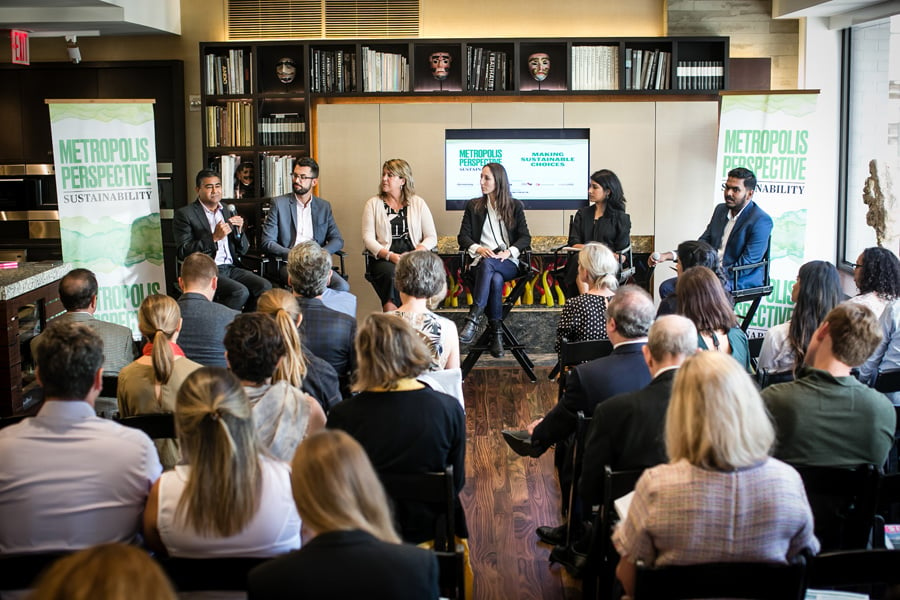 ---
When introducing the kick-off panel for a series of talks focused on sustainability, Metropolis editor-in-chief Avinash Rajagopal was blunt: "I don't believe in saving the planet," he said to an intimate audience assembled at Sub-Zero, Wolf, and Cove's Manhattan showroom. "Sustainability is not about abstract concepts…it's about the future of humanity," Rajagopal said.
This idea laid the groundwork for two conversations yesterday focused on the meaning and implications of so-called sustainable design—a nebulous concept that can cause confusion for architects, designers, clients, and the general public alike.
The morning panel, titled "Making Sustainable Choices," featured a range of industry stakeholders and experts, including Humanscale's Jane Abernethy (Humanscale was an event sponsor), HOK principal Varun Kohli, ZGF's Kent McCullough, Armstrong World Industries' Anita Snader, and Perkins + Will interior designer Monica Kumar.
One source of confusion participants sought to unpack is the myriad of certifications that designers and consumers can look to when selecting products—be it Living Product, Cradle-to-Cradle, Forest Stewardship Council, Energy Star, or another of the estimated 600 different types of certifications available worldwide.
But sustainable design should go beyond labels. Advised Kumar, of Perkins + Will: "Certifications can help us…but they are not the end-all, be-all." Instead, she called for a more radical approach that goes beyond checking boxes on a list of sustainability requirements—cross-referencing building materials with toxic substances identified by the EPA, CDC, FDA, and other governmental agencies, for instance.
Abernethy, of the furniture manufacturer Humanscale, pointed to even more outside-the-box thinking, including repurposing waste. She pointed out that billions of dollars' worth of discarded plastic currently floats in the world's oceans. "It's kind of ironic because plastic is a valuable commodity," she said. The company took that idea to heart for its Smart Ocean chairs, which include nearly two pounds of upcycled fishing nets.
---
The dialog continued at a second panel, hosted at Perkins Eastman's sprawling offices near New York's Flatiron District. Titled "Building a Common Sustainability Strategy: How to Leverage Diversity in Pursuit of High Performance," this discussion was more practice-oriented. The speakers, which included Perkins Eastman's Jason Haim, Tanya Mejia, Matthew Snethen, with Tarkett's Valerie Molinski (Tarkett was an event sponsor), identified a number of ways large firms can implement sustainable strategies across an international project portfolio.
According to Mejia, sustainability for the firm is about "trying to maximize the economic, environmental, and social impact of our work." She pointed to a recent case study, in which Perkins Eastman conducted a comprehensive performance review of nine Washington, D.C. K-12 schools, half of them modernized, half of them not. Though important insights came from measuring key performance metrics such as air quality, acoustics, and daylighting, some of the most illuminating information came directly from teachers and students—be it written feedback, or a scribbled crayon drawing.
The Perkins Eastman team also advocated for a scalable, Swiss Army approach to sustainability. Take the firm's Huishan North Bund project, a 2.7 million-square-foot mixed-use development in Shanghai. Here, a generous 2.5-acre marina not only gave residents access to water and enviable views, but also provided an embedded gray water reservoir and cooling system, among other benefits.
But the day concluded where Rajagopal began—that sustainable design is ultimately a human pursuit. We cannot have truly sustainable design, he said, without diverse, vibrant communities.
*Metropolis Perspective: 2018 Sustainability Event brought to you by our sponsors Armstrong Ceiling & Wall Solutions, Humanscale, Tarkett, USG, Construction Specialties, wakaNINE.*
You might also like, "Putting the Health Back Into Health-Care Textiles."