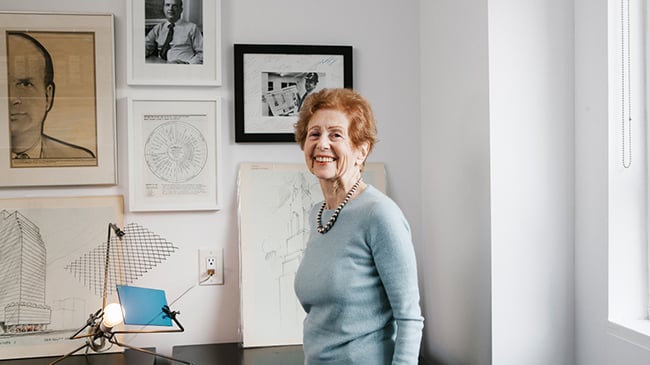 July 12, 2016
Metropolis' President Reflects on the Magazine's 35 Years
Thirty-five years ago this month, my husband, Horace Havemeyer III, achieved his dream of publishing a magazine on architecture and design. He called it Metropolis.
Eugenie Cowan Havemeyer is seen in her office, with selections from her archive, including portraits of the magazine's founder, Horace Havemeyer III.
---
Thirty-five years ago this month, my husband, Horace Havemeyer III, achieved his dream of publishing a magazine on architecture and design. He called it Metropolis. Originally, the focus was New York City; it soon expanded to embrace the larger geographic world and all of the design disciplines.
Horace had practical and intellectual curiosity. Wherever we went, from small towns to large cities, he focused on religious buildings to see how they centered their communities, among other architectural expressions.
Horace first worked in the family sugar business. Then by choice he spent a decade at Doubleday in book production, and took night courses at NYU's Center for Graphic Industries and Publishing and at the Institute for Architecture and Urban Studies— all to understand the process.
His legacy continues at Metropolis, whose editorial scope spans design in all forms—from the smallest products and building types to city planning—and questions: why, how, for whom, and for what?
From the beginning, Horace also wanted to reach beyond print. Thus Metropolis promoted discourse between government planners and private-sector property owners, architects, and, always, the users.
01 In 1982, there was the seminal conference Midtown: Testing the Zoning Proposal. It brought together city planners, private- sector land-use attorneys, developers, architects, and theater- industry owners to explore the impact of proposed zoning changes for New York's theater district.
02 In 1989, Metropolis became the founding sponsor of the International Contemporary Furniture Fair and launched a series of annual sessions on current issues, such as branding.
03 The NYC Design Guides, initiated at ICFF, were later replicated at Chicago's NeoCon trade fair and have become must-have/ must-keep resources for visitors any time of the year in those cities.
04 In 2006, Tropical Green, a conference in Miami, brought building owners, architects, and academics together to discuss the environmental sustainability of multiple-dwelling and high-rise buildings in hot, humid climates.
05 Our current exclusive Think Tank series enables architects, designers, consultants, and their clients, as well as our corporate sponsors, to learn about vanguard trends reshaping their profes- sions and the built environment.
Always, Metropolis, including our Metropolis Books imprint, has sought out the game changers in the breadth of the design field, from emerging talent to established individuals and corporations.
Always, too, sustainability and accessibility are major concerns.
Horace died in March 2014 and left the leadership of parent company Bellerophon Publications, Inc., to me as president and to Susan S. Szenasy, longtime editor in chief and now also publisher. Since then, we have moved the office (see "Inner Workings," June 2016, p. 112). I sold our Manhattan apartment home overlooking the East River (see "Reclaiming the Sea," June 2003, p. 158) and moved into Kendal on Hudson, a Quaker-run life-care community overlooking the Hudson River.
One of my fellow Kendal residents is Horst Berger, an engineer and author of Light Structures—Structures of Light: The Art and Engineering of Tensile Architecture. In his book, Berger quotes ancient Roman architect Vitruvius, someone Horace also greatly admired. The guiding principles Vitruvius expounded more than 2,000 years ago were, Berger relates, "that it produce useful, meaningful, and delightful spaces for people; that it be affordable and buildable; that it minimize the exploitation of natural resources and do the least harm to the environment."
Those guiding principles and that vision continue to drive Metropolis magazine, www.metropolismag.com, Metropolis Books, and our interactive sessions: a scope that spans design in all forms; that is provocative, uses  the best forms of storytelling, and asks and answers what, why, how, for whom, and for what.
That is what Metropolis is about and why it has long been referred to as the conscience of the industry. —Eugenie C. Havemeyer