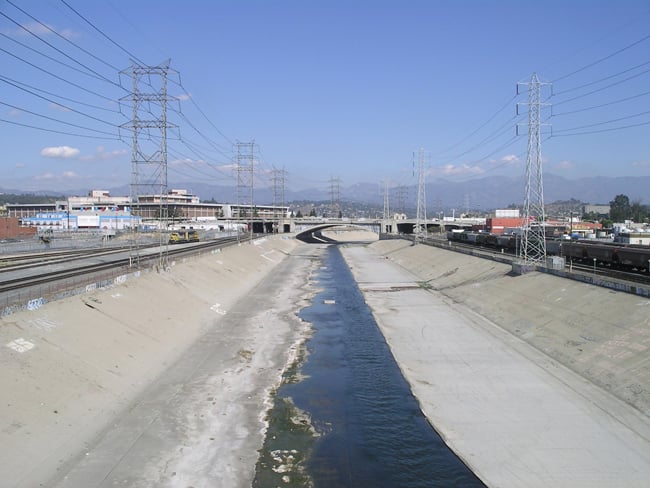 October 28, 2016
Q&A: Mia Lehrer on the LA River Revitalization Project
We ask the landscape architect how she feels now the master plan for Los Angeles' River Revitalization, a "life's work," has been handed over to Gehry + Partners.
Lehrer was a coauthor of the Los Angeles River Revitalization Master Plan, which proposed 240 projects to help turn this vast drainage canal into an urban amenity.
Courtesy the City of Los Angeles
---
Mia Lehrer is an advocate—for "good design," sure, but also for trees. There has to be a feeling for those trees, the Los Angeles–based landscape architect says, because "if nothing else, they don't have the ability to speak for themselves." For more than two decades, Lehrer has also advocated for the transformation of L.A.'s junk river—paved over with concrete by the U.S. Army Corps of Engineers in the 1930s to fight flash floods—and had a hand in creating the 2007 Los Angeles River Revitalization Master Plan, before the city handed off the project to Gehry + Partners last fall. Metropolis editor Samuel Medina talks to Lehrer about that experience, as well as her new design for FAB Park in downtown L.A., the importance of community outreach, and cleaning up the L.A. River, one mattress at a time.
Samuel Medina: When did you start working in and around the L.A. River?
Mia Lehrer: It's sort of a life's work. I started by becoming active with Friends of the Los Angeles River, cofounded by poet Lewis MacAdams. At the same time, there were a series of professional charrettes with the American Society of Landscape Architects and the American Institute of Architects where people were really starting to look at the river and asking questions like, "What does this really mean to recapture this river?" It seemed like a pipe dream.
In addition to these professional charrettes, we began working on getting to know the river and understanding its issues by helping in cleanups. The cleanups were, believe it or not, these really wonderful experiences, like learning to harness a beast. The river channel collected garbage of such incredible proportions. The kind of garbage you saw in the L.A. River was mattresses and refrigerators, bicycles, and cars. There was an understanding [on the part of city engineers] about managing floodwater, but that was it. They were mowing down all the vegetation that was slowly coming back.
SM: How would you characterize the work you were doing? Was it different from how your peers were operating at the time?
ML: I went off on my own very early on. I got involved with community volunteer work before any of my colleagues did. It was a kind of advocacy, but I also realized the power of design. It was clear to me that having the tools of a designer could be incredibly useful and productive, because I could draw a solution and say, "You could do things differently by doing this." But I learn by doing, and the more I uncovered about issues through the kinds of very interesting conversations and professionally organized charrettes, the more I was able to figure out what we could contribute. I also started developing very strong relationships with other professionals who were interested in the same issues—less with other landscape architects than with engineers and planners, and also those in the nonprofit world.
SM: You helped author the 2007 master plan. Are any of the projects you initiated within that still active?
ML: All of those projects continue. They are significant because they recognize the river as an important sort of spine. They are each corridors that help bring to life a much larger master plan.
Courtesy Mia Lehrer + Associates
SM: In mid-2014, the Army Corps recommended the approval of the $1 billion-plus proposal for river upgrades (e.g., restoring habitat, delineating wetlands, carving out bike trails) along an 11-mile stretch. It was the boon that you seemed to be waiting for. What happened afterward?
ML: It's sitting in appropriations right now. As with all these things, there are negotiations about what the city's contribution will be. Then about what the federal government's contribution will be—will it be 75 per- cent or 50 percent, or less? But what the $1.4 billion is for is the acquisition of big parcels of land to be turned over to the public realm. It's similar in scope to a project like Governors Island in New York. We saw the competition for that more than ten years ago, but it's only just finishing now. It's that scale of project that each of the L.A. River projects is.
SM: Mayor Eric Garcetti recently announced that Mia Lehrer + Associates will be part of the team designing the Los Angeles River Greenway, which will be an extensive bikeway, correct?
ML: Yes. The bikeway is a challenging and interesting design problem because you have to overcome bridge abutments and create bridges that allow cyclists to cross the river. People may use it recreationally for long rides or as an alternative mode of transportation. You have to figure out ingenious ways of getting people from the city to the river and over it, or down into it and then back. You want it to be as seamless as possible.
The funds for the greenway are coming from the city and federal levels, and they have bond money that they plan to spend for these projects. But like any big project on the river, if it's a big infrastructure piece, it all happens in layers. Each of these layers takes five to ten years, between the environmental work, design work, and approval for whatever phasing might happen—then finally construction. Just to get the project going takes five years.
SM: Will the kind of public-input collecting from your early days have a special place in the project's development?
ML: That's a good point. I think that public input is a given in America, especially in Southern California, but the way you do it can be different among teams or offices. I think we've developed an approach that helps people to become educated about the issues. You're typically battling NIMBY- ism and people who don't really want to change. And we like to think that we do this educational process where we start off by asking a series of questions—What is public space? Why is public space important? Why is there more connectivity in one place than another? What kinds of spaces make the city a healthier place?—and then build on the answers. We also collaborate with some nonprofits or churches or schools from a neighborhood to help people to really build on this whole notion of sharing information.
Originally from El Salvador, Mia Lehrer has been a tireless advocate for the maintenance and creative expansion of Los Angeles's public spaces.
Courtesy Mia Lehrer + Associates
---
SM: That notion was conspicuously absent when the mayor announced that Frank Gehry and his firm would be overseeing a new master plan for the river.
ML: Master plans layer upon one another. The 2007 master plan that we worked on with engineers, economists, and designers was developed after 200 or so meetings. We worked with the community but also with stakeholders, whether they were from city government or from special-interest groups like the National Audubon Society or special water groups. But to be honest, all I've seen so far [of the new project] is the criteria that the Gehry team is going to be using to do its work. I think there's room for creativity. Obviously, Frank Gehry is a brilliant architect, and I can only expect  great things from him, but for now it's a little confusing what the project is. We hope for more transparency and more engagement as it moves along, and to be able to participate in a meaningful way.
SM: One of the first things Gehry said was that he would be looking at the master plans that came before it. I assume you hope your plans will be in that mix.
ML: We did share that. There was a convening at the mayor's office with both teams where we shared our plan, so there is definitely a cross-organization.
SM: In the last year, another major initiative, the renovation of Pershing Square in downtown, has captured the public's attention. It follows Grand Park and your own designs for the Vista Hermosa Park project. Do these projects indicate anything about how the city goes about improving the quality of life for Angelenos?
ML: Los Angeles deserves a multitude of parks that offer rich and diverse experiences. And many agencies and organizations are working to provide them (the Trust for Public Land, Los Angeles Neighborhood Land Trust, and Mountains Recreation and Conservation Authority, to name a few). But working in Los Angeles is complex.
SM: I imagine it gets more complex with the drought, which, to be fair, isn't new.
ML: Well, our Mediterranean-style climate means almost anything can grow here if you add water. Yet because of the drought and our fragile water infrastructure, we have to become more water independent. It's a great opportunity and an important challenge. For us, it means looking to the plants native to our own communities and Mediterranean regions for inspiration—those that have adapted to long, dry summers and do best with very little added irrigation. We have a plethora of plants that have become part of our lexicon over the past ten years—Vista Hermosa Park is a good example of this [mix]. But we also need to pay attention to where every drop of water goes—how we grade a site to direct water to tree roots, how we can capture and hold rainwater and reuse gray water. We have to be resourceful with materials in general and the landscapes we work with. At the same time, we have to protect and grow our urban forest to provide vital shade, habitat, and beauty even as we reduce water use.
In June, the city announced the winner of the FAB Park competition. Lehrer describes the scheme, by OMA, IDEO, and Mia Lehrer + Associates, as "a symbiotic relationship between architecture and landscape architecture."
Courtesy Mia Lehrer + Associates
---
SM: You were involved with the winning scheme for FAB Park, which is being planned for an existing lot near the new courthouse in downtown. What do you make of downtown's transformation?
ML: There's a really incredible sort of renaissance happening in Los Angeles. I remember when I was working with OMA in the 1990s on the Universal Studios headquarters project. My office was downtown, and Pershing Square was in construction at the time. It was a weekend and we were charretting, and the only place open for lunch was a McDonald's.
The design for FAB Park capitalizes on the current repopulating of downtown. The 35,000-plus people now living down- town share an interest in healthy and culturally diverse food. At FAB, there will be a restaurant designed by OMA with a dining terrace and a café. The plaza is designed with the flexibility to hold large events and food festivals while providing for more informal experiences in the "urban forest" along a sinuous wall for seating.
SM: The city has cautioned that the FAB design could change. What aspects of it are you most hoping will survive?
ML: I'm optimistic that the central space will be surrounded by the bosk of oaks and sycamores we've planned, which will bring the cool, scented feel of Southern California's natural arroyos. And that the poppy canopies will delight visitors with their shade and light and whimsy. The FAB Park design is different yet complementary to the adjacent Grand Park. FAB will bring intimate places to balance the scale of Grand Park, just like Grand Park brought a grand semiformality that balanced Vista Hermosa Park's wildness. FAB Park will add the California arroyo to the mix, which is inspired by our seasonal streams and rivers, and will literally and figuratively collect water from the site to celebrate our natural systems.