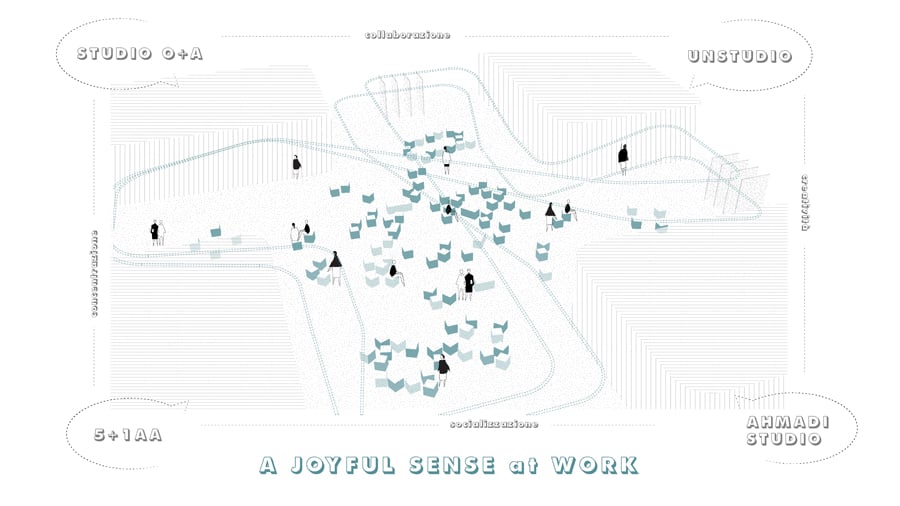 April 3, 2017
Milan Exhibit Asks: Can an Office Bring Joy?
At the biennial Workplace 3.0 exhibition during Milan Design Week, designers from around the world will present installations on the workplace of the future.
Designers Verda Alexander and Primo Orpilla of Studio O+A may have helped create many of the office design elements we now take for granted, but the pair is far from resting on their laurels. "You've got all these wonderful amenity spaces, they're adaptable, they're mutable. Anything can be done in the workplace," Alexander proclaimed at the Metropolis Think Tank this past February. "So, what's next?"
Alongside three other international design teams, she and Orpilla will be presenting some answers to that question tomorrow in an installation titled A Joyful Sense at Work, at the Salone del Mobile in Milan.
The installation, curated by architect Christiana Cutrona, will be the anchor piece of the biennial Workplace 3.0 exhibition, where more than 110 companies will be presenting their office design solutions. It hopes to show the way forward: workplaces that "make sense of things and relationships, generate new quality of life, and deliver excitement and happiness." In other words,designers will not only strive to enhance productivity, but also reach for emotional fulfilment as a design goal.
Studio O+A's contribution, called the Water Cooler, suggests that work should be like water—regenerative, restorative, and perfectly adaptable to any situation. Each worker who visits their installation will be able to choose the best way to refresh themselves.
Arash Ahmadi of Ahmadi Studio has imagined a twinned space, one reflecting the intimacy of traditional Persian gardens, and the other, the vibrancy of Iran's bazaars. Going between the two, he hopes, office-goers will find fulfillment in both private and public spheres.
Focusing on how workplaces can create both positive and negative relationships, Studio 5+1AA's concept, titled Chronotopic system, will change its spatial configuration over time to generate situations of encroachment, pollution, integration, and belonging.
Ben van Berkel of UNStudio and SCAPE's Jeff Povlo have defined the elements of their installation, RESET—Responsive Emotional Transformation' by studying proven methods of dealing with stress. Whether one finds solace in meditation or dancing, their pods will provide the perfect setting.
Over the last 25 years, most office designs have devolved into a dichotomy of individual desk and collective huddle space, with a smorgasbord of amenities thrown in haphazardly. The installations at Workplace 3.0, while decidedly conceptual and abstract, might prod us towards more meaningful solutions.