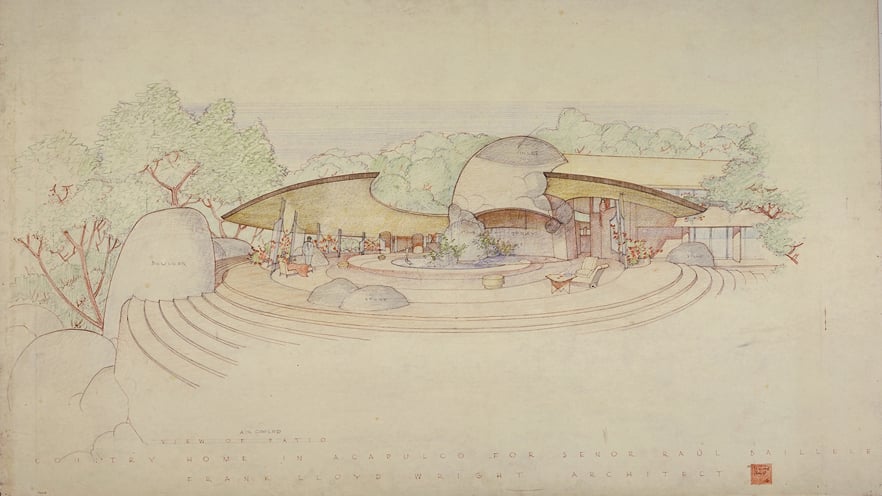 April 25, 2017
MoMA to Mount "Anthology" of Frank Lloyd Wright's Little-Known Works
The Museum of Modern Art will exhibit 450 artifacts, as well as objects hand-picked by influential scholars, from the Frank Lloyd Wright archives.
---

MoMA is staging its second exhibition on Frank Lloyd Wright since teaming up with Columbia University's Avery Architectural & Fine Arts Library in 2012 to jointly acquire the architect's archives from his foundation in Scottsdale, Arizona. Opening on June 12, to celebrate Wright's 150th birthday, Frank Lloyd Wright at 150: Unpacking the Archive will showcase 450 artifacts ranging from telegrams and television interviews to drawings, furniture, and a newly restored model of one of the St. Mark's-in-the-Bouwerie Towers, Wright's never-built proposal for what would have been Manhattan's first glass skyscrapers.
Whereas MoMA's first foray into the newly transferred archives centered on a 12-by-12-foot model of Wright's Broadacre City scheme as a lead-in to his theories on urbanism, the new exhibition, coming three years after, will assume a retrospective format. Organized by Barry Bergdoll and Jennifer Gray of MoMA's department of architecture and design, Frank Lloyd Wright at 150 will span some 60 years of the architect's career, highlighting major milestones without claiming to offer a comprehensive survey. Rather, the show celebrates the possibility of fresh perspectives: "I came up with this concept of having a mosaic of different points of entry," explains Bergdoll, who, along with Gray, invited a dozen scholars with varying degrees of background knowledge about Wright to "take a crack" at the archives. "You don't have to have already published on Wright to have something new to say," Bergdoll stresses.
Structured like an anthology, the exhibition will comprise 12 essay like sections, each based on an object chosen by a featured scholar. Be it a model for an experimental farm or a little-known proposal for a Rosenwald school for African Americans, each key object will be contextualized with an assemblage of artifacts, as well as a text elucidating the scholar's investigation and a short film documenting his or her research process. "You see people at work, solving a historical problem," says Bergdoll. "Each section is as much about the object as it is about the interpreter"
If you enjoyed this article, then check out our in-depth interview with curator Barry Bergdoll about this exhibit.