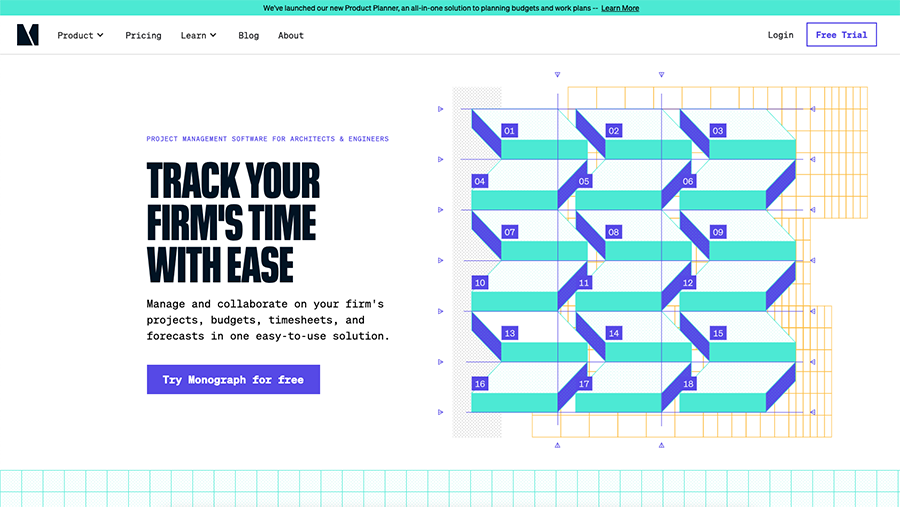 August 7, 2020
Monograph Responds to Need for Effective Record Keeping Online
The San Francisco-based software company provides a catered experience to architecture and design firms for project management and time tracking.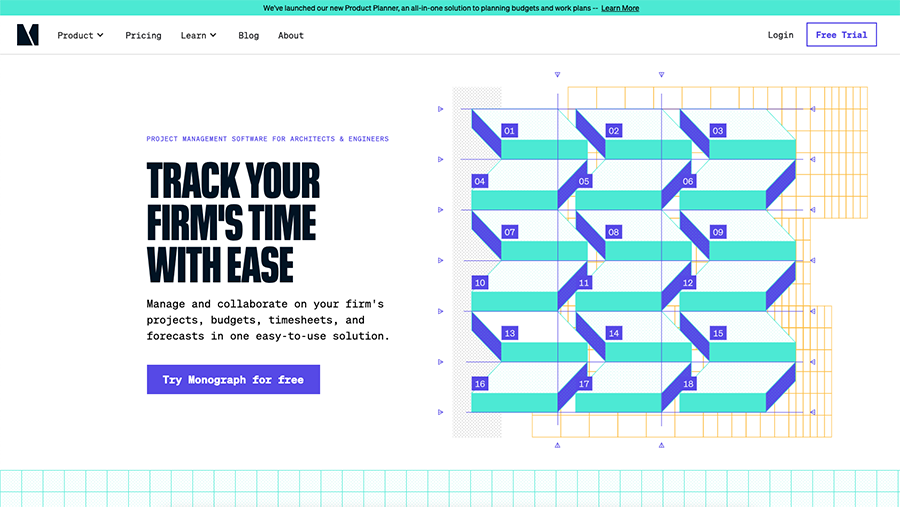 ---
For many architecture firms in 2020, the shift to remote work due to quarantine was a sudden, urgent, and unprecedented challenge. Having the proper tools in place to keep business running was another.
For studio Workshop/APD, however, the switch was "a smooth shift," explains principal Thomas J. Zoli, even during the chaotic early days of the pandemic. Zoli credits some of this success to the firm's adoption of Monograph, a multiuse cloud-based software designed specifically for architects and designers.
Monograph's idea for a project-management tool tailored to architecture and design stemmed from a need its founders Robert Yuen, Alex Dixon, and Moe Amaya recognized while working at the agency Dixon & Moe. "A common thread during our happy-hour conversations with people from the industry was trouble with abundance of spreadsheets," explains the San Francisco–based Yuen, who is trained as an architect himself. "Architects dive into complexities of managing a task, but they must also understand the element of time in relation to reaching a goal," he says. "We had foresight that firms would gradually turn to software," he adds, though acknowledges that this year's rapid, nearly complete reliance on digital was still unexpected.
---
Workshop/APD's Zoli says that unsatisfactory experiences with mainstream tools, such as Quickbooks, Mavenlink, and Trello, drove his company to look for other options for managing its 90 projects in March last year. But when the firm went entirely remote this spring, the online tool also came in handy for time tracking.
Monograph's greatest asset, according to Zoli, has been to offer an umbrella solution to oversee time and bypass geographical limits imposed by a global pandemic. "We are in a visual industry, and we expect to 'see things' on graphics," says the architect, who oversees a staff of just over 50 across four states. "The goal in an operation at our scale is to have the designers focus on the vision, rather than spending 80 percent of their time on overarching project management." His team favors the tool's breakdown of time-based data for projects at various stages, particularly since construction has resumed in New York—and clients require updates. Whether a client is quarantining in Bangladesh or a staff member is hunkering down in Hawaii, Zoli explains, they are able to provide a straightforward scope with comparison to previous years' timelines.
At Monograph, Yuen's background in architecture has been instrumental in crafting an experience unfettered by generalization or clutter. "Our problem-solving methods are specific to a field which requires crucial domain expertise," he says. His platform's long-term objective is to provide "a system of records," he explains, adding that these pieces often live in extended email threads. The next step element of work he hopes to make better for architects? Time-consuming meetings. "Meetings won't go away, but we want to assist with reallocating time effectively," he says.
You may also enjoy "Commentary: What "Back to School" Should Mean in America"
Would you like to comment on this article? Send your thoughts to: [email protected]
---
Register here for Metropolis Webinars
Connect with experts and design leaders on the most important conversations of the day.