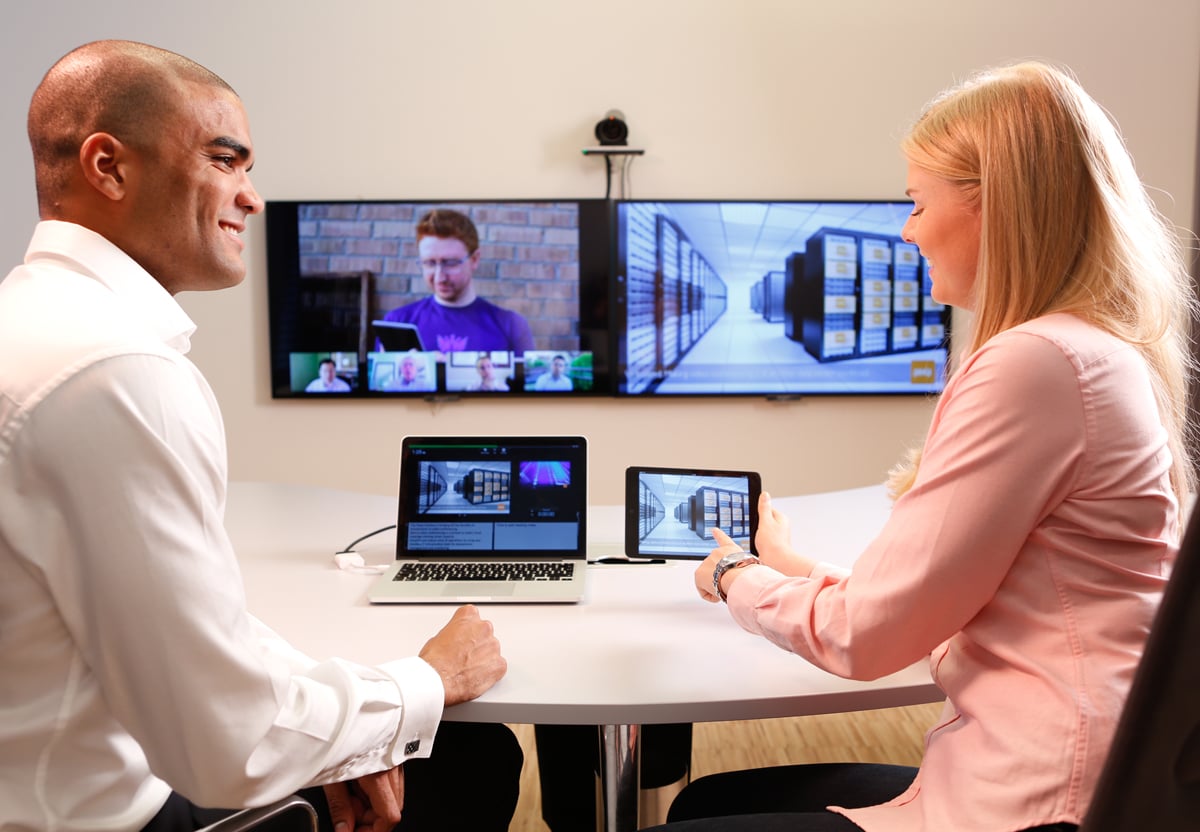 July 7, 2014
Multimedia Office Systems Are Retooling Collaboration
Powerful video-based tools allow seamless collaboration around the world.
Used by Arup across its locations spanning 38 countries, the Pexip system allows for data, video, and voice collaboration and soon will not only connect Arup's 11,000 staff but also their clients. The software is easy to operate, does not require proprietary hardware, and effectively integrates HD video with Microsoft Lync.
Courtesy Kilian Munch and Arup; all others courtesy manufacturers unless otherwise noted
Architecture practice today, like many other professions, has become all about collaboration. The architects could be in Raleigh, the engineers in New York, the construction firm in Houston, and the actual project site in Dublin. Sometimes in our globalized age, Skype just isn't enough.
Multimedia collaboration systems allow real-time teamwork—whether separated by a cubicle wall or a blue ocean—enabling firms to handle projects of increasing complexity. Haworth's Bluescape software, which was showcased at this year's NeoCon fair, was tested "to continuously improve and incorporate early adopter best practices," says Haworth's Julie Smith. "For example, Bluescape has adjusted colors, font sizes, and note cards; added tools for grouping, object moves, and duplication; and enhanced the Web browser."
---
Bluescape's cloud-based software 

and services can turn an office wall into an interactive, shared work space, simultaneously accessible by multiple users, with devices ranging in size from iPads to high-definition multitouch screens. If zoomed all the way out, the technology has 160 acres of digital space to build within, making it ideal for multidimensional projects.
Available since last March, this video-collaboration 

robot can be controlled on a tablet. Enabling "face-to-face" meetings anywhere, the robot can autonomously travel to a user's desired destination. Cisco's TelePresence EX60 projects audio and HD video.
Planar Systems Digital Signage
Installed in Gensler's Los Angeles lobby 

as the architecture fi rm's public interface, this system includes a touch-enabled table where users can view content produced by any of Gensler's 43 global locations. Once selected, the content is displayed on one of Planar's Clarity Matrix MX55 video wall displays.

Courtesy Andrejs Eduards Lazdins and Planar
This product claims to be the "easiest 

video-conferencing system to use on the planet." Due to its UVC Platform software, it works much like a smartphone, featuring a camera, microphone, live video and streaming capabilities, and seamlessly escalating from person-to-person calls to a multiparty conversation and back.