July 27, 2017
In Nathalie Du Pasquier's New Solo Show, Everyday Objects Become Monuments
The Memphis alum's still lifes and maquettes are reminiscent of the erstwhile collective's works, only more muted and shorn of the eccentricities.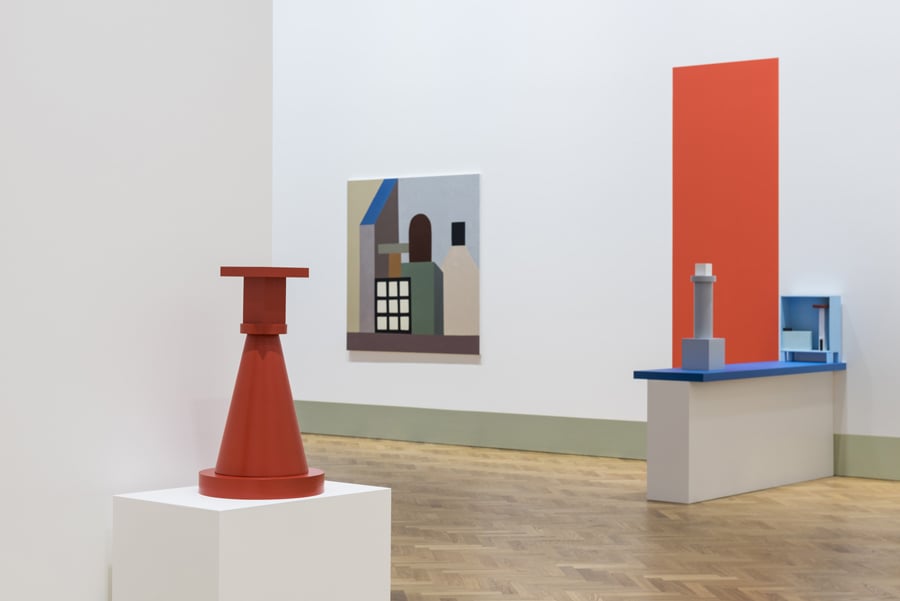 The open arms of a triptych, framed by a long white corridor, welcome visitors to From time to time, the latest show at the Pace Gallery's London outpost. The piece is a multifaceted, a combination of simple blocky graphics and rectilinear elements in relief on warm grey wood. Although predominantly flat and abstract, the centre panel has a spatial quality defined by monochromatic forms positioned in neat geometric order, like a Luis Barragán courtyard. Muted yet intriguing, it is a warm welcome to the artistic vision of Nathalie Du Pasquier.
This triptych lays out the tone—almost a set of graphic rules—of what is to follow. The rectilinear wooden elements overlap with the blocky forms, painted in bright yet restrained tones that serve to balance each other in a delicate choreography performed across flat surface, relief, and backdrop. The rest of the exhibition is a corresponding set of interactions that blur the distinctions between architectural installation, furniture design, and fine art; more a single immersive installation than a collection of works.
This multi-dimensional approach will come as no surprise to those familiar with Du Pasquier and her involvement with the Memphis Group. Founded in Milan in the early 1980s, Memphis was a loose collective centered around designer Ettore Sottsass (commemorated in a retrospective that has just opened at the Met Breuer) and included, intermittently, Postmodernist pillars such as Hans Hollein, Shiro Kuramata, and Du Pasquier's husband, George Sowden. Their work experimented across materials and styles, forging a new path away from the aesthetic austerity of high Modernism through bombastic objects that bridged the gap between Art Deco and Pop Art. Despite a reputation for dividing opinion in the design canon, the group's output is going through something of a revival thanks to both the natural rhythms of taste recycling and the maximalism of contemporary post-internet graphic work.
Where her contemporaries largely remained in industrial and product design following the dispersal of the group in 1988, Du Pasquier turned to painting, channeling some of the foundational elements and ideas of Memphis into her own, more muted, style. Monochromatic blocks persist, although checkerboard and other surface patterns are nowhere to be seen. In place of the acid greens and reds of Sottsass's now iconic Carlton room divider, Du Pasquier's paintings rest on maroons, creams, and beiges. In From time to time, these repeated hues work like musical elements, punctuating the show with themes and motifs that recur between sculptures, paintings, and the room itself: The tone of small scarlet cubes in canvases are mirrored by the large scarlet blocks floating on the gallery walls and in the scarlet room at the spatial and conceptual center of the show. The motifs mutate and adapt to new settings, evolving like ideas that re-emerge from time to time.
The form of the objects are reminiscent of Memphis, only recast through Du Pasquier's distorting gaze. These are "constructions," wooden maquettes of the abstract still-lifes represented in her paintings. They are nearly objects, their form familiar but somehow incomplete. A cabinet-like structure shares a platform with an abstracted lamp—or is it an obelisk? The everyday object made monument? Just as Memphis would have wanted it.
The allusions between painted space, object, and exhibition space lead to uncanny connections—painted forms re-occur as sculptural objects, their orientation altered or their tones reversed. Plinths supporting sculptures appear independently as objects in their own right within the paintings. The result is a sense of  wandering through one of Du Pasquier's paintings. Despite the din of pneumatic drills from building work at the Royal Academy next door, the show's coherence creates a calming environment in which conversation between color and form takes central stage.

The unified nature of From time to time is broken, unfortunately, at the last moment in the last gallery: a collection of eight sketches tacked crudely to the wall and framed within a moss green square. Presumably intended as an endnote or a glimpse behind the scenes, the effect is more that of art-student mimicry. The exhibit's strength is in its abstraction, both through its individual parts and its curatorial whole. The inclusion of these working drawings somewhat undermines this sense, inserting craft and process—unnecessary context—into what otherwise feels like a timeless and effortless ensemble.  
From time to time is open at the Pace Gallery in London through August 4, 2017.
If you liked this article, you may also enjoy "Q&A: Nathalie Du Pasquier, the Queen of Memphis."