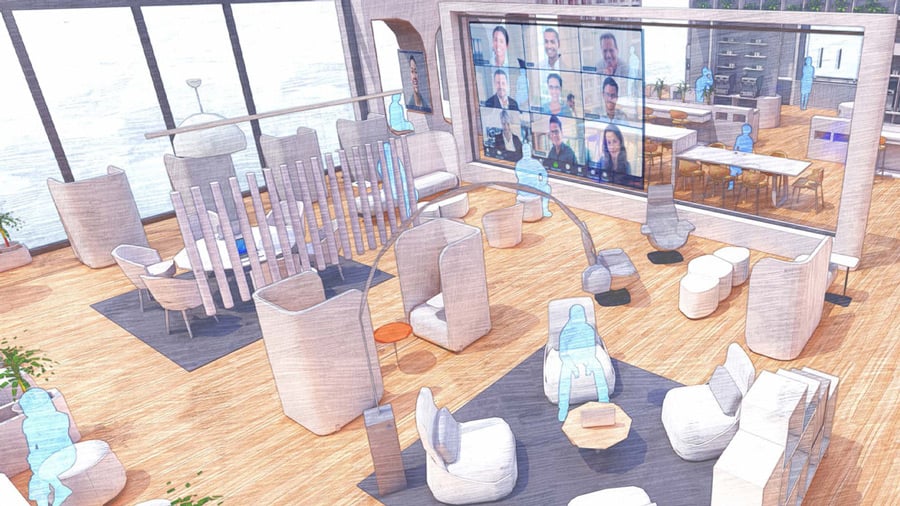 March 31, 2021
Nelson Worldwide Prepares for the Hybrid Future
Whether its flexible work or a more meaningful commitment to personal growth, research shows young workers expect more out of their jobs. How can employers deliver?
Sponsored by:
There's no doubt that when the COVID-19 pandemic eventually ends, the way we work will have been changed forever. Widespread remote work is here to stay, and the workplace of the future will need to be able to accommodate both physical and digital presences while supporting and engaging employees in new ways.
Research undertaken by Nelson World-wide, an award-winning architecture and design firm with offices around the country, points to massive changes in what employees need and expect from their workplaces, showing only seven percent of survey participants wanted to return to the office five days a week. Young workers in particular want to maintain flexibility, but also want support from their employers and connection to their colleagues.
In a world that operates in both digital and physical realms, creating an equity of presence between employees who are in the room and those on the screen is paramount to any employer seeking top talent. "We know from research that not only are more people going to be working from home but that those remote workers are looking for companywide support in that decision," says Barb Riekse, workplace practice leader at Nelson.
She explains that in order to give workers the support they need, employers need to take action to break down barriers and provide a consistent work experience across platforms. That can mean an investment in new technology, like IWMS systems and smart cameras for teleconferencing, or changes to the physical environment like private, sound-proof Zoom suites with elevated lighting and curated backgrounds.
The firm's studies have shown that younger employees expect more than a paycheck from their jobs: 82 percent of respondents to Nelson's survey ages 21–34 years old said that "a company that fosters my growth and values my potential" was "very or extremely important" to them.
Accordingly, says Riekse, the tactics employers use to attract top talent are also going to have to change. "Prior to 2020 it was an amenities war, now we're going to see the brand experience and workplace environment take center stage, and companies will need to differentiate their employee experience for the better. Things like wellness and career support will become the norm," she predicts. That will be especially important for young creatives entering the design industry. Nelson, for its part, has already begun offering professional development targeted at improving communication in a virtual workplace, providing teammates with technical and creative training in the digital world to increase team building and connect and communicate more effectively, no matter where they're working.
Of course, in our hybrid future, workplace design will be more important than ever. "Design is the facilitator," opines Riekse. "If the design is not flexible to adjust and respond to a hybrid team, it won't be utilized."