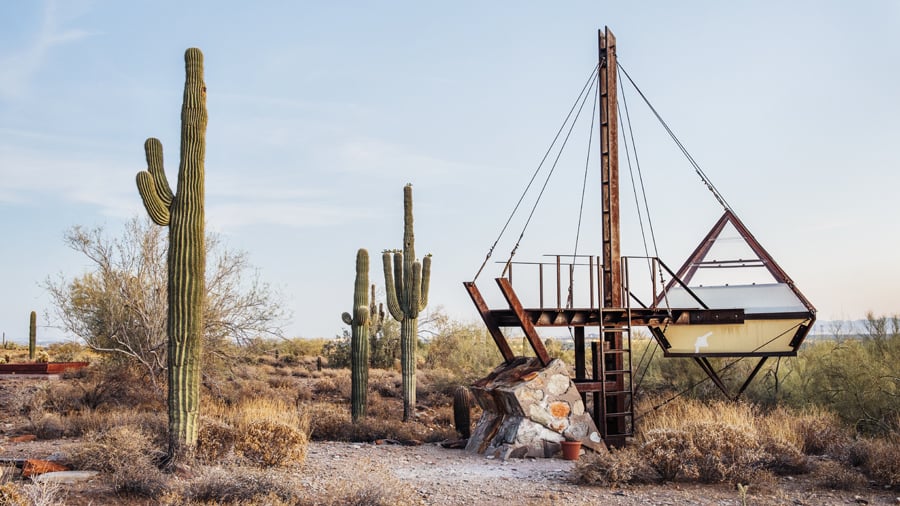 June 28, 2017
Nine of Taliesin West's Most Iconic Student Shelters
The student-designed desert shelters at Taliesin West, which began in 1938 with John Lautner's lean-to and continue today, provide a window into architecture's evolving relationship with the natural environment.
When an architectural apprentice would begin his or her stay at Taliesin West, Frank Lloyd Wright would unceremoniously present the initiate with their lodging for the duration of the stay: a white 10×10 foot tent. But as more and more apprentices entered the program in the post-War years, often staying for extended periods of time, students got increasingly crafty, turning their hand to building more permanent and embellished desert shelters. Over eighty years, the young architects have taken more and more structural, material and conceptual liberties in designing ever more fanciful and innovative desert shelters.
Today, roughly 50 these sites (25 of which are habitable shelters) dot the 600 acres of grounds surrounding the Frank Lloyd Wright School of Architecture at Taliesin West. The function-specific structures reflect a diversity of architectural styles and techniques, and inflect the desert landscape with a creative human component. According to Jason Silverman, Residence Life Manager at the Frank Lloyd Wright School of Architecture, the shelters make up "many of our most permanent and iconic structures."
Exemplifying Wright's "learning by doing" approach to architectural education, the elective independent study project requires that students not only design, construct, and often live in their shelters, but also account for a range of factors, such as climate, materials, site orientation, and user needs. Considered collectively, the desert shelters provide a snapshot of prevailing design thinking of that moment in time, especially architecture's changing relationship to the environment and the idea of sustainability. We compiled nine noteworthy structures to illustrate the dynamic nature of the School's shelter construction program and, by extension, the field and practice of architecture.
If you liked this, make sure to check out this fantastic photographic tour of Taliesin West.