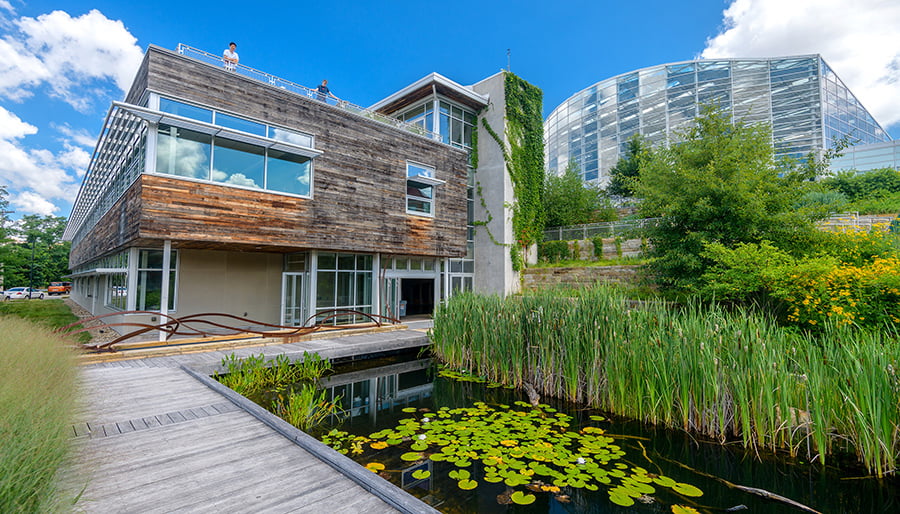 January 3, 2019
How Nonprofit and Public-Sector Clients Are Driving Sustainable Design
As these three examples of nonprofit and public-sector clients suggest, those at the top can empower architects to make impactful choices, provided they embrace sustainable goals of substance.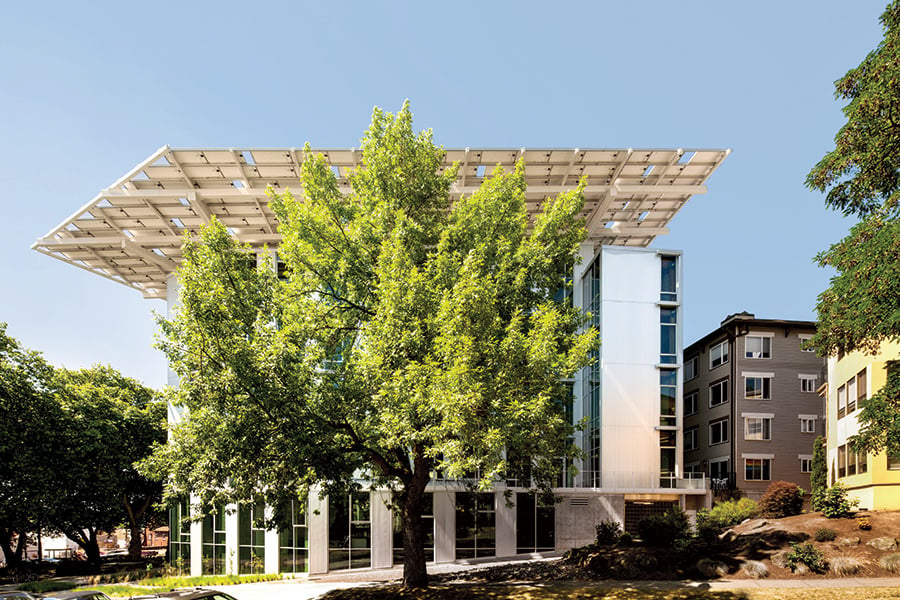 ---
The United Nations' latest climate change report, which the Intergovernmental Panel on Climate Change released in October, has given renewed urgency to the task of designing sustainably. The report, which warns of alarming climate transformations even for a smaller global temperature rise than previously predicted, confirms that we must make widespread changes to the construction and maintenance of buildings—which accounted for 40 percent of U.S. carbon emissions, as of 2009—if we are to have any recognizable future.
The role of clients in providing the impetus for such changes—forming design briefs and hiring innovative designers—is often understated. Yet as the following three nonprofit and public-sector client examples suggest, those at the top can empower architects to make choices with global and generational impact, provided they embrace sustainable goals of substance.
Phipps Conservatory in Pittsburgh specializes in botanical education with a focus on human and environmental well-being. Its 1893 Lord & Burnham conservatory was conceived as a refuge from the industrial city. A century later, Phipps transformed a brownfield site into its Center for Sustainable Landscapes (it opened in 2012), one of the greenest buildings anywhere, earning the highest-available certifications from four independent bodies: the Living Building Challenge; LEED; WELL Building; and SITES, the ecosystem-oriented framework.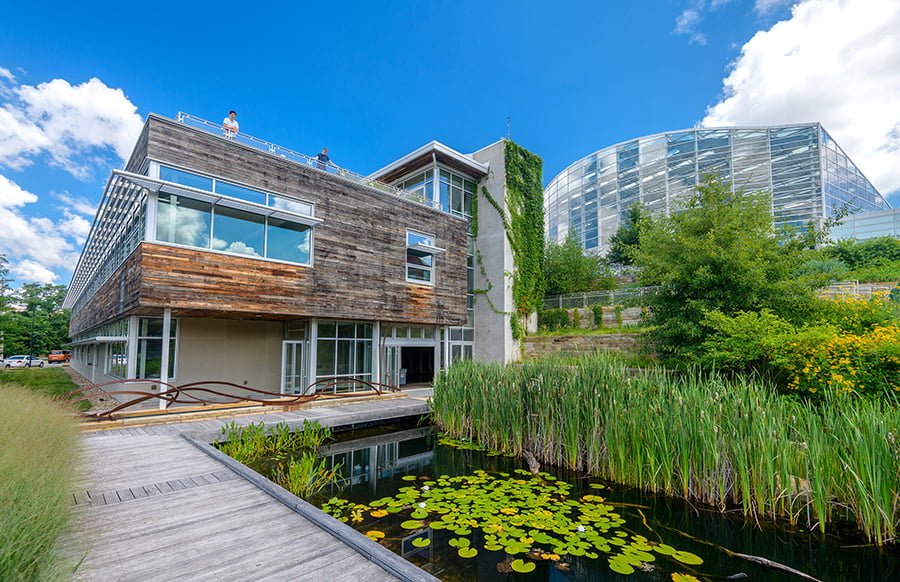 ---
Although Phipps's mission was simpatico with some of the more complex tenets of sustainable design—including concerns for environmental and multigenerational human health—its goals for third-party credentialing weren't initially as lofty as the campus's bevy of sustainability credentials might suggest. Phipps president and CEO Richard Piacentini recalls spying imported Mediterranean tiles being installed at the on-site café (which was targeting LEED Silver) and questioning why they weren't sourced locally. A contractor told him that they'd already earned that LEED point—which didn't sit well with Piacentini, who sought a more substantive accreditation. "When we heard about the Living Building Challenge, it was a systems-based way of thinking totally aligned with our own," he says.
The Living Building Challenge considers sustainability holistically—in line with Phipps's own promotion of biophilic design, which views buildings within ecosystems, as opposed to floating on landscapes. And such a comprehensive framing of sustainable objectives also has bottom-line implications likely to address the clients' business concerns. Says Piacentini: "If you run the numbers between a Living Building Challenge and a typical building—even a [LEED] Silver building—the Living Building Challenge building comes out way cheaper in the long term."
This is certainly true of the Bullitt Center in Seattle, which uses 82 percent less energy than the average commercial building in the city. Five years after opening in 2013, the building remains fully leased and has nearly doubled in appraised value. The design exceeded popular expectations: Nobody would have thought that solar energy could power a six-story, 52,000-square-foot office building in rainy Seattle. But when the Bullitt Foundation—which since 1992 has devoted its grant program to environmental causes in the Pacific Northwest—sought new space for its headquarters, CEO Denis Hayes recognized an opportunity.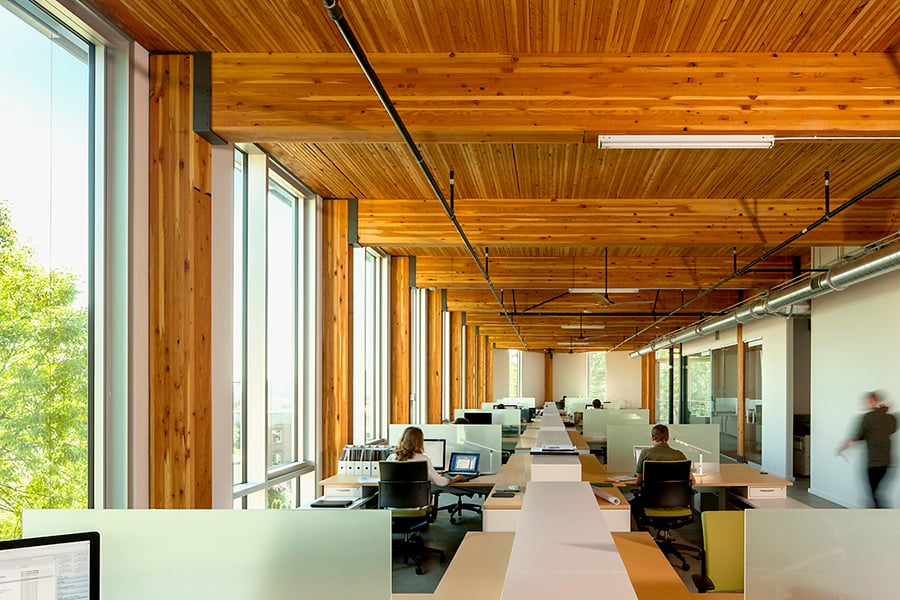 ---
"We have a board that believes that what we've been doing to the climate—and to the ocean with plastics and other pollutants, and with the proliferation of endocrine-disrupting substances—is a genuine concern," says Hayes, an environmental advocate who, among other contributions, was the national coordinator for the first Earth Day in 1970. "If we're going to make grants to confront those issues, we have to address them ourselves."
The Bullitt Foundation found its values aligned with those of the Miller Hull Partnership, an architecture firm that prides itself on designing contextual, environmentally sensitive buildings. Thanks to the design team's work, which includes a now-iconic rooftop solar array, the Bullitt Center's energy consumption has been net-positive since the building opened, a success story that has bolstered the foundation's position on sustainable design practices.
Clients with broad portfolios can make an even greater impact. Take the U.S. General Services Administration (GSA), which oversees all of the government's workplaces, from courthouses to post offices. While director of design excellence at GSA, and later as the U.S. State Department's deputy director for the Bureau of Overseas Building Operations, Casey Jones (now a principal at Perkins+Will) saw the role of the GSA as a fiduciary duty. "In our stewardship of the federal portfolio, it was important to put in technologies to reduce the life-cycle costs of the building," Jones says.
In 2006 the GSA adopted LEED certification as a goal for all new projects, and in 2012 it recommended either Green Globes or LEED Silver certification (or better). "We found that we were able to incorporate [sustainable] technologies for a reasonable price, and they had a payoff that helped us have a more efficient portfolio," Jones says.
---
An interesting example—though not without local controversy—is the San Francisco Federal Building, completed in 2007. It was designed by Morphosis Architects to consume about a third less energy than a typical office building—suggesting that design firms that seek to push beyond the brief may have success with the right receptive client. Says Jones, "The architect was willing to explore and convince [the GSA] of the viability of certain sustainable measures that we hadn't tried on other projects." These included swapping out HVAC systems for natural ventilation (possible because of San Francisco's moderate climate) and adding skip-stop elevators to sky lobbies to reduce energy usage and promote an active workplace.
At the time, the building was hailed as an energy-efficient example for other San Francisco development to follow—a prediction that has not been borne out. Nonetheless, Jones hopes that such projects can be pivotal. "If the by-product is you're able to encourage production of better technologies," he says, "or, by example, to challenge private-sector developers to be more efficient in terms of their energy use, then to my mind that's a great, unforeseen benefit of better stewardship. Clients can and should be in the driver's seat when it comes to expecting the best work for their investment."
The world is well beyond the time when tallying certification points can save the day, if it ever could. But revisiting boundary-pushing designs from the past two decades reveals the significant role clients have in clearing obstacles and driving change in the building industry. Unless clients outline meaningful sustainable imperatives from their projects' inception, architects can do little more than make each building's environmental impact incrementally better. Under a well-defined design vision, clients and architects can both benefit, with the potential to save more than just a few dollars.
You may also enjoy "Year in Review 2018: 9 Lessons from Architecture, Design, and Cities."