March 23, 2018
North Carolina Design: See All Our Coverage Here
From the young firm tapping into the Tar Heel state's craft roots, to an ever-evolving furniture industry, North Carolina continues to build upon its design legacy.
---
For its March 2018 issue, Metropolis Magazine explored the three great North American design regions: The Pacific Northwest, North Carolina, and Minnesota. We looked at each area's deep historic connections to architecture and design, as well as the contemporary practices thriving there today. Stay tuned to our homepage as March issue articles go online; you also find the latest updates here.
The three articles below highlight the best and latest from North Carolina.
---
---
How the Tar Heel State's Modernist Heritage Endures Today
Waves of progressivism have washed over North Carolina ever since the Great Depression. It was then that Black Mountain College provided jobs and security for Josef and Anni Albers after they fled Nazism in Germany. A few years later, in 1948, another branch of forward-thinking design education would get its start at the School of Design (later renamed the College of Design) by Dean Henry Kamphoefner. A follower of Walter Gropius, Kamphoefner was unwavering in his devotion to the ideals of Modernism. He assembled a faculty whose names still resonate today, at least in part because Kamphoefner felt they should have active practices: Eduardo Catalano, Lewis Clarke, George Matsumoto, Lewis Mumford, Victor Papanek, Walter Baermann, and R. Buckminster Fuller.
Now, decades of investment by the state's university system are paying off, and what were once termed "knowledge-driven" industries are looking to the Research Triangle (North Carolina State University (NCSU), Duke University, and the University of North Carolina at Chapel Hill) for meaningful innovation. These institutions, and especially NCSU's College of Design(CoD), are here to humanize that innovation.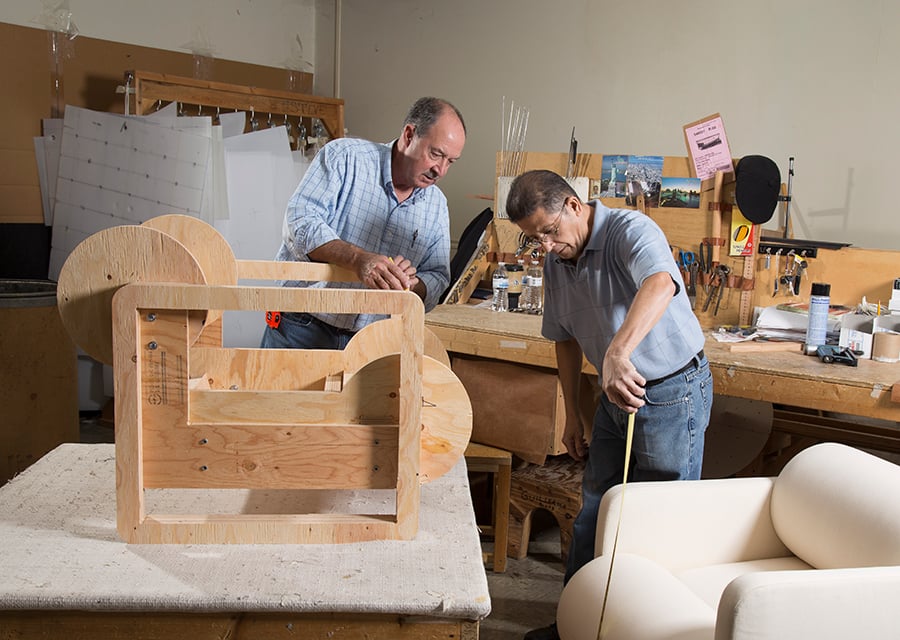 ---
Anchored by Deep Roots, the State's Furniture Industry Is Evolving
The furniture industry in North Carolina—a place blessed with highly skilled artisans and vast stands of hardwoods—has responded to a century of challenges with perseverance and a penchant for quality. Furniture manufacturing took off here in the late 19th century and accelerated throughout the early 20th, when northern businesses discovered North Carolina's natural resources. The Great Depression didn't wipe out the industry, and by the turn of the 21st century, drastic changes were afoot—first in manufacturing and later in style. Today, historic Carolina companies like Hickory Chair hang their hats on luxury, aiming at the top 2 percent of consumers. "We are an interior design line," says Kevin Bowman, the company's president. "We have a place in the commercial and residential markets." Moreover, Carolina companies like Hickory Chair, DARRAN, and EJ Victor are inclined toward a contemporary aesthetic. "People want a cleaner product," says EJ Victor's Jokinen. "It leans toward a transitional look with cleaner lines and simpler execution of fabrics."
---
This Studio is Tapping Into Asheville's Craft Roots
There's a hard-to-pin-down quality about the work of Shelter Collective, the Asheville, North Carolina–based husband-and-wife design team of Rob Maddox and Karie Reinertson. An echo of the '70s back-to-the-land movement. A touch of minimalism. A suggestion of Danish Modern. Implicitly, that effect is the result of a process aimed not so much at the application of an aesthetic but an alignment of the way something looks and feels, the way it's made, the people who make it, and the place it will hold in the world.
While Shelter Design has designed several successful retail pop-ups and the seminal exhibition Made in Western North Carolina, which appeared at Asheville's Center for Craft, Creativity & Design before heading to WantedDesign Brooklyn in 2016, the studio recently finished their first residential project for a contemporary home on Martha's Vineyard, aiming for something that could reflect "any time from the 19th century to now and still be on point," says Maddox. The couple selected or designed each of the 450 objects in the home, fabricating custom pieces through regional makers they admired, such as cluster pendant lighting by New York's Allied Maker and a custom walnut-slab bed by Marshall Farm Woodworks of Martha's Vineyard. "Every object was made by someone we know is committed to craftsmanship and quality," says Reinertson.
You may also enjoy "Minnesota Design: Snow Kreilich Architects Aims to Elevate 'Underdog Building Types.'"