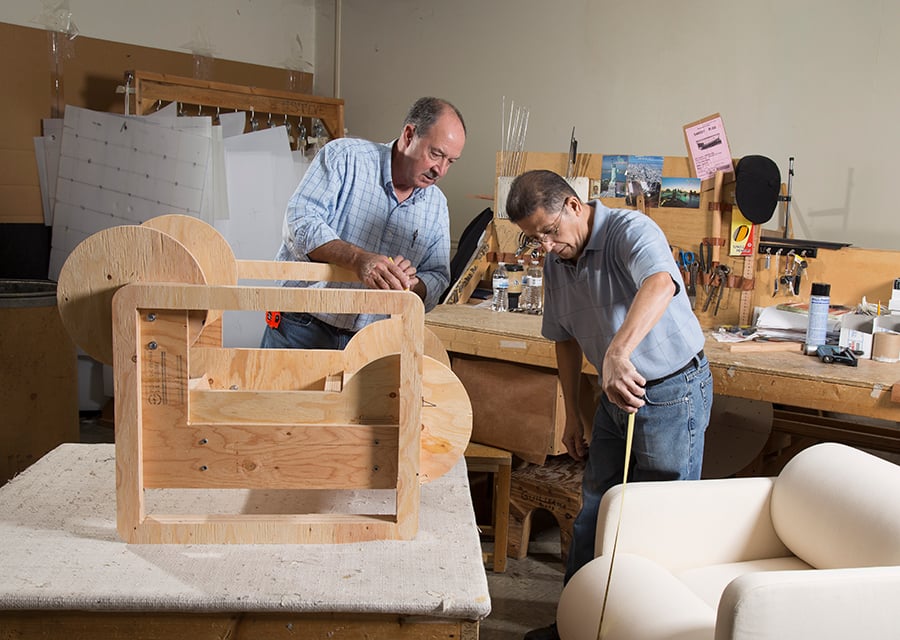 March 15, 2018
North Carolina Design: Anchored by Deep Roots, the State's Furniture Industry Is Evolving
Three furniture manufacturers from the Tar Heel State discuss how their companies have adapted to a shifting market.
For its March 2018 issue, Metropolis Magazine explored the three great North American design regions: The Pacific Northwest, North Carolina, and Minnesota. We looked at each area's deep historic connections to architecture and design, as well as the contemporary practices thriving there today. Stay tuned to our homepage as March issue articles such as this one go online; you can also find the latest updates here.
---
The furniture industry in North Carolina—a place blessed with highly skilled artisans and vast stands of hardwoods—has responded to a century of challenges with perseverance and a penchant for quality.
Furniture manufacturing took off here in the late 19th century and accelerated throughout the early 20th, when northern businesses discovered North Carolina's natural resources. For the Hickory Chair Furniture Company, a manufacturer still thriving in the state's Piedmont region, the southward migration of industry spurred the firm's launch in 1911. "Labor was plentiful and unions were not on every doorstep," says Laura Holland, vice president of marketing and communications for the company, which is part of Heritage Home Group.
In short order, the area was humming with furniture makers and upholsterers. Brands including Lane, Bernhardt, Broyhill, and Thomasville entered the industry lexicon. The Great Depression slowed their output, but didn't shut them down.
In the early 1930s, with Colonial Revival as the style of the day, Hickory Chair introduced its Dorothy Robinson line of reproductions, followed in 1941 by the James River Collection. That trend got a bump in 1961 when Jackie Kennedy furnished the White House with American period pieces.
By the turn of the 21st century, drastic changes were afoot—first in manufacturing and later in style. "There was a huge exit of companies rushing to align production with some Asian sourcing," says John Jokinen, CEO of Morganton, North Carolina–based EJ Victor, which he cofounded in 1990. "There were plant closings, and companies gave up opportunities."
---
Quality became problematic. "Some vendors in Asia proved reliable and some weren't," he says. "The challenge was shifting manufacturing from the U.S. to Asia and the problems arising from that. Then there was the adjustment later on."
Today, historic Carolina companies like Hickory Chair hang their hats on luxury, aiming at the top 2 percent of consumers. "We are an interior design line," says Kevin Bowman, the company's president. "We have a place in the commercial and residential markets."
And while some offshore manufacturers are returning, Hickory Chair has developed a hybrid strategy to take advantage of Asia's efficiency and low costs with American legacy and quality. "Asian manufacturers are wonderful for competitors, but we look at the control of manufacturing," he says. "We use a company for hardware and metalwork in the Philippines that [Heritage Home Group] owns now, and an existing factory for other brands."
With lean manufacturing techniques, Bowman sees his company positioned on the industry's leading edge. "We don't stock inventories of products but of parts—without a lot of finished inventory," he says. "We build everything to order from components."
DARRAN, a High Point, North Carolina–based commercial furniture maker founded in 1977, takes aim at the mid-to-upper-mid-market with its own dual strategy. It looks Down Under for design help, while assembling its products in North Carolina. "We work in collaboration with two designers—ThinkingWorks Design Studio and Keith Melbourne—out of Australia," says Casey McDaniel, director of marketing and design. "Design there is really on top of the market and trends in the States."
---
That means going upscale. "We're getting a lot of requests for gray finishes," she says. "And black metal finishes—black is the new white."
Hickory Chair and EJ Victor are inclined toward a contemporary aesthetic. "People want a cleaner product," says EJ Victor's Jokinen. "It leans toward a transitional look with cleaner lines and simpler execution of fabrics."
"'Modern' is the word we use," Bowman says. "The styling is toward lighter colors—we own the color white."
Black, gray, or white, this much is certain: Whether through innovation or collaboration, North Carolina's furniture industry is built to last.
You may also enjoy "North Carolina Design: How the Tar Heel State's Modernist Heritage Endures Today."