April 30, 2019
NYCxDesign 2019: How the Public Design Commission Encourages Better Design in NYC
Metropolis speaks with the PDC's executive director Justin Garrett Moore and deputy executive director Keri Butler about their top priorities, initiatives, and awards program.
---
Justin Garrett Moore likens the New York City Public Design Commission (PDC) to a platypus. As part of the Office of the Mayor, it furnishes a required design review for any project on city-owned property. (That comes to more than 1,000 projects each year.) This enables the PDC to advance citywide initiatives on the project scale. What makes it a platypus is its paradoxical independence, considering its location at City Hall: Each month, 11 pro bono commissioners—architects, planners, and associated professionals not employed by the city—convene to review submissions by city agencies. "This independent group is a proxy for the public at large," says Moore, who has served as the PDC's executive director since 2016.
The PDC also issues recommendations on affordable housing (as of 2018) and safer streets (in the works). And it recently launched Women-Built NYC, a program to credit under-recognized design work by women over the past several decades. In June, it will announce the winners of the 37th annual Design Awards, selected from all projects reviewed in the prior year. Metropolis recently sat down with Moore and Keri Butler, PDC's deputy executive director, to discuss why this work matters.
Katie Okamoto: When we hear about public design, we often think of big projects, like the Spur on the High Line or the Studio Museum in Harlem. But it's often on a smaller scale.
Justin Garrett Moore: I walked by a park in East New York that was recently redone, and I saw that Parks [NYC Department of Parks and Recreation] put in a lower fence than had been there before. The effect was amazing. It shows how a small design intervention can make a huge difference in public space.
It's like "The Curb-Cut Effect" by Angela Glover Blackwell: The simple change of adding an ADA ramp is in theory done for a wheelchair-bound population, but it improves things for other populations. If you have a stroller, if you're a delivery person with a dolly, it helps you. Sometimes a design decision may be seen as small, but it can have a huge impact on people's lives.
---
KO: What does the commission look for in Design Award winners?
Keri Butler: We try to have a broad range of projects in every borough. We're not just looking at how things look, but how they are designed and what is integrated into their function—its programming, its durability, its resiliency.
JGM: A great example is the Downtown Far Rockaway Urban Design and Streetscape Reconstruction Project. This was a project that came to the commission very early in the process, and the commission gave feedback to do more with the design of the streets. The Department of Transportation, the Department of Environmental Protection, and the Economic Development Corporation all went to the community and talked to people about reimagining the core of their neighborhood. As a result, the design we have allows for more public space than the original.
What I really appreciate about it is that the street becomes infrastructure for large-scale community building. So there's a new library project that includes public artwork that the streetscape is connecting and talking to. There's a plaza that will anchor a new mixed-use and affordable housing development. It's become a lot more than a streetscape project. That makes a more inclusive city.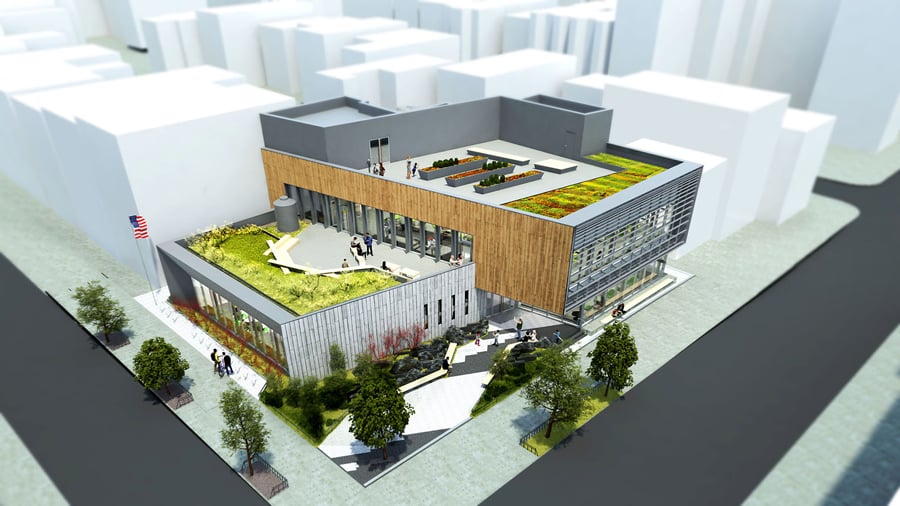 ---
KO: What you're describing is a project that becomes a catalyst for more than its original brief.
JGM: Absolutely. There are so many different kinds of projects that do that. Another interesting one is the ambulance chargers that were looking at various environmental considerations. So they could've just been an ugly box in the street that nobody pays attention to, but the agency worked with industrial designers to ask: How do we make them the most compact and streamlined and positive thing? Projects that go above and beyond connect to bigger needs in different communities. How much more pollution is there typically in black and brown neighborhoods? How do we reduce that?
KO: How do you think about public design and its role in a city as diverse as New York, and [one] that's changing, especially through private development?
JGM: The design of our city is a reflection of the city's values. Who's designing it? Who's building it? Who's making decisions about our public realm, our shared space, our common assets? Is this a team effort? The responsibility of public design—as opposed to "good design"—is that we have to think of everybody who's affected. In a way, we're responsible for some pretty tough conversations that come out of that.
KB: We look at every project in its unique context—not only its physical context but, Who's working on this project? Who are the users? What can we push for here? Because we are advocates, and we do push.
JGM: People working on a given project might be looking at only their "square." Well, we're accountable to the public and how the square connects to the community. We are asking design questions about a bigger contribution.
Want more information about NYCxDesign 2019? See our ever-growing collection of previews, events coverage, profiles, and more, here.
Would you like to comment on this article? Send your thoughts to: [email protected]