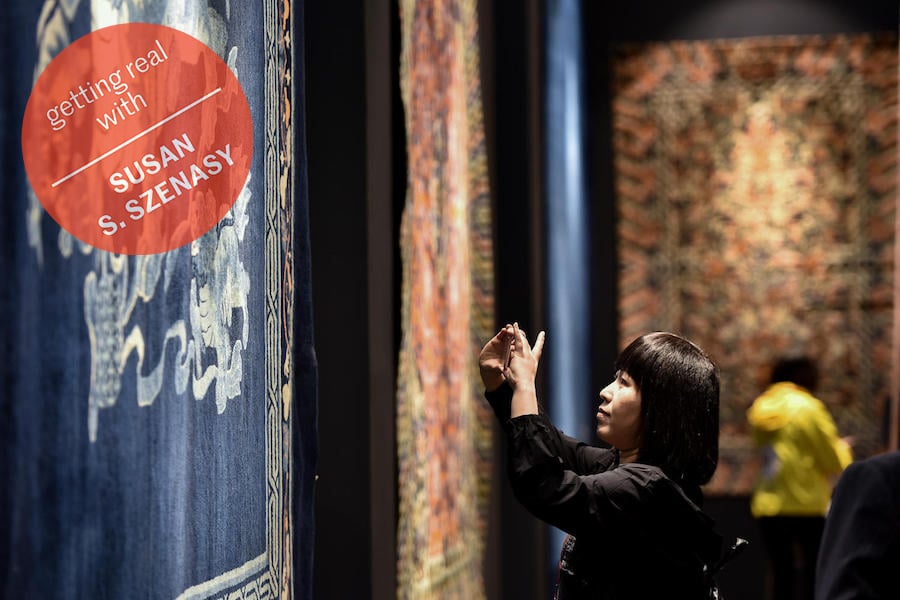 July 2, 2018
Opinion: When It Comes to Being Good Neighbors, Look East
Metropolis's director of design innovation discusses her experiences at a carpet exhibition in Xinging, which demonstrated China's efforts to connect with the livelihoods of a polyglot regional economy.
In early June I spent a week in the high-altitude air of the Tibetan plateau. We were in Xining, the capital city of Qinghai Province, a new settlement enlivened by a smattering of exemplary religious and commercial architecture. This growing city of more than 2 million seems to be getting ready for a massive population influx: clusters of high-rise buildings are under construction, even as many others stand empty. What will they do with all the new cars that follow, I wonder? Already downtown, its wide roads edged with verdant plantings, is choked with traffic—perhaps a sign of success in China, whereas in the U.S.  the same automobile congestion signals our failure to figure out transit in burgeoning cities.
I was officially invited to come here by the vice-governor of the province, to attend the China (Qinghai) International Carpet Exhibition, ambitiously called a "green" show. There was some talk of sustainable practices, like efficient digital manufacturing, but I was more interested in the handmade, especially the work of skilled families of makers who weave and knot carpets with fibers spun from the wool that grows on sheep fed by local climate, terrain, and vegetation. The rug makers' time-honored work, when managed by ethical owners or agents, supports families who are free to send their kids to school, and not put them to work. Sustaining family units and communities is as key to this newfound "green" practice as using local resources.
I came to Xining at the behest of Nasser Nishaburi, a passionate advocate for keeping the Persian craft of rug making alive in the digital 21st century. Nasser's impressive collection of authentic, handmade carpets is well known in his native Tehran, as well as in Chile and several cities in China. Full disclosure: I have been a fan of handmade rugs for decades, ever since I moved into my first Manhattan apartment and purchased an antique kilim made in Turkey. From then on, I retained a fascination for the innate artistry of the makers who weave their soul, the culture of their place on earth, into these beautiful rugs. So, you ask, what do Persia's craft rugs have to do with the juggernaut that's Chinese modernization? Here's that story.
Even as we, in the West, live in the "eternal now," in the East they're inspired by the ancient Silk Road that once connected China to the Roman Empire through trade, innovation, and culture—all based on the skills of the many unique peoples along this first pathway to create global connections. This legendary cooperation inspires the new system of collaboration, as envisioned the Shanghai Cooperation Organization which now includes Russia as well as India and Pakistan. The economic power of this group, fed by Chinese vision and investment, manifests itself in the Belt and Road Initiative  which includes the "green development of the carpet industry."
At the Qinghai Province Museum, I take in the creative energy that's been at work in this region, formed by a mix of ethnicities and religions, since the Stone Age. Material, making, and formal innovation, which now we attribute to the design and engineering professions, were once innate human talents that expressed people's aspirations grounded in a place and its culture.
In our divided times, as we search for connectivity and authenticity, we hope to find places, people, and products around the world that satisfy our curiosity about how others live and work. But our yearning for connecting to others is subverted by mean and misinformed governmental policies that alienate us from our neighbors in the Western Hemisphere. Can the West afford to pursue such short-sighted politics at a time when the East is working to connect with its neighbors, near and far, along a 21st Century Silk Road? Chinese TV says "No", as commentators explain that national isolation in a global world is a sign of failure.
As we progress through the many ceremonies of the week, punctuated by idealistic films of nature as background for ethnic dances, Tibetan guttural singing, mournful Chinese violins, and digital pyrotechnics, the energy of the event and the place peppers our conversations with the sobering realization that innovative thinking, at least in global commerce, is more likely to come from the historically aware East than from the amnesiac West.
You might also like, "Opinion: Why Women Designers Need a Seat at the Table in Corporate Boardrooms and Beyond."