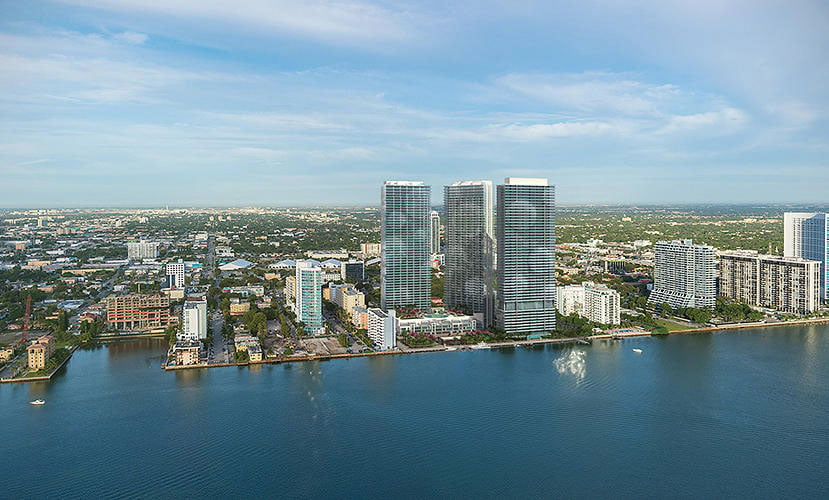 April 13, 2015
How Economic Bust Has Redefined the Value of High Design
An Italian design legend considers the positive effects that the world's financial crisis has had on luxury design.
In recent years, Piero Lissoni has shifted his considerable talents towards new international markets, including Miami. Pictured here is the Paraiso development on Biscayne Bay, where construction on Lissoni's ONE Paraiso Tower broke ground in December.
Courtesy the Related Group
---
The disastrous results of the global economic meltdown cannot be exaggerated, but it is too easy to view the state of affairs in which design now finds itself in a wholly negative light. In fact, the last several years have been a period of productive innovation for manufacturers, developers, and designers willing to extend their reach into unfamiliar territories.
Before 2008, the design world had a fixed center—Italy. For most of the second half of the twentieth century, the country that produced the likes of Giò Ponti and Michele De Lucchi was synonymous with quality design and cultivated consumption. When you look at Italian design, however, it isn't possible to simply discuss the work of Italian designers. In Italy, the manufacturers are the other half of the equation—they are responsible for nurturing and taking a chance on new, younger talents while also upholding the legacy of classic Italian design.
Since the crisis, these same manufacturers have been forced to expand their vision to look beyond their own borders. More and more have, in recent years, adopted an increasingly open-minded approach, actively seeking out new energies from countries and markets far-flung from the factories and galleries of Milan or once considered to be incompatible with quality design. In the last decade, manufacturers such as Cappellini—and, more recently, Flos—have helped to promote designers like the Bouroullec brothers and Jasper Morrison.
In a similar way, developers in the United States have also become more open-minded. Cities such as Miami, where the cultural market has gained a foothold in the last five years, are transforming before our eyes, in part because of the involvement of major designers and manufacturers from Italy and Europe. Before 2008, Miami was similar to Las Vegas—a place where everything had a price and pleasures were cheap. It was enough to just put up condominiums, stretches of almost identical buildings whose developers clearly didn't have an interest in architecture or design. Reacting to the economic slowdown, however, these developers realized that they could not continue on as before.
Lissoni, seen here with OMA partner Shohei Shigematsu (left) and landscape architect Enzo Enea (right), participated in a panel during Design Miami/ about the city's emergence as a global player. The panel was hosted by Metropolis and the Related Group.
Courtesy Alberto Tamargo
Just as in Italy, we see how the crisis has inspired creative design developments. Developers have discovered a European sensibility, looking abroad for architects and designers to realize ambitious projects that often incorporate hybrid programs and features. In Miami, where I work extensively, new residential complexes have taken on sculptural forms that are better suited to their context and more attuned to the environment, while also being architecturally exceptional—such is true with the Paraiso master-planned community in Miami's Edgewater neighborhood. The luxury four-tower complex is bringing in a select group of architects and interiors designers—including Keith Hobbs, Karim Rashid, and myself—to create a design-centered community. This new brand of condo buildings is also beginning to give back to the city, with innovative amenities such as Biscayne Line, a pedestrian promenade proposed by the Related Group that will completely open up Miami's bayfront to the public (ONE Paraiso, the tower project within the Paraiso community I'm designing, will hook up to this walkway). It's no coincidence, then, that today Miami is one of the most exciting cities in America and a design capital where "high quality" carries a lot of weight.
Designers from all over the world have benefitted from this open-minded approach. The most successful have distinguished themselves through a highly individualized sense of style and form. We shouldn't strive for this kind of creative innovation simply for its own sake, but should instead try to find creativity in all channels of production—from design and prototyping to sourcing and manufacturing. To be a designer means to be sensitive both to the design process and the production chain, to context and cultural exchange.
All of these design parties have had to become more responsible to ensure their survival through economic collapse. Now, manufacturers have to more accurately account for material waste and the handling of resources, while developers cannot exclusively pursue matters of business. Designers have a big role to play in checking, both by better managing their projects and the scale of their interventions. The crisis has taught my own office to pull back and reassess our productive output. With all our clients, we begin by discussing the correctness of a project before proceeding to the design phase. All this contributes to a higher level of quality that simply was not there before.
---
Piero Lissoni is a designer, architect, and art director. He leads two design practices, Lissoni Associati and GraphX, and has collaborated with international manufacturers such as Alessi, Boffi, Cassina, Flos, Fritz Hansen, and Knoll, among several others.