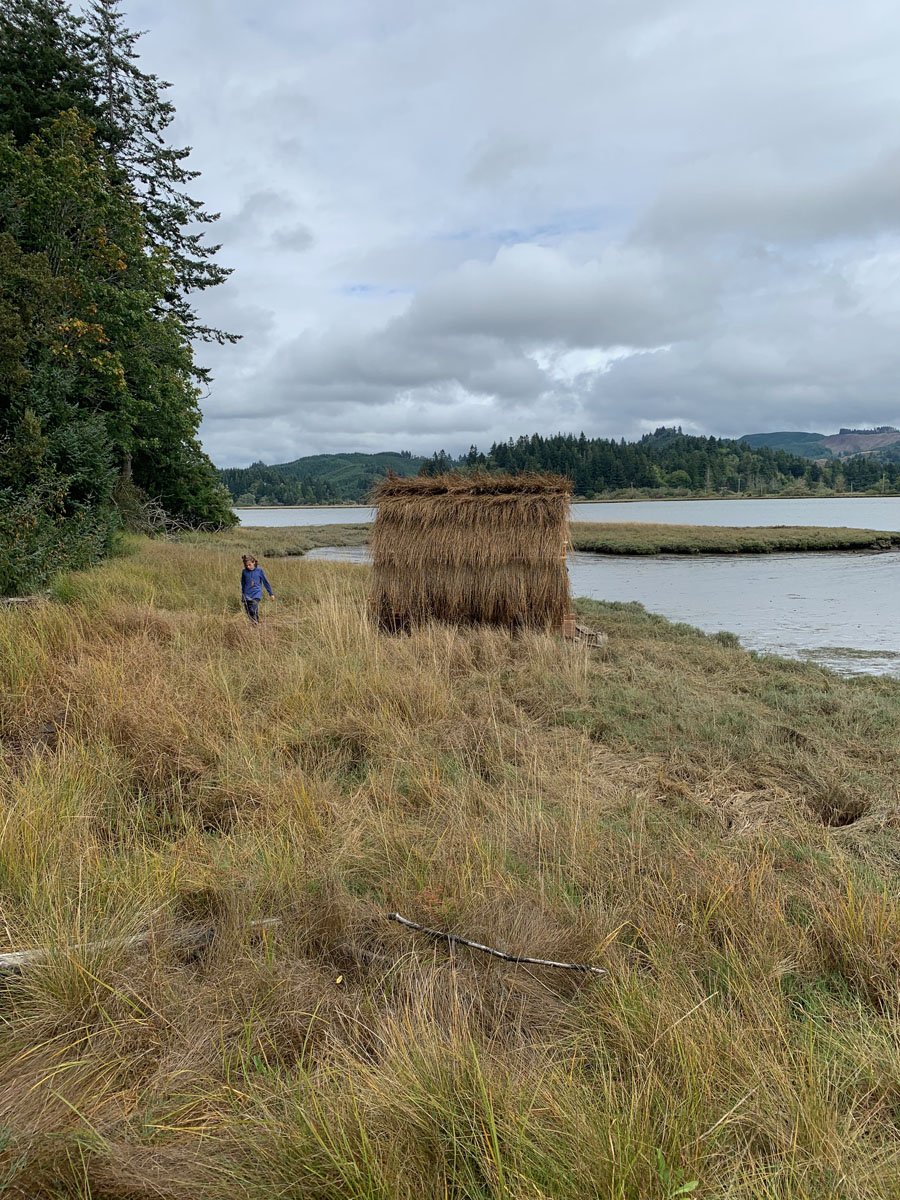 July 8, 2020
Erin Moore's Pipeline Portals Are a Spatial Response to Fossil Fuel Infrastructure
Occupying lands threatened by the contested Pacific Connector Pipeline, the trio of thatched pavilions subvert the "human supremacy of shelter."
For nearly all of its history, architecture has had a complicated relationship with the natural environment—not only with the space that it occupies but also those reciprocal landscapes that are generated through construction—the clear-cut forests, the sand mines, the sprawling logistics centers. Erin Moore's Pipeline Portals are an attempt to call attention to and, in a small way, repair that relationship.
Through her architectural practice FLOAT, Moore, who is also a faculty member in the School of Architecture and Environment at the University of Oregon, has maintained a longtime interest in life-cycle thinking and the power of design as a form of protest. The "portals," a trio of cylindrical wood pavilions roofed in locally harvested thatch and designed to degrade in situ, are located along the route of the Pacific Connector Pipeline, a 229-mile natural gas pipeline that would slice across the landscape of southern Oregon and imperil local ecosystems, including the eelgrass beds of Jordan Cove, an important salmon habitat.
Moore's project, constructed in 2019, comes at a time when the lawful protest of fossil fuel infrastructure is increasingly being criminalized. Since 2017, at least ten states have passed laws that classify pipelines and other oil and gas facilities as "critical" infrastructure and radically escalate penalties for any actions that impede or interfere with their operations. Watchdog groups have characterized the wave of legislation as an "assault on environmental protest" and an infringement on the American public's First Amendment rights.
Each of Moore's portals occupies a distinct landscape typology—riparian, estuarine, and wetland—and sits on private property threatened by pipeline development. (Moore met the landowners, all of whom oppose the pipeline, through an earlier design studio.) The structures are intended as a way to curate the landscape, Moore says, to draw attention to specific ecosystems that would be lost. "They're sited really carefully. Being in them really changes the way you perceive the place."
The pavilions both employ and interrogate the commodification of architecture to achieve their activist aims. Because healthy, biodiverse ecosystems have little economic value, they are easily lost to agriculture or development. By placing a work of architecture, which does have value, in an overlooked landscape, Moore alters a viewer's perception. The goal, she says, is to "fundamentally make it more beautiful, but beautiful because of biodiversity and ecological integrity and interconnection, as opposed to extraction."
"That's the protest," Moore says. "Putting something of value in the path of destruction in order to draw attention to the wrongness of it."
To build the portals, Moore used dimensional lumber to fashion a series of offset hexagonal trusses—the simplest way, she says, to build a lightweight circular structure. The roofs' assemblies were more complicated, however. To avoid introducing unwanted nonnative species, Moore restricted herself to plant species already on-site, namely Juncus effusus (soft rush) and Schoenoplectus acutus (tule). "Traditional thatch uses rice grass, which we could have ordered from a farm, but all of these sites would have been wrecked by that," she says. Moore harvested the plant material by hand, then dried it in a custom-built drying shed in Eugene, Oregon, before trucking the prefabricated strips of thatch back to site. It required weeks of physical labor, undertaken by Moore and a small team of collaborators. "I have never worked so hard physically in my life," she says.
Accentuated by the unconventional thatchwork, the pavilions' spiral form is a nod to the cyclical nature of seasons, tides, and other natural phenomena, as well as a subversion of what Moore describes as the "human supremacy of shelter." "The idea of the thatch going round is that it sheds rain and provides shelter on one half of the cylinder—and that's the half that has the bench—but then on the other side, the roofing material is essentially put on upside down." This prevents it from shedding water, but it's "really nice for nesting," Moore says. By literally upending a traditional architectural assembly, the pavilions create nooks and crannies for all sorts of inhabitants: birds, insects, microbes. They are multispecies habitats.
For Moore, the portals project has been instrumental in helping evolve her design practice. "The tools of design practice—whether that's site visits, community engagement, construction—those things can be used in so many different ways, [including] for commodification, adding value to land in an economic way," she says. "It's been really quite wonderful to use that same kit of parts to do something that's really in keeping with my own value system."
You may also enjoy "A New Landscape in Albuquerque Puts Accessibility Front and Center."
Register here for Metropolis Webinars
Connect with experts and design leaders on the most important conversations of the day.