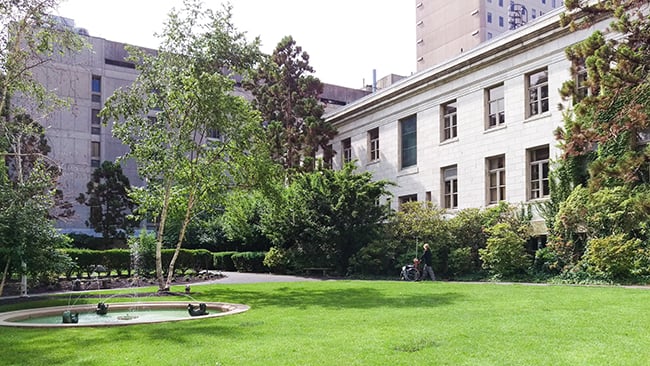 October 21, 2016
Prouty Garden is Slated to Be Destroyed—Will Its Legacy Be Preserved?
Boston Children's Hospital will soon replace its beloved Prouty Garden with a rooftop greenspace roughly one-third its size—but will this new space truly be the haven patients deserve?
When my daughter had to receive treatment at Boston Children's Hospital, I remember having two thoughts when I walked through its giant revolving door: how much I wish I didn't have to be there, and thank goodness this place exists. In addition to being a world-class hospital, it also features one of the most beautiful and historically significant hospital gardens in the US: Prouty Garden.  
Just yesterday, the Massachusetts Public Health Council approved the hospital's plan to build a new structure on top of the garden, replacing it with a rooftop greenspace, which will be roughly one-third the size of Prouty, and smaller gardens inside the hospital.
Prouty Garden, designed by the legendary Olmsted Brothers in 1956, has provided visitors to Boston Children's Hospital a place to escape and collect their thoughts for over 50 years. Inside the garden, the gently bubbling fountain drowns out the surrounding noise.  When you look up, you can still see some open sky, surrounded by the hospital's taller buildings. You can't see the patients in their rooms, but they can see you and the well-manicured lawn, paths, trees, and flowering bushes. I've read many stories about how Prouty Garden helped children and their families recover from the stress of chemotherapy and surgery, and how parents have strewn the ashes of their children who died after being treated there—as a way to connect their lives eternally with this comforting space. 
Courtesy Yuhgo Yamaguchi
Thirty years ago, Roger Ulrich, a leader in evidence-based design, famously conducted a study comparing two sets of patients—one with "tree views" and one with "wall views." He showed that patients with tree views had "shorter post-operative hospital stays, took fewer moderate-to-strong analgesic doses, and had slightly lower scores for minor postsurgical complications." Upali Nanda, associate principal and director of research at HKS, describes hospital gardens as, "almost a type of alternative medicine" due to their "impact on human health, including reduced stress and anxiety, improved mood, and better overall physical health."
Ulrich cautions against building hospital gardens that are not large enough to provide the respite for which these gardens are intended to provide, or accessible enough to the people who want to visit them. Also, gardens in proximity of patient rooms and waiting areas could compromise patient confidentiality if garden visitors can see into these areas, which according to Ulrich, "happens more frequently than one might expect, and it turns well-intended, but badly designed gardens into essentially useless sunk costs." 
This is why it is critical to maintain the design intent of Prouty Garden. Spaces designed without intent may meet some objective, functional criteria, but they'll never hold a place in our hearts. Mrs. Prouty, a devoted friend and benefactor of Boston Children's Hospital, described the garden's design as "a haven for patients, parents, and staff." In light of Boston Children's Hospital's expansion, I hope the new rooftop garden will respect and build on the legacy that Mrs. Prouty left for us, not by replacing Prouty with just any garden, but with a well-designed space that will be a haven for people during some of the most difficult moments in their lives.
Yuhgo Yamaguchi is a Principal at Continuum.