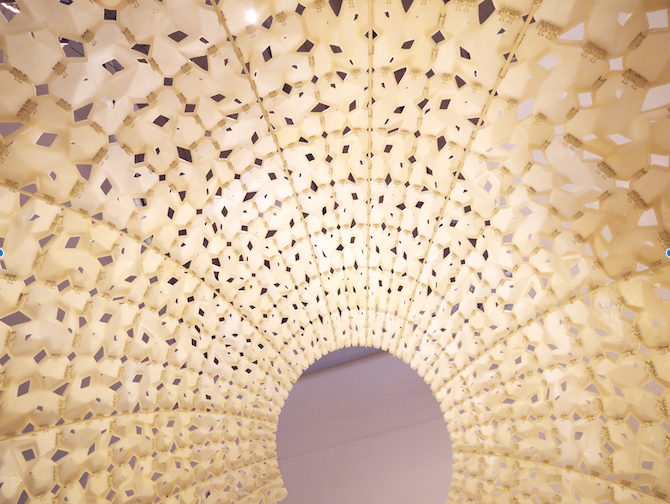 January 27, 2016
Q&A: Architect Virginia San Fratello on 3D Printing an Entire House—Walls, Floors, Cutlery, and All
We talk to the young designer and former Next Generation Design Competition winner about her explorations with 3D printing and sustainable materials.
Virginia San Fratello and Ronald Rael head an architectural studio practice and a tech start-up, both of which explore new uses for 3D printing.
Courtesy Rael San Fratello
---
The Metropolis Next Generation Design Competition was launched in 2003 to promote environmental activism, social involvement, and entrepreneurship among young designers. In 2006, a panel of globally recognized experts awarded the prize to Virginia San Fratello, for her work on Hydro Wall, an innovative concept for a building component that collects rainwater from a building's roof and stores it inside a wall to serve as a thermal mass. In the years since, San Fratello has continued her exploration of sustainable practices and materials—both new and old—as part of her architectural practice with Rael San Fratello and Emerging Objects, a tech start-up that develops materials and applications for 3D printing. We spoke to San Fratello about her recent work, which ranges from playful conceptual projects to 3D-printed ceramics.
Dora Vanette: Has your philosophy and approach to design changed in recent years? What are some themes and research ideas that you are focusing on now? 
Virginia San Fratello: I think it's fair to say that our approach and philosophy has evolved over the years. We still have a strong interest in ecology, sustainability and the design of building components that can help buildings perform better in today's environment. We have, however, expanded our repertoire to include projects that provoke discussion about how we as a country utilize public space, and how we spend our money on infrastructure. Projects such as Borderwall as Architecture (a multilayered proposal that addresses the complex issue of immigration control between the U.S. and Mexico) and the Bay Line (a project that re-imagines the Bay Bridge) are largely commentary and deal with political and social issues surrounding design.
Through Emerging Objects I have also expanded my research to include 3D printing as an ecological and sustainable manufacturing method for the built environment. We are probing the future of manufacturing using materials that are naturally used in architecture, such as wood and cement, in unnatural ways, while also testing out completely novel materials, like recycled rubber tires to make 3D-printed building blocks. We are still developing and commercializing building components that will contribute to modulating the temperature of the interior climate, allowing building owners to use less energy and reduce one's reliance on fossil fuels in a vein similar to the Hydro Wall—recent products include 3D-printed "cool bricks" and planter tiles.
DV: What got you interested in 3D printing and what are your hopes for the future of Emerging Objects?
VSF: We started by asking, "What if 3D-printable materials were durable, affordable, inexpensive, and ecological?" That questioning led us to develop new materials for 3D printing such as recycled wood, cement, rubber, paper, and salt. As we develop each material we design a proof of a concept project that demonstrates how 3D-printed building components, made of the respective material, can be fitted together to make larger structures. This past year we fabricated a structure called Bloom made of almost 1,000 custom 3D-printed cement masonry units. Our goal is to demonstrate that customized building components can be 3D-printed on demand for architectural purposes.
The "Saltygloo" installation was 3D-printed using salt harvested from the San Francisco Bay.
Courtesy Rael San Fratello
---
DV: A lot of your work seems to merge an experimental, playful nature with a more traditional architectural approach. How do you mediate between the conceptual, the disruptive, and the practical? 
VSF: We start by playing. We play with printers, we play with materials, and we play with software—that's how we learn new things. That play turns into conceptual thinking and questioning—what issues does this have the potential to address? How can the materials we're playing with change the way the world makes things?
Sometimes projects also take on a life of their own. For example, when we were designing SOL Grotto, an art installation for the UC Botanical Gardens at Berkeley, we were excited to use glass rods from the failed green-energy company Solyndra because of the way the tubes glowed in natural light and because we thought preventing the rods from going to landfill was a good use for that material. We had no idea that Fox News and its pundits would pick up the story, that a conspiracy theory would emerge, that the SOL Grotto would cause Congress to pass the "No More Solyndras Act," and that attendance to the Berkeley Botanical Garden would increase by over 200%. In that instance something political emerged from something practical. In other cases, such as with the Borderwall as Architecture, that project started as commentary on the politics surrounding the "Secure Fence Act" and has become very playful—literally. For instance, we proposed to mount park and playground equipment such as see saws and swings directly on the fence.
DV: What is on the horizon for you now? 
VSF: We've been 3D printing with ceramics this fall and by researching the potential of using a very old material in conjunction with a very new machine. We've developed a new technique for 3D printing ceramic blocks that have the potential to not only be structural and insulative but that could also transmit light. We're also excited about the texture of these forms and blocks as they invoke softness, furriness, and resemble knitted textiles and sweaters. We're in the process of designing and fabricating a 3D-printed, fully functioning house that will include the 3D-printed ceramic furry bricks as the exterior. We also intend to 3D print the interior walls, the light fixtures, the furniture, and even the cutlery and the plates.
It will be a total work of art! We've always had an interest in building with mud, clay, and other traditional building materials such as adobe and rammed earth. I think this is an opportunity for us to merge that world with 3D printing.
San Fratello and Rael are currently planning a fully 3D-printed house.
Courtesy Emerging Objects
Metropolis will be honoring Next Generation design talent at our 35th Anniversary Design Summit in New York this coming Fall.