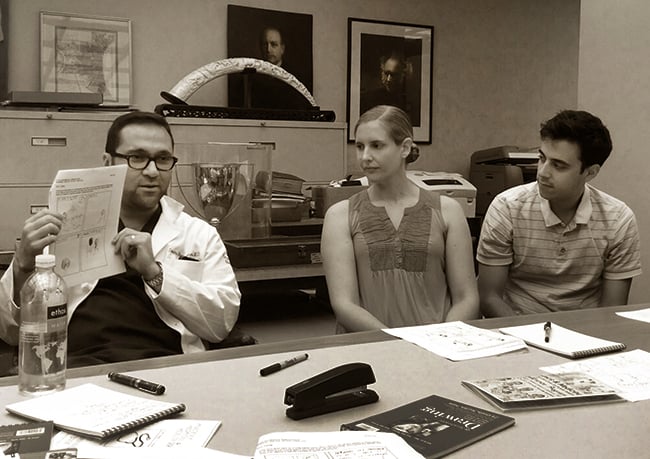 September 13, 2014
Raymond Richard Neutra's Hippocratic Oath for Designers
A preview of next month's week-long design symposium
A symposium on the surging confluence of medicine and design thinking will mark the 10

th annual celebration of DesignPhiladelphia at The Center for Architecture, 1218 Arch St., Philadelphia, on October 12 at 1PM.

After decades of research and teaching, Dr. Peter Lloyd Jones founded, and now directs, the breakthrough MEDstudio@JEFF, at The Sidney Kimmel Medical College in Philadelphia. This research and education incubator seeks to imbue medical education with design thinking and practice "always filtered through human experience," as Jones says. "Design is a humanistic pursuit."

Ultimately, the focus is to attract students from non-traditional backgrounds, such as architecture, engineering, and computer science, with the goal towards recruiting a new type of medical school applicant predisposed to design thinking. A range of important speakers including keynote epidemiologist physician Raymond Richard Neutra (son of the late architect Richard Neutra) have responded to Jones's call for "extreme collaboration in medicine and design." The session is one of the many exciting events part of next month's DesignPhiladelphia Festival.
Dr. Raymond Richard Neutra
Courtesy PRLog
For his upcoming talk, "The Variety of Aesthetic Experiences," Dr. Neutra does not intend to arrive in Philadelphia from the West Coast with prescription in hand to tell us what to do but more what not to forget as medicine and design are powerfully forged together.
He is interested in certain "targets" for medicine and design including "how to structure the last chapter in life." Neutra has just attended a conference on our susceptibility to environmental hazards and how differently we metabolize toxins like mercury depending upon our individual genetic makeup. Similarly, he poses that, "The role of aesthetic sensitivity and activity has a lot of variability." Our physiological responses to beauty are "multisensory, not just visual but olfactory, acoustic."
Encouraged by new designs actively incorporating nature into architectural space, Neutra points to Denmark and Japan as places where "the cultural norm is aesthetic adjustments to the environment." He stresses that education in the U.S. could better attune people to the implications of their designed environment and re-connect them to the natural world.  "Anybody can appreciate a blooming tree—if there is a tree," he adds with a wink.
Neutra's Hippocratic oath for designers and physicians "includes a lot of listening to patients and the public to understand from where they are coming. [Be] careful about imposing your ideas of what might work for them, design is not 'one size fits all.'"
Dimitrios Papanagnou, MD, MPH, Associate Director of

 MEDstudio@JEFF , Associate Professor of Emergency Medicine, sharing his early efforts in graphic medicine. Med students Erica Hatch and Nikolaos Mouchtouris look on.
 Courtesy Joseph G. Brin © 2014
Bon Ku, MD MPH, Associate Director of MEDstudio@JEFF and Assistant Professor of Emergency Medicine at Jefferson Hospital in Philadelphia, is an enthusiast in the best sense of the word. Have a great idea? He's on board in a flash.
If he were an architect you might say Ku is a "contextualist," taking an anthropological approach, digging deeper into a patient's environment, family history, childhood, schooling, career—all towards uncovering the roots and nature of disease. Ku maintains that the medical profession has been "authoritative, paternalistic, not a lot of listening to patients."
For Ku, who thrives on the controlled chaos of the ER, it's not about the vaunted "patient-centered" care you've seen in ubiquitous hospital care advertisements. Ku himself was profoundly affected by a visit to a patient's home during his own medical training. "People are more than the physical manifestation of disease. Medicine must become 'human-centered,'" he says.
Taking the temperature of medical education
Courtesy Joseph G. Brin © 2014
Papanagnou found that this summer's pilot graphic medicine workshop at MEDstudio@JEFF tapped into his own doctor/patient experiences in a way no other course would have. The sequence of events he depicted on paper of a particularly difficult encounter proved to be both emotional and cathartic.
At MEDstudio@JEFF, Papanagnou admits they're still looking for answers to fix what's broken in medical education but "it appears that at some point in our training, medical instruction took on a very rigid structure. Trainees, ultimately, find themselves at the bedside, forcing a paradigm for care delivery that doesn't quite 'fit' the patient at hand. Design thinking has the potential to set a new paradigm. It values the feelings, perceptions, opinions and domains of our practice and lends the trainee a new mental architecture for making meaning out of the practice of medicine…a more thoughtful type of medicine."
Dr. Bon Ku, playing a belligerent drug addict in the ER
Courtesy Joseph G. Brin © 2014
When Dr. Jones turns to a new group of medical students and declares, "Failure is absolutely essential for good design, be creative, be a 7-year old again!" he gets some blank looks.
To their credit, med students are, almost by definition, goal-oriented and driven. But are they playful and creative? Are they willing to stray from linear thinking? Are they willing to delve into their personal feelings about medicine, their patients, their training?  Will they emerge from medical school with a discrete body of technical knowledge that has all the shelf life of a new pc? Or will they harness technical acumen to a deep understanding of human nature with subtle diagnostic instincts that can flex with any technological advance?
"Extreme Collaborations in Medicine + Design" at DesignPhiladelphia will be a window on the future of design, medicine and medical education.  As a future medical patient you have a stake. You might want to take a peek through that same window to see if you will be in good hands.
---
Joseph G. Brin is an architect, fine artist, and writer/graphic novelist based in Philadelphia, PA. He recently launched a pilot program in graphic medicine with Dr. Peter Lloyd Jones at The Sidney Kimmel Medical College at Thomas Jefferson University.
On Friday, October 17th 4-6PM, Brin will join Susan S. Szenasy, Metropolis Magazine Publisher and Editor in Chief  (Author, "Szenasy, Design Advocate") and Hilary Jay, Director of Design Philadelphia, in a "roundrobin" on contemporary design at the Center for Architecture, 1218 Arch St., Philadelphia, PA