August 1, 2018
How Mexico's 2017 Earthquake Galvanized Its Architecture Community
As part of our 2018 Design Cities issue, Metropolis looked at projects, firms, and places that are driving global design culture today.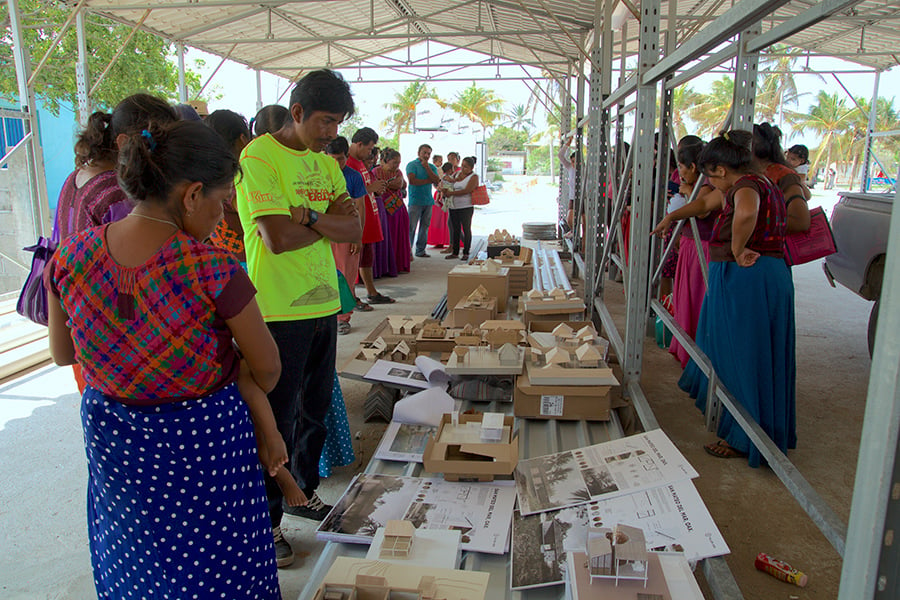 ---
For our annual cities listings, Metropolis took a novel approach to avoid the typical ranking: We surveyed 80 leading architecture and design professionals, asking them to nominate places in three categories—design powerhouses, buzzing cultural hubs, and cities that inspire or personally resonate with them. The results turned up the usual suspects as well as some unexpected newcomers, and our coverage is similarly heterogeneous, from profiles of local firms to spotlights on grassroots initiatives and sum-ups of cities' design goings-on.
This undertaking in Mexico City reflects the megalopolis's position as a "powerhouse" global Design City. Stay tuned to our homepage as we publish more 2018 Design Cities!
---
When Mexico City was named the 2018 World Design Capital three years ago, it settled on the theme "Diseño Socialmente Responsable" (Socially Responsible Design). In an announcement last April, the program's director, Emilio Cabrero, said the topic signified "a moment for design professionals, creatives, and the general public alike to come together."
But the mandate was thrust into practice all too soon. On September 19, 2017, a 7.1-magnitude earthquake ripped through the city and the surrounding region, killing more than 300 people. While the response in Mexico City's center was swift, aid for the neediest—those living on the city's periphery and across the states of Oaxaca, Puebla, and Morelos—became virtually stagnant.
The tragedy demonstrated the resilience not only of well-designed buildings but of Mexico City's robust and engaged design community. Just three days after the quake, more than 100 architects mobilized to form a nonprofit under the name ReConstruir México and called on building professionals to design sustainable, context-sensitive housing as part of the country's regenerative efforts. "Rebuilding Mexico implies a deep social reconstruction and an appreciation of what exists," their manifesto stated. Since last fall, the network has swelled into a multidisciplinary coalition of hundreds of architects, engineers, planners, and sociologists.
The architects joining in the ReConstruir México endeavors—including Tatiana Bilbao, Alberto Kalach's TAX, TEN Arquitectos, and Taller de Arquitectura—are consciously avoiding a one-size-fits-all approach. TAX, for example, was tasked with designing houses in two gravely affected areas: San Mateo del Mar, 12 hours south of Mexico City, and Ocuilan, two hours southwest. "The townspeople are very poor and don't have adequate solutions—they have walls with a roof," explains TAX's Yulia Imamutdinova.
Imamutdinova and her teammate Adolfo Romero designed distinct solutions for each of the locales.
Upon visiting San Mateo del Mar, Romero noticed that houses made of block (an inexpensive, commonly used material) collapsed, while those made from natural materials such as palm and carrizo, a local reed, withstood the tremors. The architect relied on inexpensive, flexible, and easily sourced bamboo for designs of two houses built atop a shallow foundation. "It had to be like a ship," he says. "The house needed to move on the soil."
---
Meanwhile, in Ocuilan, where adobe houses are common, Imamutdinova is using "adoblock"— building modules made from a combination of cement, earth, and rebar that can be produced on-site—to enhance the structures' stability. Currently three TAX houses are in various stages of design and construction.
In tandem with the rebuilding efforts, PienZa Sostenible has launched a detailed online platform called Brigada, which documents the extent of damage, available community resources, construction progress, costs, and other data—all to identify need, promote transparency, and foster collaboration among group members.
"Part of the impact for the community is that they are going to see something new that will be [earthquake] resistant," says Romero.
Still, the architect concedes, "there is a lot to do."
You may also enjoy "In New York City, a Bold Urban Plan Seeks to Revitalize Miles of Shoreline."