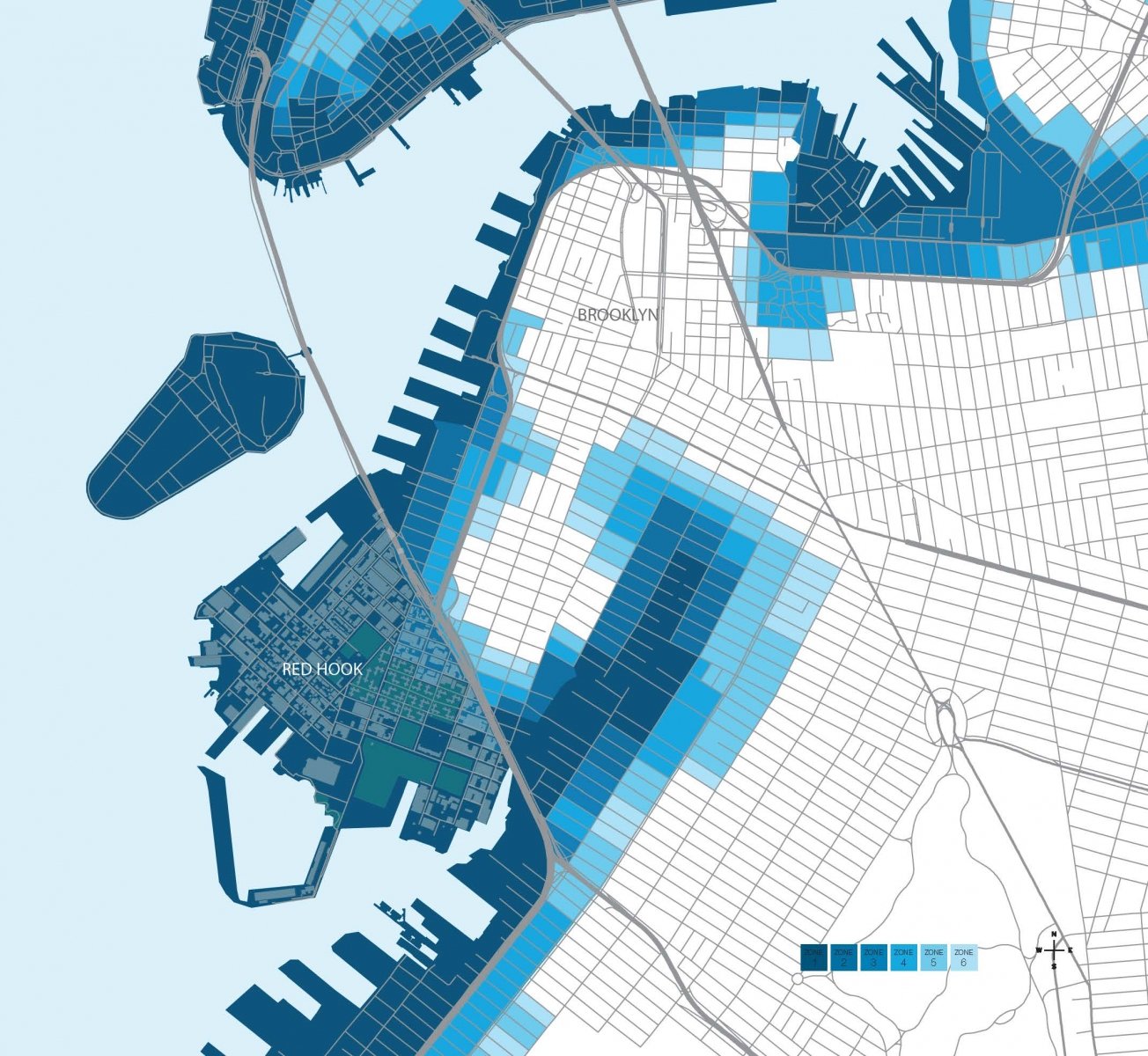 May 5, 2016
Red Hook Reimagined: Towards Urban Coastal Resilience
Post-Sandy, how can we revitalize Red Hook? And how can these ideas apply to coastal cities around the world?
New York City Hurricane Evacuation Zones: Red Hook, Brooklyn
Image courtesy NYC GOV/TerreformONE
---
Red Hook, Brooklyn is a New York neighborhood so rich in history, culture and diversity that even after its devastation by Super Storm Sandy, many of those who call it home wouldn't live anywhere else.  
However, Red Hook faces significant challenges. A series of design and infrastructure missteps, dating back to New York's Master Builder Robert Moses and the U.S. Housing Authority's underwriting of the Red Hook Houses in the 1930s, cut the neighborhood off from surrounding areas. There is no subway within Red Hook, and the Brooklyn-Queens Expressway separates it from the rest of the five boroughs. And when Sandy hit, the neighborhood was unprepared, leaving residents on the coastline in squalor.
New York City Hurricane Evacuation Zones: Red Hook, Brooklyn
Image courtesy NYC GOV/TerreformONE
Traffic and public transportation access in Red Hook, Brooklyn.
Image courtesy TerreformONE
Image courtesy Justin Lane
---
Red Hook's disconnectedness, insufficient low-income housing, and vulnerable infrastructure present serious challenges, but these challenges also make Red Hook so ripe with opportunity. It is a place where we can apply the principles of great urban design that Jane Jacobs left us to make Red Hook the next great example of what is possible in urban regeneration.
While many across the industry shared their own ideas and concepts for how to revitalize Red Hook after Sandy, rebuilding a community requires a community. It requires collaboration, cooperation, and integrated solutions from all parties. It requires dialogue with key stakeholders in the architecture, design, development and building communities—as well as business partners, developers, and government.
Major change dialogue started in May 2015 when BASF, a global chemical company at the forefront of sustainable and resilient construction solutions, tackled some of these issues during its six-day Creator Space™ New York City tour, which gathered industry thought leaders alongside Red Hook residents to consider ways of improving both resiliency and quality of life in Red Hook. One of the events, the Design Competition, challenged six teams with a seemingly simple question:  "How can we revitalize Red Hook's built environment to invite people to work, play and move around better to improve urban living?" While the resulting five solutions could work in isolation, their impact is exponential when deployed holistically. Moreover, they represent ideas to further resiliency and sustainability for coastal cities around the globe.
Establish a Network of Green Corridors: In addition to enhancing water circulation and absorbing and/or channeling runoff from rainstorms to increase flood resilience, re-landscaping for green corridors would also improve social cohesion and reduce Red Hook's isolation, creating shared spaces for pedestrians and allowing for those "eyes on the street" that Jacobs encouraged.
Create a Coastal Park: As a first line of defense from storm surges and rising sea levels, a coastal park would double as protection and recreational space for Red Hook's residents. A second line of protection farther from the shoreline, consisting of breakwaters, dikes and ponds, would help absorb storm surges.
Inspire with a Model Block: The implementation of a model block – a template for new eco-friendly and self-sufficient construction that incorporates existing building stock – would both improve street life and provide flood-resistant buildings for living and working, all while affordably preserving the character of the neighborhood. In addition to its resilient and sustainable construction, the model block provides a framework for sustainably and efficiently living and working in an urban environment. It also personifies the New Urbanism movement Jane Jacobs inspired by promoting walkability, a range of housing types, and job types in an environmentally friendly habitat, as addressed in the following two solutions.
Establish a Center for "Green Collar" Job Training and Human Services: By nature of its isolated geography, Red Hook residents lack access to resources and education to improve their prospects. This hub could help train residents for "green collar" jobs in sustainable construction—a fast-growing industry that in 2015 in the United States alone was tied to 2.3 million jobs and generated more than $134 billion for working Americans.
Rethink Red Hook's Public Housing: A crucial component of improving Red Hook's resilience, habitat and citizenship starts with its public housing, where 8,000 residents live. BASF and its partners have proposed reimagining and renovating public housing to encourage the spirit of a true community: for example, the development and integration of a job training hub within the housing complex, which educates residents on sustainable building practices like solar energy and rainwater harvesting, provides residents with employable skills and a greater sense of stewardship in the homes they help improve and update.
As we were reminded again in April with the earthquakes in Japan and Ecuador, and widespread flooding in the United States, Sandy was not the last challenge we will face, and Red Hook will not be the last community we need to rebuild. Cities across the United States are facing the inevitable reality of how rising sea levels and extreme weather put urban coastal communities, as well as their character and infrastructure, at great risk. We all have a responsibility to improve the quality of life for all residents, and ultimately what we've learned from Red Hook can be applied to other cities facing similar perils—from Miami to Mumbai and beyond.
Michael Fletcher is the Commercial Segment Manager for BASF. To learn more about solutions to revitalize Red Hook and improve urban coastal living across the globe, visit the BASF Creator Space website. 
​Image courtesy TerreformONE
​Image courtesy TerreformONE
Image courtesy TerreformONE