December 18, 2020
With a Circular Economy in Mind, Retailers Are Speaking Out Against "Fast Furniture"
New York City–based retailers ZZ Driggs, Conjure, and Lichen are taking cues from contract companies and developing innovative solutions to rent, restore, and reuse furniture.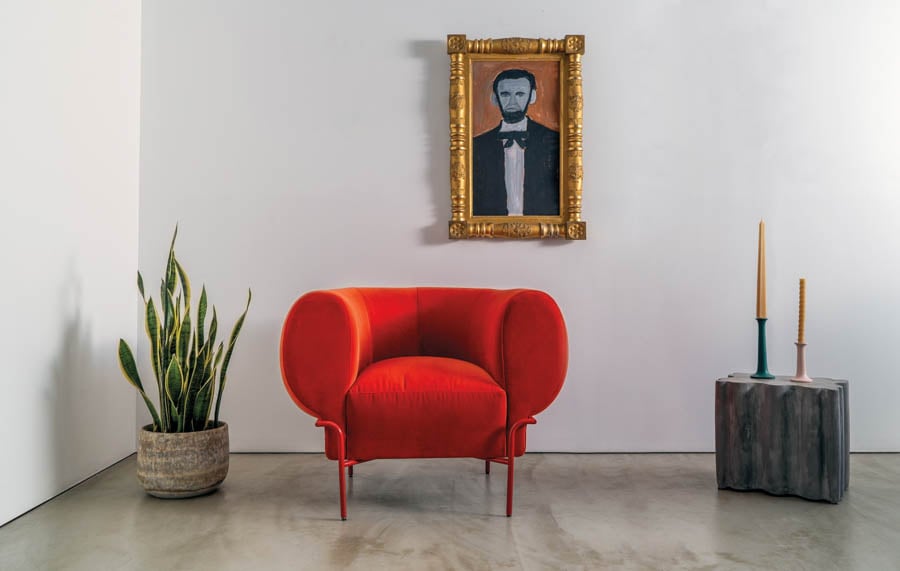 ---
Today you can rent almost anything. From clothing to coworking space, the rise of the sharing economy has meant that more people are opting out of ownership, even when it comes to furnishings, which until recently were often viewed as assets to be passed down for generations.
The American furniture market is valued at roughly $120 billion, but its products are also the least recycled. (The formaldehyde in some medium-density fiberboard, or MDF, along with additives in adhesives that hold together that $80 TV stand can make upcycling an unlikely prospect.) The Environmental Protection Agency estimates that more than 9.8 million tons of furniture end up in landfills every year (approximately equal to the contents of 25 Empire State Buildings). It is against this backdrop of waste that both emerging retailers and a few established manufacturers are reexamining their products' life cycles.
Contract companies have paved the way toward a circular economy for furniture through initiatives such as Herman Miller's rePurpose program, which helps organizations dispose of furniture and other assets by donating them to nonprofits, or Teknion's Divert program, a service that matches customers with charities in need of furniture.
Emerging retailers are following suit. "When it comes to furniture, the most important thing you can do is reuse it," says Whitney Frances Falk, founder and CEO of ZZ Driggs, a New York–based online retailer that refurbishes, rents, and sells contemporary and antique furniture. Founded in 2014 to combat the "vicious, wasteful, and desecrating" cycle that is "fast furniture," the 100 percent carbon-neutral operation urges its customers to shop vintage or rent used items.
Working with art historians, conservators, and restorers including Christophe Pourny (known for his conservation of George Washington's writing desk), ZZ puts each piece through a quality check, cleaning, and if needed, restoration before leasing it to the next home.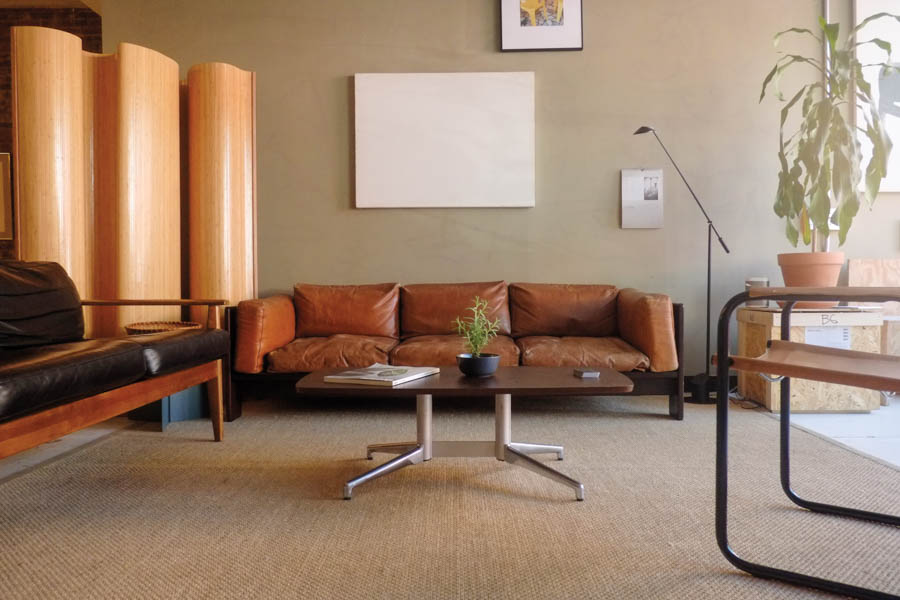 ---
ZZ also carries contemporary furniture by 12 American designers (Amigo Modern, Yvonne Mouser, and In Common With, to name a few) that have completed a rigorous application to ensure their work meets the company's ethical and sustainability standards surrounding supply chains, treatment of workers, and percentages of recyclable or biodegradable materials. The goal is that everything on ZZ's platform will last a minimum of 50 years, or lifetimes to come. Falk adds: "That's the beauty of furniture. That's why antiques exist."
Reusing furniture not only is better for the environment but also can foster a deeper appreciation for craft and history. Falk believes furniture has the capacity to tell stories and connect people. Those qualities are also embraced by Brooklyn design store Lichen. With its first brick-and-mortar store opened in 2018, Lichen has since evolved into a hybrid: part antiques dealer, part incubator, part coffee shop. "It's about more than just reselling furniture," cofounder Ed Be says. "People meet here and start having conversations or start working on projects together. People come in for inspiration. Sometimes it functions as a school, sometimes a museum."
The name Lichen connotes a symbiotic relationship—"two organisms feeding off of one another," as the founders put it. The shop demonstrates that sustainable design can be about reuse, as well as the way we engage with well-crafted objects and community.
Today Lichen operates two physical locations, offers a line of custom furniture, and has a digital platform in the works, but it all began with a move and well-styled Craigslist photos. (Be met his business partner Jared Blake through an ad for a yellow Eames shell chair.) "I got into furniture because I was moving from a big apartment to a tiny apartment, so all of my stuff had to be sold or given away," says Be.
---
Indeed Lichen's owners have a real-life viewpoint that informs their "non-offensive" pricing and keeps the shop approachable whether customers have $50 or $500 to spend. This model relies on the belief that quality furniture increases in value over time, Blake says: "Something you buy from us, you can definitely resell." It's the antithesis of tossing items on moving day. "That IKEA dresser has such a low resale value, so why wouldn't you leave it on the corner?" Blake points out, adding, "That ends up somewhere, it's not going to be planted and grow into a tree." (At the time of publication, IKEA has announced a new buyback program in 27 countries to offer customers up to 50 percent cash back on their used furniture. The United States is not included.)
For those who move a lot, the costs of transporting furniture can drive up relocation expenses, a downside that increases the appeal of renting instead of owning furniture. "Transportation costs can be higher than the cost of buying new, which is why we see so many people in this compromising situation of buying and disposing of fast furniture," says Aditya Khilnani, cofounder of Conjure, a New York City–based online bazaar of rentable furniture and home accessories, launched in September. The reality is that so many people treat products from companies such as IKEA or Wayfair as temporary solutions, which are useful only until they can afford something that aligns with their personal tastes. In response, Conjure builds its catalog around dining, living, bedroom, and office packages curated by architect and designer Adam Charlap Hyman, each ranging from $43 to $160 a month.
While an additional $300 a month spent on furniture might not seem particularly "affordable," Khilnani believes the flexibility makes the investment worthwhile. Having developed a form of credit called Conjure Coins, he offers "flexible ownership" and "swappability." As people "evolve their homes" they can use the custom currency to swap out products according to their changing tastes, without worrying about reselling or transporting their old furniture when they move.
---
Partnering with Parsons School of Design's Strategic Design and Management program, Conjure also aims to lower its carbon footprint with a thorough analysis of supply chains, shipping procedures, and assembly processes. And when a piece can no longer be restored to "like new" condition, it is donated to partners such as Habitat for Humanity to ensure that it ends up in a permanent home.
While ZZ, Lichen, and Conjure aim to keep furniture off curbs in New York City, reuse and diversion initiatives need to become mainstream everywhere, for the sake of human and environmental health. In Europe, Artek and Vitra are already reexamining the life cycles of their products and rerouting pre-owned pieces to new homes. In Helsinki, Artek has opened up a resale store of "re-discovered" Aalto furniture called Artek 2nd Cycle, and in Belgium, Vitra Circle offers gently used showroom and stock models of both brands at reduced prices with two-year warranties. These stores make a latent point: Shopping for authentic, original design over mass-produced knockoffs is always the more sustainable option.
But Falk also believes users should insist on the longevity of belongings: "We need to ask, where have lifetime warranties gone? This was the name of the game for our parents and grandparents." Instead of placing responsibility solely on the individual, she emphasizes that better decision-making from "big-box players" can meaningfully counter the ills of fast furniture. Material transparency, attention to craft and durability, and extensive life cycle assessment are just a few practices that must be adopted across all scales of the industry, to ensure the planet comes first.
You may also enjoy "Divert By Design: 14 Products Made with Recycled Content"
Would you like to comment on this article? Send your thoughts to: [email protected]
---
Register here for Metropolis Webinars
Connect with experts and design leaders on the most important conversations of the day.