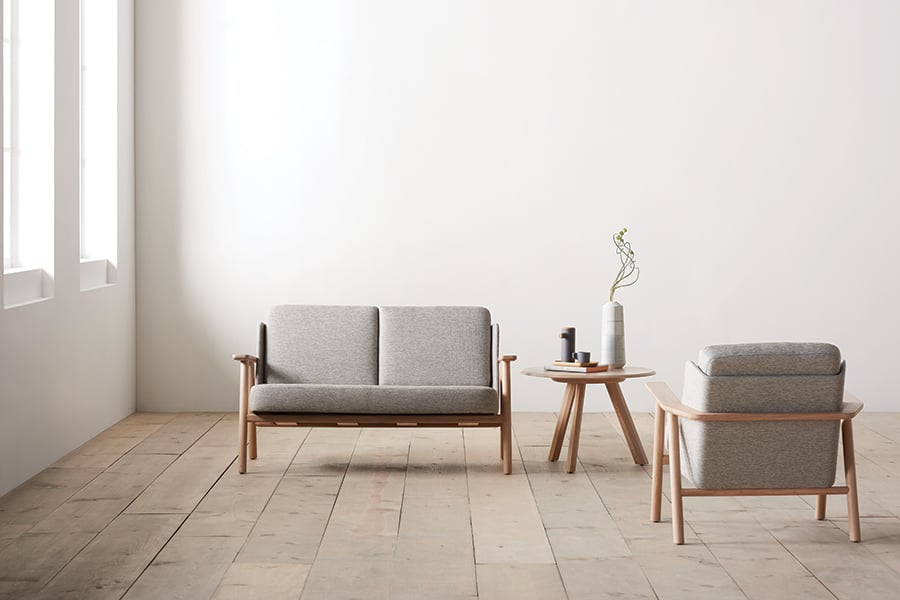 December 8, 2017
How Evolving Workplace Needs Are Forging New Partnerships Among Furniture Brands
As workplace design increasingly takes cues from homes and hotels, contract companies are adapting by strategically pairing up with residential and lighting brands.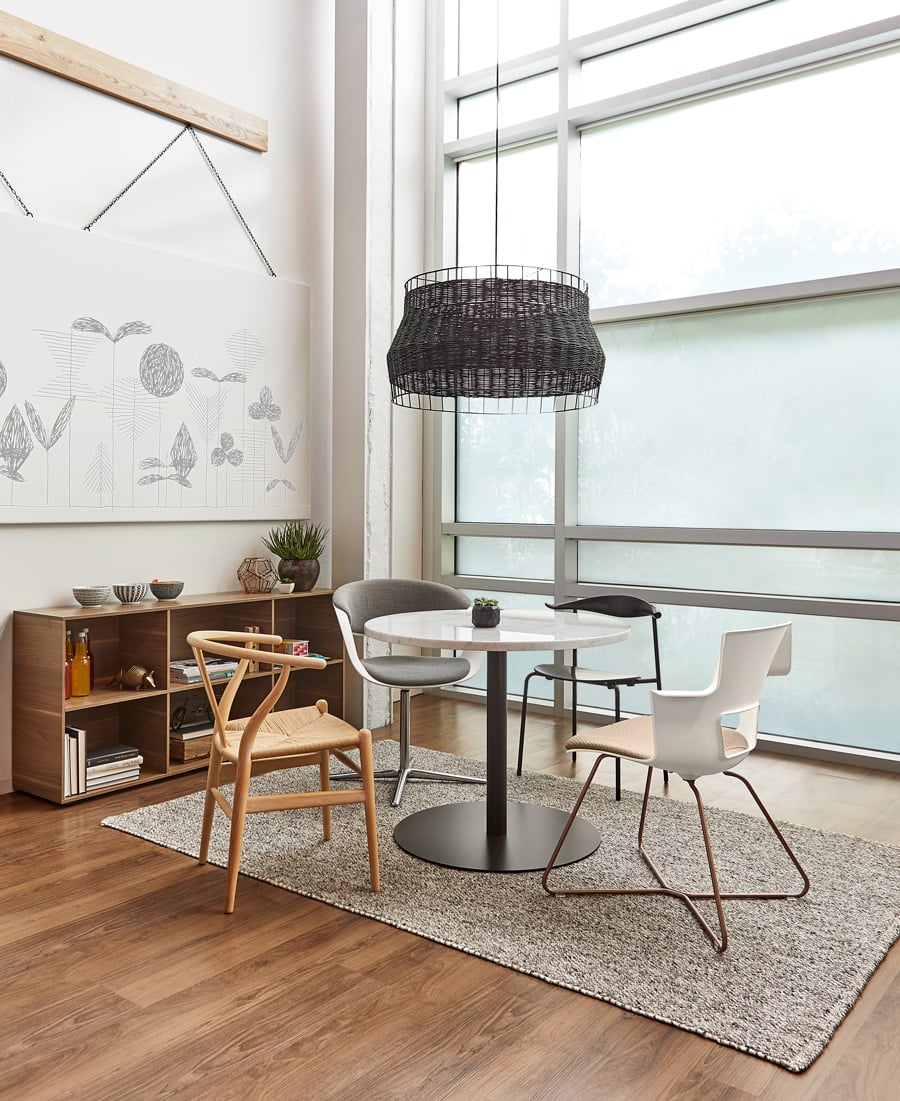 ---
Primo Orpilla, cofounder and principal of Studio O+A, a go-to interiors firm in San Francisco, points to a surprising influence on workplace design: coffee shops. With working outside the office becoming so popular, suddenly traditional workspaces feel third-rate. Meanwhile, coffee shops are taking on a luxurious look, be it at Santa Cruz, California–based Verve Coffee Roasters or other Bay Area venues like Sightglass or Four Barrel Coffee, which were designed with residential furniture. "Since a lot of the workforce is able to work in those spaces, it's affected the workplace," he says.
Orpilla sees a trend—"resimercial" being today's industry buzzword—emerging from the idea that people like to work where they spend a lot of time. "It's about bringing that feeling and aesthetic into the workspace," he says. "Before, corporations would buy the same lounge furniture and just move it throughout their facility. Now you're seeing a more territorial approach to making different settings with vibes that feel more curated." Orpilla has found that if a space is designed with love and care, people work better. "All of that matters," he says. "People respond to that."
The idea of residential crossover into workplaces is not new in itself. In recent years, big contract companies have been acquiring more residential furniture brands and retailers: Knoll absorbed Holly Hunt and Vladimir Kagan; Haworth scooped up Italian high-end furniture brands Cassina, Poltrona Frau, and Cappellini in 2014, the same year that Herman Miller purchased Design Within Reach.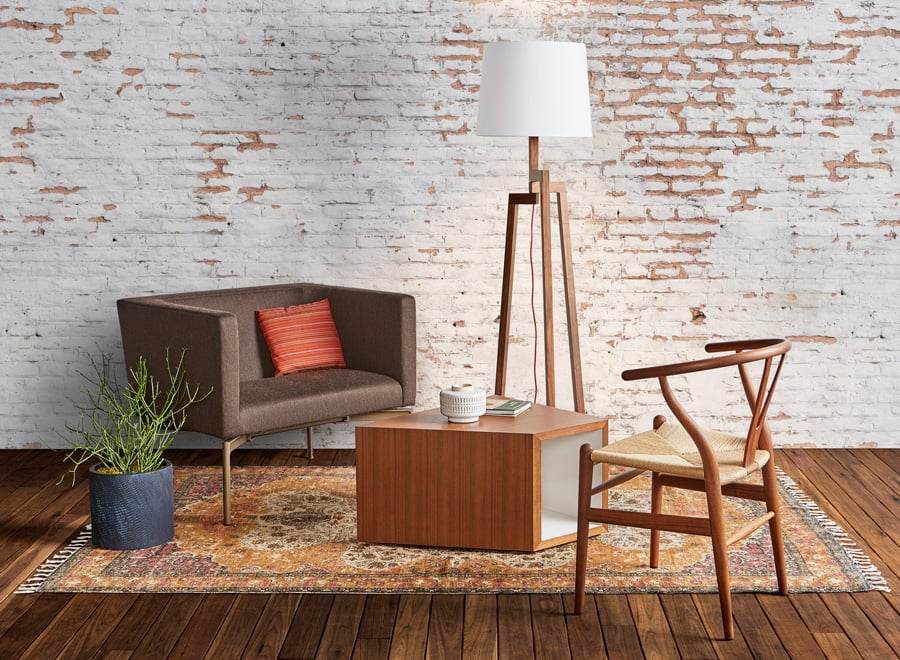 ---
But the biggest excitement in the hallways at NeoCon this past June came from announcement after announcement of new strategic partnerships. Steelcase, the $3 billion contract furniture company, has been the most aggressive in lining up strategic partnerships in the past year, with Minneapolis-based modern furniture maker Blu Dot, classic high-end residential firm Mitchell Gold + Bob Williams, and 55-year-old Italian lighting brand Flos. Steelcase's sister company Designtex began a partnership with Brooklyn-based home furnishings company West Elm (itself already in a partnership with Inscape) to launch 20-plus high-performance upholstery fabrics in more than 90 colorways, which were created for the 75-plus pieces in the West Elm Workspace collection. Smaller companies are getting into the act too: Allsteel announced its partnership with the Danish brand Normann Copenhagen, and contract furniture company Studio TK announced a joint venture with the French Basque furniture company Alki with the launch of two collections of chairs, bar stools, and lounge seating.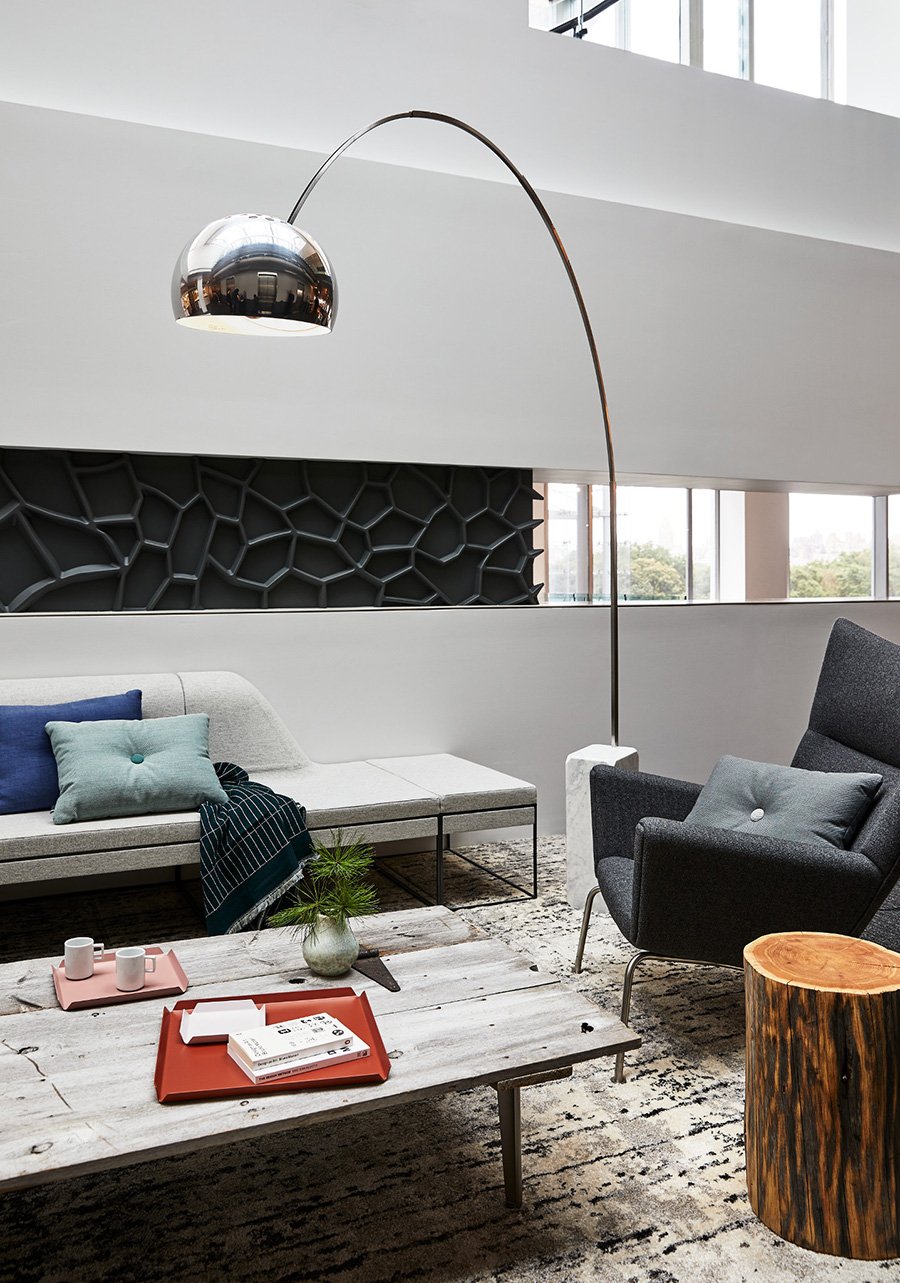 ---
More to Choose From, Easier to Specify
Brian Shapland, general manager for product partnerships and Turnstone at Steelcase, sees this crossover trend as the result of demand from design firms that are really pushing for more choice. Steelcase's first partnership was with Blu Dot, while the second partnership, with Mitchell Gold + Bob Williams, went into effect this November.
Blu Dot was founded in 1997 by two architects and a sculptor, John Christakos, Maurice Blanks, and Charlie Lazor, to bring good design to as many people as possible. Who wouldn't want to curl up with the latest annual report in one of Blu Dot's best sellers, like the comfy Field lounge chair—upholstered in Edwards Tomato red fabric—rather than sit in a black ergonomic task chair?
Christakos explains the collaboration with Steelcase: "They reached out to us with the concept and explained how the workplace is changing and offices are becoming more residential and more like boutique hotels and that there's a growing demand for ancillary product with a residential feeling to it." Blu Dot furnishings were already selling like hotcakes in contract projects, but the company didn't have a sales force to expand that territory.
Now, as part of the new partnership, the entire Blu Dot catalog is integrated into Steelcase's ordering platform. So dealers can work with products from both companies simultaneously, putting them into plans and specifying them with equal ease. "We are integrated logistically on the back end as well, so our products can show up on a Steelcase truck with the Steelcase products in time for very specific move-in dates," Christakos says. Blu Dot can make this work because it is inherently nimble. Larger contract manufacturers have many levels of customization for their products, which makes it difficult for them to hold large inventories. By contrast, "I think 98 percent of everything we carry is in stock at any time," Christakos says.
It's not only furniture partnerships that interest Steelcase. "We felt like lighting was often the focal point of the space," Shapland explains, "so we started connecting with the Flos leadership team." Founded in Merano, Italy, in 1962, the renowned Italian lighting group has a track record of working with top-notch designers from around the world to create finely crafted decorative lighting for a mix of residential, commercial, and custom projects. "That's something that our own sales teams and our own dealers were just thrilled to have an opportunity to connect with," says Shapland. "We'll manage the order and we'll manage the transportation for the products."
---
A New Design Language
Since taking over Designtex in 2012, president Susan Lyons has led the company into partnerships with the likes of 3M and Vescom. When she heard the announcement of West Elm Workspace's partnership with Inscape, she realized there was an opportunity for a collaboration for Designtex, since so much of West Elm's product is upholstered. "They were really trying to develop a new design language that I thought would be super exciting to be part of," she says. The two companies shared many concerns—the notion of supporting smaller makers, for example. "That's definitely an interest of ours, too, in terms of working with some of the smaller mills," Lyons says. "They also have an interest in developing products that have an eye toward sustainability and community. Those ideas resonated with us as well."
To date, Designtex has collaborated on three collections of fabrics with West Elm. Because both companies work with a lot of independent designers, West Elm suggested Designtex work with the U.K. textile and rug designer Margo Selby to create a collection that will launch next spring. "Margo does a lot of work with West Elm in their retail stores, so it has been great to have her point of view expressed in the commercial environment," says Lyons. "The notion that people could get the West Elm aesthetic and get workspace performance, but at a lower price point, really appeals to me. It's neat to design a $150 textile; it's harder to design one for $30 that works and is poetic. We like that challenge a lot."
---
A similar desire for an expanded design language and a mutually beneficial relationship drove Allsteel's partnership with the Danish furniture and accessories brand Normann Copenhagen, which launched a seven-piece furniture collection. "They have a very extensive collection and in-depth knowledge of furniture, but you don't get that in America very often," says Jason Heredia, Allsteel's VP of product design and development. "We are able to provide a scale in the sense that our large sales team and all our dealer network are now out there, spreading the gospel of Normann Copenhagen for them." Heredia sees the Danish brand's strength as applying design thinking through the lifestyle of the accessories, lighting, and rugs that go with it. "That's not our core business, nor do we want to be in that business," he says. "We influence each other. We're teaching them about the world of work, and they're teaching us about trend and color and insights in terms of sensibility."
The need for faster and more culturally attuned design solutions is reflective of the changes in the corporate design world, where corporate campuses were hitherto designed to last for 15 or 20 years. Now Allsteel is seeing clients growing and changing rapidly, doing five- or three-year leases in extreme cases. "You still need quality, service, and reliability, but you might be looking at that ratio differently," says Heredia. "You start to see that, for example, in some of the social collaborative areas. Part of it is budgetary."
---
For the Danish brand Carl Hansen & Søn, a successful collaboration with Maharam a few years back led it to try another one with Edelman Leather recently. Since more than half of Carl Hansen & Søn's orders are either "customer's own material" or "customer's own leather," and so many of the company's pieces are classic midcentury Modern designs, it was important to show the products in a different light from time to time. "We want it to sometimes appeal to a new target audience," says Thomas Vagner, president of Americas at Carl Hansen & Søn. "We're trying to get interior designers to look at us for different settings and not just for Scandinavian furniture." The firm created two collections with Edelman: one that is more residential in feel—"less wild," as Vagner describes it—and another for the commercial market that is more daring, with colors like pink, bright yellow, and some turquoise. Meanwhile, the company is seeking new directions as well through a partnership with designer Naja Utzon Popov on a collection of rugs. "We always choose collaborators who can complement our furniture, and Naja's rugs contribute to this thought—rugs are a natural part of a home, just like our furniture," says Knud Erik Hansen, CEO of Carl Hansen & Søn. "With time, the idea is to offer more items that can contribute to the design universe of Carl Hansen & Søn. This could, for example, be lamps, ceramics, cushions—accessories which are part of the home that we craft furniture for."
---
Here to Stay
"It's probably one of the biggest trends that we've seen in our industry in a long time, so it's definitely something that everyone's reacting to," says Cheryl Carpenter, VP of West Elm Workspace. The strategic partnerships formed this year all enable designers to stay within the contract specification world, but with broader access to the furnishings that people want to work with. "I think you're going to see all of those companies in a bit of a race," says Jack Schreur, CEO of Flos USA. "They're trying to make sure that when their large corporate customers walk in the door with their architects and designers, they're able to meet all of their needs."
Orpilla of Studio O+A doesn't think the residential crossover trends that have driven these partnerships are going away anytime soon: Technology and wireless networks have allowed the officescape to be more untethered. Plus, "it's proven that it's better to move around than to sit sedentary at your desk for eight hours a day," he adds. "Do what suits your work in a place of comfort." So ancillary furniture specifications are now outnumbering workstation specifications. "It is not uncommon to see a lot more soft seating and casual areas in a work area outweighing the number of workstations," he points out.
"There's a reason why people come home and fall into some sofa with their feet on the coffee table," says Schreur. "It's because they're comfortable that way. If you want people to keep coming to work, and to enjoy what they do, you're going to have to create some spaces where they can feel comfortable."
You may also enjoy "West Elm Local Bets on America's Makers, Letting Them Sell Goods in West Elms Nationwide."