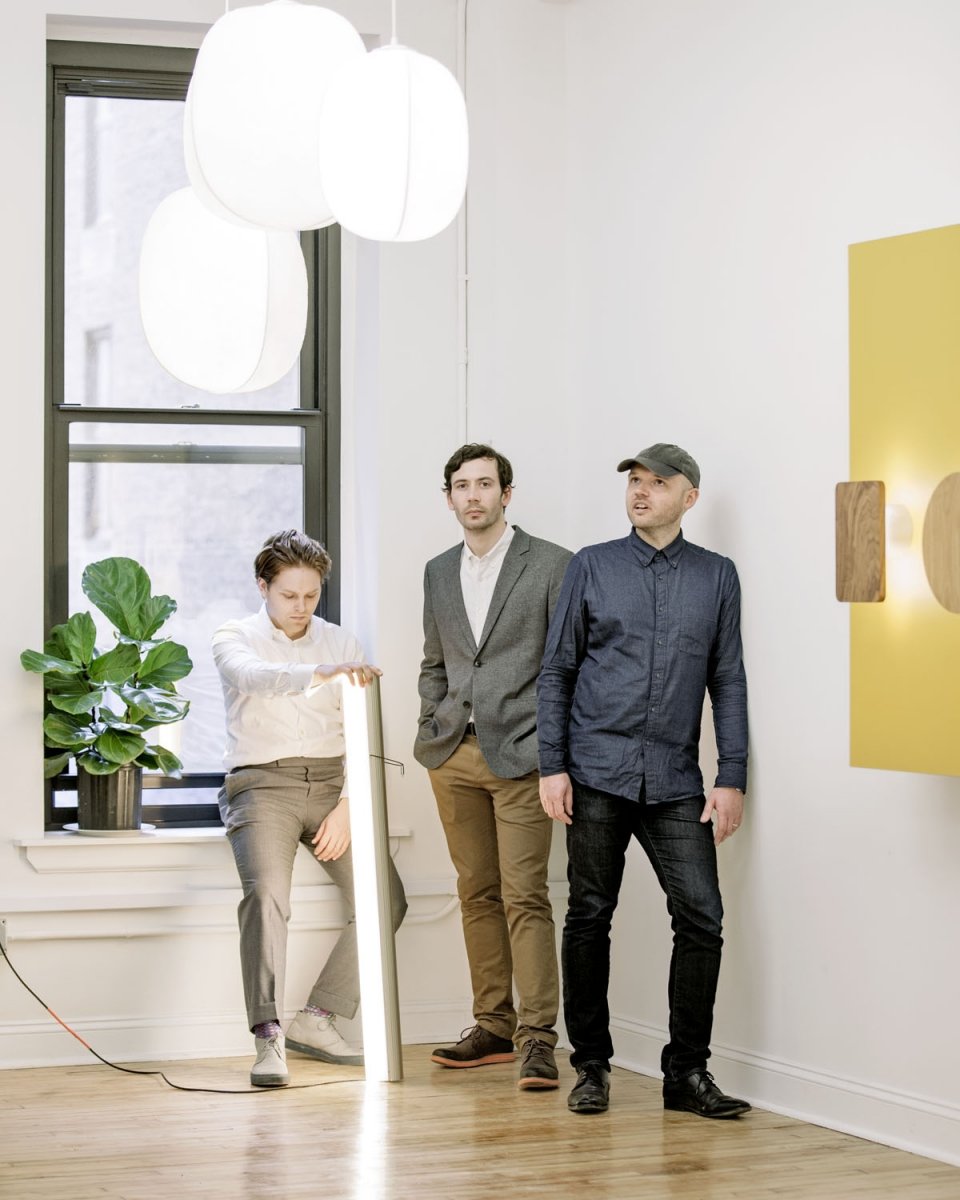 May 7, 2015
Rich Brilliant Willing Is Back in Manhattan
Based on the success of their Brooklyn studio, the lighting designers expand their reach with a new showroom.
Charles Brill, Theo Richardson, and Alexander Williams in their new showroom. "We started making and designing things in a basement at the height of the worst recession in recent memory," Richardson says. "By 2015 we developed a business that is not only sustainable and scalable, but consistently growing."
Photography by Christopher Leaman
---
​Theo Richardson, Charles Brill, and Alexander Williams are often mistaken for Brooklynites, but they actually started their studio with its punny name in the East Village in 2007. It was only in March 2013 that they moved it to Brooklyn, joining the vanguard of that borough's design renaissance. But its growing inventory of LED lighting in the last two years meant that Rich Brilliant Willing (also known in the industry as RBW) was outgrowing its Brooklyn studio. The founders also wanted to build closer relationships with a larger roster of clients and share their technical expertise in a more organized manner. It was time for a proper showroom.
The 600-square-foot space, on the seventh floor of a turn-of-the-century building in the Flatiron neighborhood, is a sensibly sized foothold in an isle of outrageous rent. At the time of writing, cardboard boxes were still flowing in and piling up in one corner. Two employees were hard at work at Herman Miller sit-stand desks, a third put the finishing touches on a gold wall that glowed warmly with several RBW lights, and Brill climbed a stepladder to make sure that the hanging Delta lamp was level.
"A lot of our decisions are based on a very pragmatic sensibility," Richardson says. "We haven't stretched ourselves to be in a showroom without backing that up with the relationships or the orders."
Brill adjusts a Delta lamp.
Unusually for a lighting studio specializing in LEDs, those relationships span the sectors of the interiors industry. LEDs are perceived as being "too cold" for hospitality or residential spaces, but RBW began by bravely bucking that trend. "They were mostly selling residential," remembers Primo Orpilla, the principal of San Francisco–based Studio O+A. "We actually discovered them when they were at NeoCon, on the market floor." Since then, Orpilla has specified its lights in the headquarters of tech companies like Yelp and Uber. "A lot of our effort is to soften the workplace, and they're right in line with that," he says.
RBW lights fall into two categories—Statements, which are showstopper pieces, and Staples, where function reigns. Queue belongs to the first category with its potential for quirky customization. That is not to say it isn't carefully engineered.
---
Adaptability is at the core of RBW's offering. Take Queue, one of its introductions at this year's International Contemporary Furniture Fair. The rail-lighting system consists of aluminum channels onto which one can slide diffusers of different materials, colors, and transparencies. Pick all matching components, and it's a restrained light for a corporate office. But diverse parts can also be combined in a stepped composition, say for a hotel bar. "It can be a little bit more quirky and vibrant," Richardson says. "We are giving people the option for something more lively."
Handling a prototype of Queue, Richardson and Brill also point out how the trio tested different color temperatures and mounting technologies. "There's a lot out there to learn," Brill says, "and we want to make sure that our customers know what they're getting, and that they understand what the important metrics are for the warmth or the color temperature of the light."
At the Brooklyn studio, the three designers often hold Friday events to keep their own employees abreast of the latest developments in LEDs. The showroom gives them the space to do that with architects and interior designers, as well. As Brill waxes eloquent about the merits of LEDs that run on AC power ("The form factors are basically limitless") and Richardson holds forth on dimming technologies ("All of these lights are set up on a ZigBee wireless system, so we can dim them on our phones"), it's easy to see why they need this educational component. "What we're trying to do is take unique, advanced LEDs to users who don't even know they want these kinds of lights," Brill says.
Three Radient wall sconces light the gold display wall in the showroom. This year's releases include Ledge, a super minimal uplight, and Crisp, a cast-glass overhead light.
---
While outsiders may not realize the extent of RBW's technical know-how, its clients greatly appreciate it. "They really work with us to customize the color temperature, the quality of light that we want," says Thom Forsyth of Rockwell Group, which used RBW lights in the luxurious Station House apartments in Washington, D.C. "They look at lighting as a whole entity: design, technology, shipping, manufacturing, and pricing. They were willing to work with us on all those fronts, which is pretty unusual for a firm of their size." Richardson puts this all-round approach down to the trio's journey from being designers to manufacturers: "Now we have this total understanding of all the different pieces," he says. "We love the face-to-face aspect of talking through a project, understanding all the details, and ensuring a timely and seamless delivery."
The time seems right for a combination of Brooklyn studio and Manhattan showroom, showcasing all their professional strengths to existing collaborators, as well as prospective ones. Longtime supporters like Orpilla are heartened by this next stage in their evolution. "Of the lighting companies of their scale, they've done a lot to come out of the small manufacturer mind-set into the bigger arena," he says, then laughs. "Hopefully they don't lose the friendly touch that we really like about them."