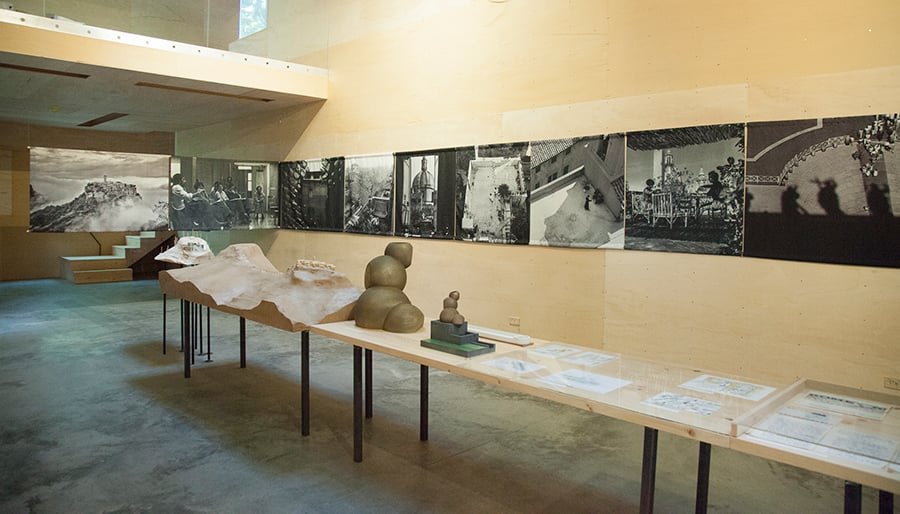 July 26, 2019
A Story No Longer Untold: Astra Zarina's Influence on Modern Architecture
Zarina, who taught architecture for decades, influenced countless architects, including Steven Holl and Tom Kundig. A new exhibition at 'T' Space in New York highlights her career and ideas.
---
Amid widespread industry conversations about gender, equity, marginalized histories, as well as public space and community advocacy, comes a timely exhibition on architect and educator Astra Zarina, on view at the Steven Holl–designed 'T' Space. The architectural profession has realized there are still countless under-told stories of influential practitioners, many of them women—lives rich with history and useful lessons. Rome and the Teacher, Astra Zarina tells one such story.
Astra Zarina (1929–2008) was born in Riga, Latvia, but emigrated to Seattle and earned her B.Arch from the University of Washington (UW) in 1953. She later obtained her M.Arch from MIT and worked in the Detroit-area office of Minoru Yamasaki. In 1960, Zarina became the first female recipient of the American Academy in Rome Fellowship for Architecture, an honor that was followed by a Fulbright fellowship that allowed her to continue her Italian studies. After her stay in Italy, she returned stateside to teach at UW. Her Rome studio program for architecture students, begun in 1970, became a regular offering.
Throughout her teaching career, Zarina consistently advocated for public spaces and the urban communities they fostered. Through photography, historic maps, and theoretical texts, the 'T' Space exhibition honors her extensive love for Rome and Civita di Bagnoregio, a dramatic hilltop town about 55 miles north of the Italian capital. Much of the material on display can be attributed to the photographer Balthazar Korab, with whom Zarina collaborated on the 1976 book Roofscapes of Rome. In that book but also in her classes, she argued that a successful city is connected by all levels of public space—from truly public destinations at street level to the personal, yet still-public scattering of individual terraces, and everything in between.
"She felt that Rome and Civita were both perfect examples for social cohesion in the city that you don't see these days," says Susan Wides, an artist and director of the 'T' Space.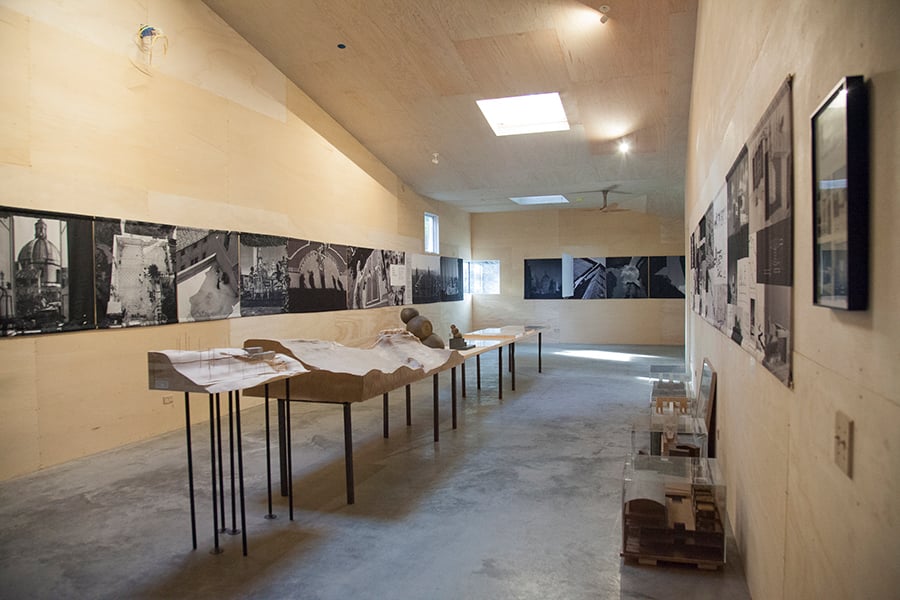 'T' Space is a fitting destination to celebrate Zarina, as both share the same values for quality public spaces. Though not an urban setting, the complex comprises a mix of buildings and voids, open and enclosed, public and private (there is a house on the property that can be rented). The newly opened Artarc, an onsite library and archive in which the exhibition is being staged, also evokes an urban setting thanks to its mix of concrete, wood, and metal, as well as a lofted space where visitors can look down on others—an experience that resonates with Zarina's aerial studies.
The connection runs deeper yet: 'T' Space's architect, Steven Holl, studied in Rome with Zarina in 1970. The show includes some of Holl's work, including the first proposal for the High Line, which he conceived not long after his return from Rome. Both Holl's visionary project and the built High Line strongly recall Zarina's ideas of above-ground public space and the connective urban gradients of public and private. Another, more recent Holl design—for a memorial structure in Civita—closes this biographical loop. Currently under construction, the Astra Zarina Belvedere is an intricate composition of spheres, each one corresponding to a different facet of the late professor's life and work.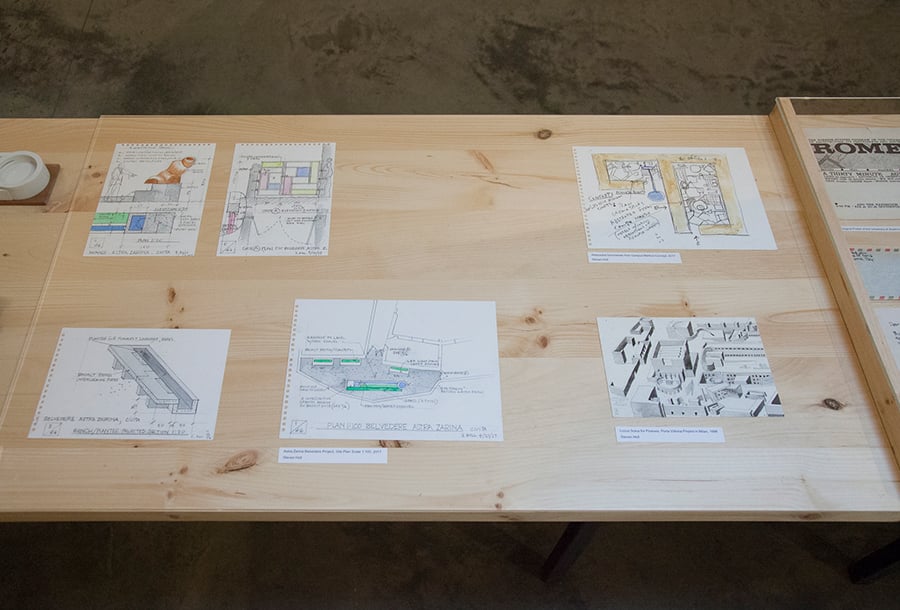 Holl was hardly Zarina's only student to gain prominence in the field; others include Seattle architects Ed Weinstein (of Weinstein A+U) and Tom Kundig (of Olson Kundig). As the exhibition's curator Alessandro Orsini tells Metropolis, "I think Astra influenced Steven, Ed, and Tom by teaching the human dimension of architecture. The three architects, in different ways, embed their life experience with Astra into an architectural vision: Steven Holl, working for institutions addressing the public realm; Ed Weinstein working for local communities in Seattle; and Tom Kundig, building spaces as frames for nature—all of these aspects coming from Astra's principles."
With the encroaching privatization of public space becoming all too real (as exemplified by megaprojects like Hudson Yards), Rome and the Teacher looks to the squares, plazas, and parks—free and open to all—that form the basis of the urban experience. Equally important is the exhibition's laudatory aim to shed light on pedagogical figures, especially women, who have been obscured by history. (The exhibition's impact is amplified by the 'T' Space's concurrent residency program, which hosts young architects for a 23-day studio intensive.) By choosing an architect who was a woman, a teacher, and an advocate, 'T' Space is setting a great example of what we need to hear and who we need to celebrate.
You may also enjoy "Art Is Enough For Steven Holl."

Would you like to comment on this article? Send your thoughts to: [email protected]
---
Dear Julia Gamolina,
As a former student and teaching assistant to the late Astra Zarina, and current president of the Civita Institute, the nonprofit co-founded by Astra in 1981 as the Northwest Institute of Architecture and Urban Studies in Italy (NIAUSI), I was delighted to read your well-written article on Astra. Portraying the immensity of her brilliance and unique vision in any magazine article is a formidable task. There is just so much that could be said!
However, I would like to bring to your attention one attribute of Astra's success that is not mentioned in your piece, yet which admirers of Astra and her lifelong work would enjoy knowing about—and that is the ongoing success of the Civita Institute. Through the volunteer efforts of hundreds of people in the Pacific Northwest and the Northeast United States, the Civita Institute has funded nearly 100 Fellowships and Residencies for architects, planners, designers, artists, writers and other arts professionals to conduct self-proposed projects in Italy since 1984. Each year we house several educational programs in our facilities in Civita, donated to the Civita Institute by Astra and her husband Anthony Costa Heywood, that offer classes in drawing, painting, and the relevance of Italian hill towns to modern sustainability and preservation. We are assisting the candidacy to list the cultural landscape of Civita as a UNESCO World Heritage Site. And on August 25, 2019, on what would have been Astra's 90th birthday, we will open an exhibit in Palazzo Alemanni about Astra and her influence and legacy in Civita. We invite all to visit our website at civitainstitute.org to see more of Astra's professional and personal principles in action through the ongoing work of the Civita Institute.
Nancy Josephson, M.Arch.
President, the Civita Institute
[posted to article 7/31/2019]