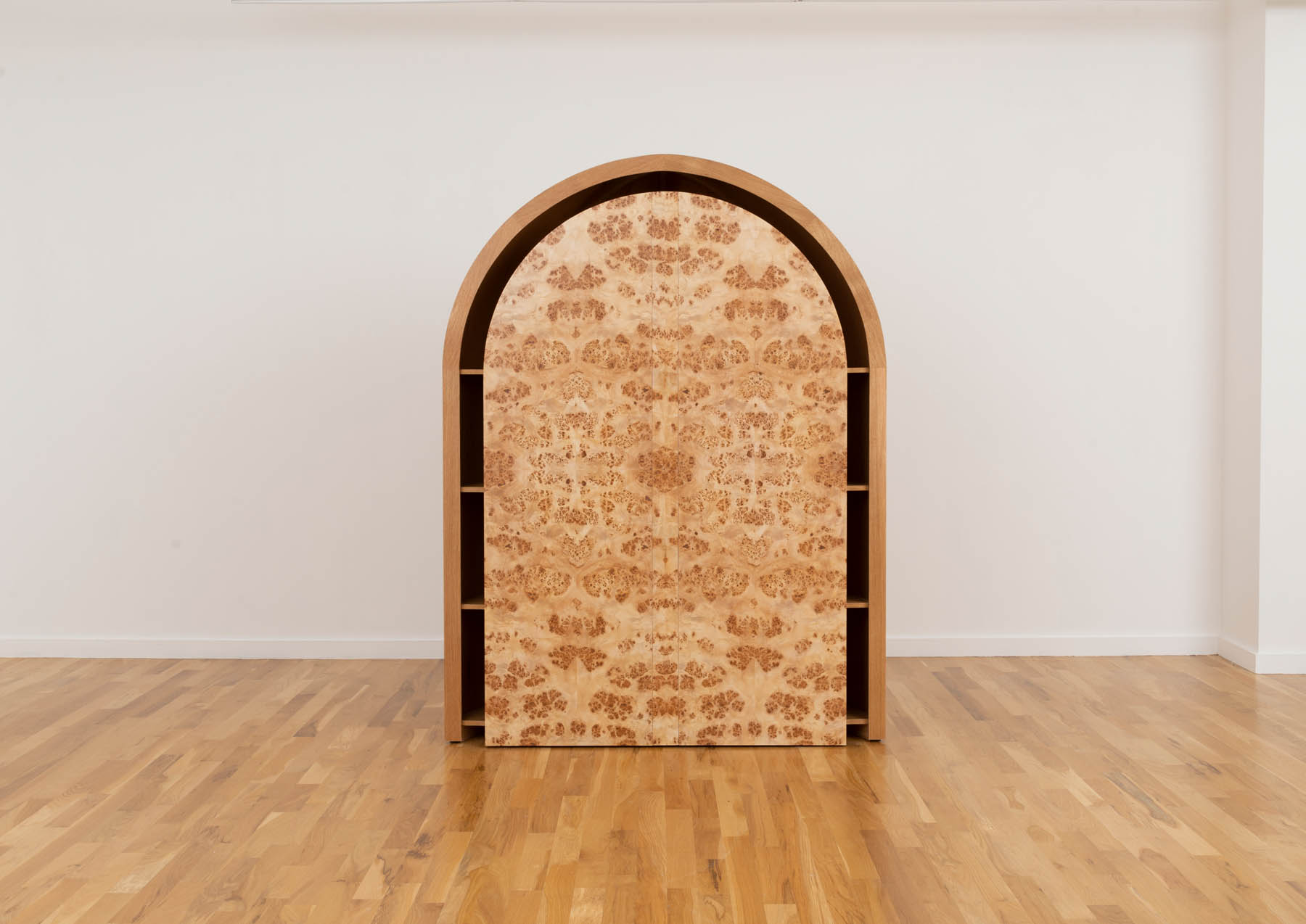 October 22, 2020
Ross Hansen's Objects Span the Playful to the Grotesque
In a new exhibition at Chicago's Volume Gallery, Ross Hansen transposes nature's excesses to a startling, yet exquisite effect.
Ross Hansen seems to design with California on his mind. Sago palms and lava rocks are scattered throughout his latest exhibition, Super Natural, a curious new collection of "functional objects" at Chicago's Volume Gallery. The textures are geologic and cartilaginous—perhaps even grotesque, he suggests—belying the structures' underlying precision. By collapsing the organic and the industrial, Hansen makes objects that synchronously look informed by and belonging to nature or some imagined version of it. Indeed, the Iowa-born, Los Angeles–based designer has been exploring this hybrid of landscape architecture and industrial design for the last decade, after studying at the Cranbrook Academy of Art and establishing his studio in 2014.
Gaunt Chair borrows the L-shaped cantilever of Mies van der Rohe's 1930 Brno Chair, but the similarities end there. Instead of taut upholstery, the carob-colored cover fits like a slipping sock, bunched around the frame. The chair looks alive, barely—its form reminiscent of the wandering livestock and overgrown flora teeming at the margins of picturesque landscape paintings by Claude Lorrain or John Constable. Branches bow under the weight of their foliage and the sun splits across the water in those mostly artificial paintings—Hansen transposes such fictions onto his objects, showing that lo-fi material experimentation can result in strange, unbelievable beauty. His art remains wryly functional, however: Gaunt Chair sits on four school chair glides and is comfortable but sturdy, with no spring in its seat.
Hansen also processed that 18th century aesthetic ideal in a previous 2018 exhibition at Volume also titled Super Natural. "The first Super Natural was about creating a picturesque feeling in the interior spaces, using colors and forms I was seeing in those paintings. This show is more about creating my own landscapes," Hansen says.
Sepal and Shimmer, a set of goblet-shaped planters and a credenza, share the same initial process—Hansen embedded ceramic epoxy with pigments and kneaded it over the wood substructures. Ceramic epoxy is a two-part compound of resin and a hardener akin to Bondo, which means Hansen has about 45 minutes to shape the material before it starts to set, and 48 hours until it cures completely. But the finishes differ—the planters are sanded, coated in polyurethane and painted, giving them a sleek texture, while the credenza is rough, like cooled molten rock, and marked with thumbprints and fingernail impressions. The butter-colored doors on Shimmer are further crossed by striated lines, the result of Hansen pressing the epoxy onto cellophane to flatten it.
He's also playing with the objects' legibility. While the credenza boasts big, ergonomic handles, the large oak cabinet, Burly Mappa, has none, just an encircling gap around the doors that suggest they can be grasped. Burly Mappa is a small piece of architecture. Patterned with a pulsing, mottled burl, the doors swing outward on a central hinge. When both are open, they nearly disappear, floating off the cabinet as a thin vertical line. "By an industrial process [of lathing a burl] the flaw is exposed and becomes the aesthetic element. The main aesthetic impact comes out of this process that is in line with nature," Hansen explains.
While there is a playful organicism and bold finish to Hansen's objects, they still follow a pared-down precision, evident in the invisible hinges and single-magnet closures. His riffs off nature and art's depictions of it recall other anatomical architecture—namely, the ribs of Gothic cathedrals—and remind us that good design is always scaled to the body. It's by allowing material exploration to take precedence over whimsical visual impact that Hansen is able to turn out such unexpected, buoyant objects.
You may also enjoy "This Surface May Not Be As It Appears"
Would you like to comment on this article? Send your thoughts to: [email protected]
---
Register here for Metropolis Webinars
Connect with experts and design leaders on the most important conversations of the day.