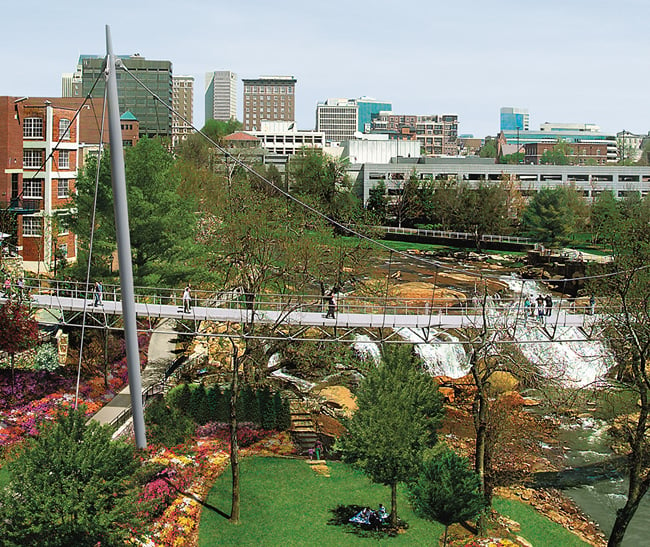 February 13, 2015
Rudy Bruner Award Names 2015 Finalists
The top five projects display a concern for healthy living, sustainable development, and overall urban excellence.
Recently, we convened our selection committee for the 2015 Rudy Bruner Award for Urban Excellence at the Bruner Foundation's offices in Cambridge, MA. Over the course of eight hours, the committee reviewed and discussed applications from 40 communities in 26 states. They settled on the five finalists (seen below), which were formally announced on February 5.
Healthy living and sustainable development were among the themes shared by the projects, echoing what we heard from our recent two-part Design Excellence 2015 series. Submissions also tackled key issues issues such as education, food security and urban agriculture, housing, and supportive services for different populations, among others. They included designs that redeveloped and improved existing urban infrastructure—such as buildings, former industrial land, parks and public space, and transportation—to address changing needs, strengthen connections, and promote economic health and well-being in their communities.
Collaborative partnerships and complex financing strategies were another mutual thread that emerged from the applicants' work and our survey. Many acknowledged the challenges of seeing projects through from inception to realization, commenting on the creativity, resourcefulness, and time necessary to make these innovative projects possible.
The 2015 RBA finalists are:
Courtesy Rosales and Partners
The renaissance of a 26-acre river corridor running through the heart of Greenville, restoring public access to the falls and greenspace and catalyzing adjacent downtown development. (Submitted by the City of Greenville.)
Courtesy Mike Buck
A new downtown public space promoting local food producers and community events, entrepreneurship, and education about nutrition and healthy lifestyles. (Submitted by Grand Rapids Downtown Market.)
Courtesy Billy Michels
The redevelopment of a vacant manufacturing building into an affordable and supportive living and working environment for public school teachers and education-focused nonprofits. (Submitted by Enterprise Community Investment, Inc.)
Courtesy Panza
A two-acre community of 30 tiny houses and a common building that provides permanent, supportive housing for chronically homeless adults. (Submitted by Panza.)
Courtesy Rien Van Rijthoven/Stanley Saitowitz, Natoma Architects Inc.
The redevelopment of a corridor linking art, educational and health care institutions with surrounding neighborhoods, creating outdoor gathering spaces, retail shops and restaurants, student and market-rate housing, and public transit connections. (Submitted by Case Western Reserve University.)
Starting next month, the Bruner Foundation will hit the road to visit each of the five finalists' sites, reporting on what we see and hear via this blog. We'll reconvene the selection committee June 5-7 in Little Rock, AR, where we'll share our findings and the members will determine which project will receive the Gold Medal and its $50,000 cash award.
The 2015 Rudy Bruner Award Selection Committee (left to right): Larry Kearns, India Pierce Lee, Rebecca Flora, Jim Stockard, Mark Stodola, Mia Lehrer
Courtesy Bruner Foundation
Noteworthy News:
---
Anne-Marie Lubenau, AIA, is director of the Rudy Bruner Award for Urban Excellence (RBA) for the Bruner Foundation in Cambridge, Massachusetts. An architect and advocate for educating and engaging people in design of the built environment, she is a graduate of Carnegie Mellon University and was a 2012 Loeb Fellow at the Harvard Graduate School of Design.
This post is part of a series written and curated by RBA that focuses on advancing the conversation about placemaking in American cities. The blog offers a detailed look at the 2015 award selection process and site visits, winners' case studies, highlights from events such as the Bruner-Loeb Forum, and broader observations.