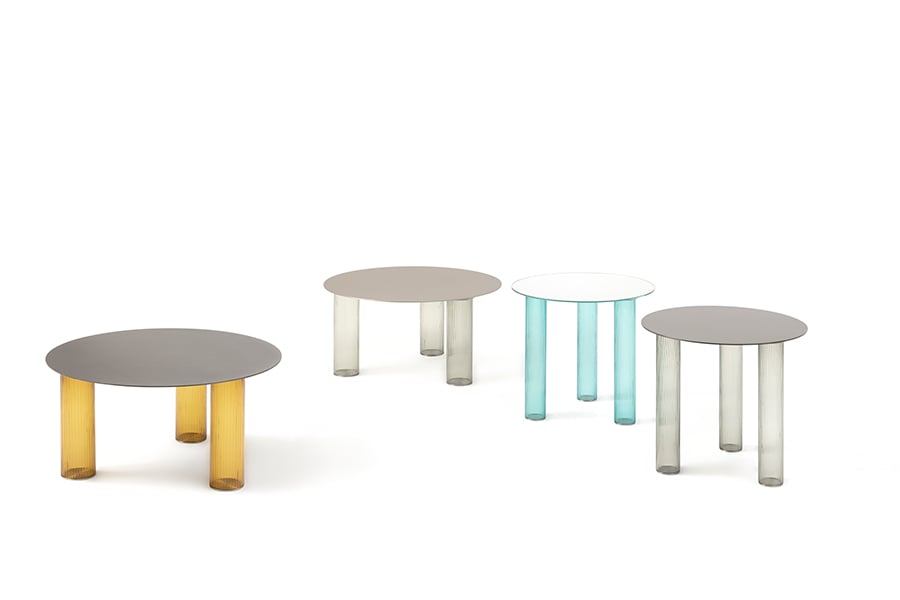 February 20, 2019
Preview What's in Store for Salone del Mobile 2019
The show will honor Renaissance master Leonardo Da Vinci—who passed away 500 years ago this year—with a series of installations. Multiple brands will also be echoing Da Vinci's humanistic ideas.
---
Each April all eyes in the design world turn to Milan, where Salone del Mobile, the world's largest furniture fair, transforms Italy's most populous urban area. This year's edition—the 58th—will celebrate the 500th anniversary of Leonardo Da Vinci's death. The Italian master produced some of his most memorable works there, from The Last Supper to the Navigli, the city's now-defunct canal system. Fair organizers have planned two major installations to celebrate the Da Vinci, who will also serve as a reference point for many of the products and projects that will be on display.
DE-SIGNO, for example, a planned installation organized by curator Davide Rampello, will draw a connection between Da Vinci's engineering and contemporary Italian furniture designers. Set in an octagonal room and deploying techniques borrowed from theatrical set design, the installation aims for an immersive experience of what Rampello calls "the art of Italian design before and after Leonardo."
Another installation, Aqua by international events director Marco Balich, will take a different approach. Instead of showing Da Vinci's work alongside that of contemporary designers, Balich focuses on the mechanics of water, one of the Renaissance polymath's obsessions. The installation will be sited in one of Milan's disused canal locks and envisions alternative futures for that ancient infrastructure.
Aqua will include a reflecting pool abutted by a screen showing video art from sound and visual artist Chiara Luzzana. Altogether, the pool, a soundscape by composer Maurizio D'Aniello, and additional art by visual design studio Karmachina will connect visitors to water and technology on a personal and visceral level.
Beyond splashy installations, Da Vinci also serves as a sort of muse for many of the products that will appear at Salone and Euroluce, the associated lighting fair. Several brands have already announced products that combine advanced technology with a humanistic concern for beauty and comfort.
---
Italian brand Artemide announced several such products over the past year, including an app that lets users turn off and on their fixtures, seemingly eliminating the need for traditional wall switches. Huara, another product from the lighting purveyor, is a globe-shaped fixture that illuminates when touched, allowing the user to change the direction of light without moving the fixture. Carlotta de Bevilacqua, a designer at the company, attributes her company's success to the Renaissance spirit of Da Vinci: "The secret of the success of Italian design, is that we are able to put our humanistic vision of the world together with a scientific understanding of the world." Artemide this year will also unveil a new collaboration with Bjarke Ingels Group (BIG), which, if past collaborations such as Alphabet of Light are any indication, will use new technology to create a work of beauty.
The Italian furniture brand Zanotta has also taken a novel approach to synthesizing the modern and the traditional. At Salone, they will debut Echino, a collection of elegant small tables that flip material expectations on their head: Instead of a glass table with metal legs, the Echino tables have metal surfaces and glass legs. The legs, which are are available in vibrant hues of blue and amber, are hand-blown in Venice by craftspeople practicing a centuries-old technique that has changed little since Da Vinci's time.
But in the way of materials innovation, Italian brand Magis may take the cake. The company has announced a chair made entirely of lightweight magnesium and designed by Israeli duo Gilli Kuchik and Ran Amitai. Imagery is not yet available, but a chair made of this silver metal is certainly a departure for a company best known for plastic classics such as the bombo stool.
---
Fritz Hansen, the heritage Danish furniture maker that has been in operation since 1872, will showcase major branding changes in Milan this April. Most notably, its lighting, furniture, and accessories will all be under the same moniker of "Fritz Hansen." (Previously, there were different brand names, such as Republic of Fritz Hansen for furniture and LightYears for lighting.) Along with a more streamlined brand identity, the company has opted to introduce a splash of color to their traditionally somber Nordic color palette with a new lounge chair—defined by clean lines and delicate curves—by designer Jaime Hayon.
All in all, visitors to this year's Salone del Mobile can expect to find a range of displays incorporating Renaissance ideas into modern design. Visitors will also see a new display format, mysteriously dubbed "S Project" by the fair's organizers, that is expected to bring multiple brands and product types into a single space, says Salone president Claudio Luti. "S Project" will involve stalwart Salone brands as well as fair newcomers.
However, "S Project" won't be the only dramatic reveal at Milan. For those who can stick around after the exhibition halls empty, a tantalizing Da Vinci treat will await you. The freshly-restored Sala delle Asse at Sforza Castle—which features striking decorations by the master himself—will be opening May 2.
You may also enjoy "GAME CHANGERS: Neri&Hu Is Defining Chinese Design Today.'"
Would you like to comment on this article? Send your thoughts to: [email protected]