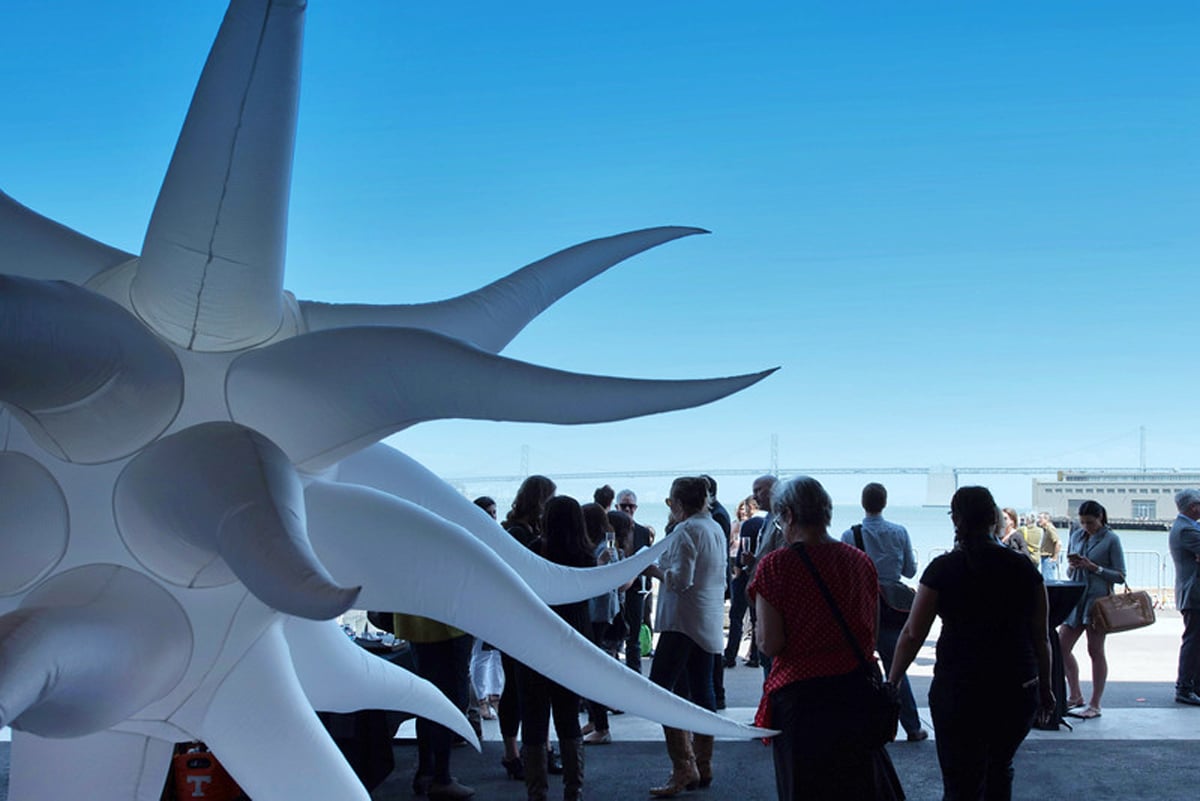 March 30, 2016
San Francisco Design Week Stays Local, Strengthens Networks
An annual design event in San Francisco seeks to strengthen the bonds and relationships within its thriving creative networks.
The San Francisco Design Week Hub at Pier 27, a trade-show event that brings together exhibitors, vendors, and design partners.
Courtesy Irina Blok
---
The singular energy that has long lured creative minds to hone their crafts in the city's environs fuels San Francisco Design Week. Produced by the volunteer-led nonprofit organization AIGA SF, and now in its 10th year, the festival gathers local thought leaders and representatives from across the design industry to celebrate the city's unique creative community. In anticipation of this year's festival in June, we spoke with its executive director, Dawn Zidonis, about what makes a good design week and how it can nurture young makers.
Mikki Brammer: San Francisco Design Week gets less exposure than other design weeks in North America. Why do you think that is?
Dawn Zidonis: What we always say is that San Francisco Design Week was created by the local creative community for itself. Our focus is on bringing everyone together. We're just not as outward-facing as far as reach goes. We're very focused on the quality of the content. Things move so quickly here. You won't see our calendar of events online a year in advance. In fact, many of them are being added just a week or two before Design Week hits the ground simply because new products are being developed, there's new technology coming out, there are new things being launched. Our focus is on reflecting that ongoing process. A lot of great creative energy that's produced in the Bay Area is very grassroots, and Design Week is representative of that. Interestingly enough, that is what is garnering all of the attention. We do have many national and international guests and attendees who come to our events—they are coming on their own, and word is getting out on its own.
MB: Are there things that you've learned along the way that have helped shape your approach now?
DZ: We've definitely learned a lot from visiting other design weeks. You mentioned being low-key nationally, but we actually are very involved in the international community. We have been invited to participate in Melbourne International Design Week, we've been to Tokyo, we've been to Milan, we've been to London, and most recently we were participating in Dubai as a guest design city. I've learned a lot just from seeing what other design weeks are up to.
MB: So what makes a good design week?
DZ: The defining element of a design week is that it is reflective of its local city or region. I believe pretty strongly in this. Design weeks all over the world have that one thing in common. However, it's also what sets them completely apart. While there might be elements of design weeks that are similar (a trade-show element, citywide installations, or studio tours, for example), each is delivering content that is created locally and that the attendees can view in its own element or on its home turf. Sure, a designer can give the same talk about design and technology anywhere in the world, but it is more compelling that attendees in San Francisco Design Week, for example, are being invited into their headquarters, meeting their team and colleagues, and getting a real glimpse into the culture that exists only here. It's one of the reasons San Francisco Design Week is so successful; we deliver content that can't be found anywhere else.
The Airbnb headquarters in San Francisco, designed by Gensler. The travel-industry game- changer hosted the event "Airbnb Designing Culture in the Workspace" at San Francisco Design Week 2015.
Courtesy May Suen
---
MB: Design weeks can be prohibitively expensive for emerging designers and makers. How does that influence your planning?
DZ: Because our goal is to make this an inclusive community event, participating in San Francisco Design Week has, I believe, never been cost-prohibitive. In fact, we've only recently started to charge an application fee, which is to cover some of our administrative costs, such as our web hosting. But nonprofits and emerging designers who haven't been involved before always participate for free. On top of that, since it's a community event, some hosts may choose to charge a fee for entry. That's completely up to them, but it's an opportunity for emerging designers or makers to raise a little revenue to be able to continue with their projects. They keep 100 percent of that income.
MB: How do you view the rise of Oakland as a maker hub, or the growth of maker culture in the Bay Area in general?
DZ: The entire Bay Area is really rich with maker culture, and we're not really defined by our city boundaries. People live in San Francisco but work in Oakland and vice versa. It's thriving, and I think it's really amazing. We have TechShop, Impact Hub, Pier 9 Artists in Residence, and new hubs and maker spaces popping up all over. Creatives are pioneers, and they seek out opportunities—and maximize those oppor-tunities—wherever they are. The Bay Area is so expensive that sometimes it becomes prohibitive to rent a big space that you can turn into a workshop, and then be able to afford the tools, the resources, that go into it. But there are many institutions that are also great about opening up their spaces at their labs.
MB: There are a lot of big design brands based in San Francisco. Do you think they help nurture these up-and-coming makers?
DZ: Definitely. I don't think there's such a thing as just Oakland makers and just San Francisco designers. Basically, there are a lot of companies that foster that creativity. They have a studio on one floor and a workshop on another, that kind of thing. They might be focused on a very specific project, but in order to fuel themselves as creative people, they have a lab where people can come in, just to be around different ideas.
MB: What do you think draws so many makers and creative people to San Francisco?
DZ: San Francisco has always been known as a place to go to reinvent yourself, and the energy and the spirit here support that. It's sort of a given that you can reinvent yourself and try different things and experiment openly. You can find other people who are doing the same things you are or completely different things. Somehow, when you put them together, they all make sense.