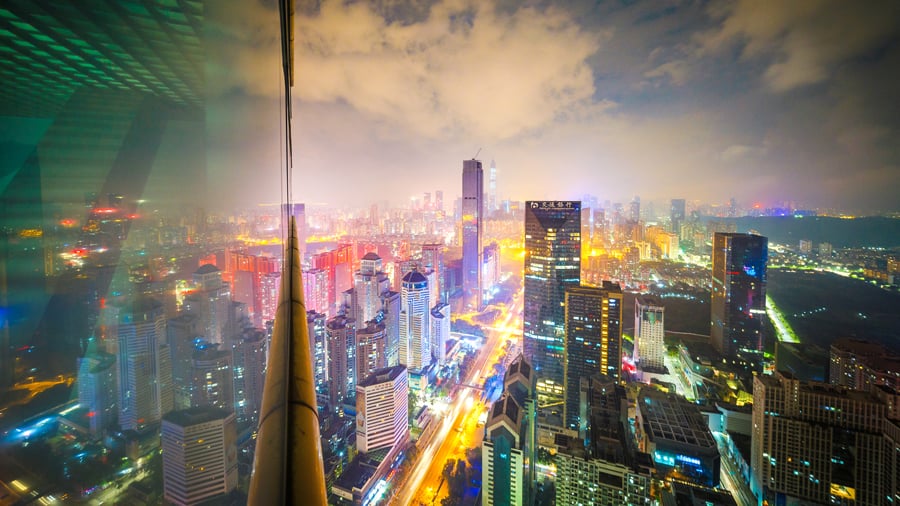 March 22, 2017
Shenzhen Moves Beyond Its Manufacturing Past, Embraces Design Future
The young Chinese city is shedding its reputation for cheap or counterfeit goods and being recognized as an international design and manufacturing powerhouse.
For years, the popular image of Shenzhen wasn't pretty. Named China's first Special Economic Zone in 1980, the city—formerly a territory of fishing villages just north of Hong Kong—grew rapidly into a sprawling manufacturing megalopolis. Millions of Chinese migrants resettled here to take up low-wage factory jobs, often leaving their families behind in smaller villages and towns. Global news reports about pollution, poor working conditions, and worker suicides exacerbated the city's image as an anonymous and brutal place.
In recent years, however, a transformation has been taking shape. Shenzhen is attempting to redefine itself as a vibrant design hub. In 2005, it launched the now-well-established Bi-City Biennale of Urbanism\Architecture (with Hong Kong joining two years after). Three years later, UNESCO anointed Shenzhen a "City of Design," including it in its Creative Cities Network. Shenzhen Fashion Week and Shenzhen Design Week have only recently kicked off, but they are competing with their more seasoned counterparts in Beijing and Shanghai. For the past two years, I have also been involved. In 2014, I began working at the Victoria and Albert Museum, collaborating with the Chinese state-owned enterprise China Merchants Group to open a new cultural platform in the city called Design Society.
Behind this surge of enthusiasm lies the fact that the city is not just producing a growing number of interesting design practices—for instance, architects Urbanus and NODE, graphic designer Bi Xuefeng, and art and design collective Ffixxed Studios—but also proving fertile ground for making things. After decades of serving as the factory of the world, the city now boasts a robust infrastructure of workshops, supply chains, and know-how, a lucrative attraction for young entrepreneurs and makers. This is most pronounced in the electronics sector, where rife competition and access to labor and supplies have bolstered the emergence of major tech companies, including Huawei for telecommunications, DJI for domestic drones, and Tencent, the developer of the country's most popular social networking app, WeChat. Their success, matched by the pace of innovation throughout the city, has led many to dub Shenzhen China's Silicon Valley.
At the core of all this is the electronics market at Huaqiangbei. Spread over several city blocks in the Futian district, the market has become a global hub for the sale and distribution of electronic parts and products. The market is also infamous for shanzhai, the practice of making counterfeit goods. Stroll through its maze like corridors lined with tiny packed booths, and you'll find endless variations on fake iPhones, Apple watches, Beats headphones, and Bose speakers, to name a few.
Shanzhai emerged in the early 2000s, partly as a result of factory engineers quitting their jobs making products for foreign brands, and applying their acquired knowledge to make cheaper knockoffs. During this time, generic circuit boards, casings, and parts from a growing stock of suppliers were flooding the market, making it cheap and easy to produce fakes. As soon as copies were made, however, tweaks and modifications were introduced. A fake iPhone might contain space for three SIM cards; a fake Nokia would be pimped with a louder speaker. These modified goods were tested in the booths of the market, and sales acted as a quick feedback loop, instructing the workshops on which tweaks worked and which didn't.
Gradually, the focus of shanzhai has moved away from copying big brands. Rather than perpetuating the stereotype of China as a copycat nation, many now argue that shanzhai is a powerful force behind Shenzhen's design success. Through constantly tweaking and testing knockoffs, the industry has ended up inventing entirely new products, exported around the world. There's a cell phone for seniors, for instance, with big buttons, an SOS quick-dial, and a loudspeaker.
There's also a large-battery phone that lasts for 40 days and comes with a cool retro casing and a built-in flashlight. The latest success at Huaqiangbei is the portable karaoke microphone. It's a microphone combined with a Bluetooth speaker that connects to your smartphone. It appeared in the market last summer, and now spontaneous karaoke parties can be heard throughout the city. When product ideas like these take off, shanzhai companies also begin to rapidly copy one another. You can find slight variations on the karaoke microphone throughout the market, produced by hundreds of different workshops, and it's often difficult to identify who the original author was. Creativity, in this sense, comes from the collective and not from any individual.
The flagrant abuse of intellectual property rights at Huaqiangbei, while infuriating many, has garnered sympathy from a global community of makers who have been championing notions of open-source sharing, Creative Commons licensing, and innovation through iteration for over a decade. This community has, in fact, found new life in Shenzhen. In 2008, Eric Pan founded Seeed Studios with the goal of tapping into Shenzhen's rich supply chain network to sell parts to global makers, and in doing so, helped champion maker culture in China. In 2011, Seeed started the Chaihuo Maker space, one of the first of its kind in the city. And a year after, it established the country's first Maker Faire, which has grown to be the largest in Asia. In 2015, Premier Li Keqiang visited Chaihuo and endorsed the development of maker spaces as a key way to innovate and grow the Chinese economy.
Others have also sought to tap into Shenzhen's unique assets. In 2011, a French angel investor named Cyril Ebersweiler set up the HAX Accelerator in an office space adjacent to Huaqiangbei. His idea was to select people from around the world with good product ideas, and invite them to spend 111 days in Shenzhen exploring how to scale their designs into production. Being located next to the market meant that participants could quickly contact manufacturers and suppliers, and test different iterations of their prototypes. One of the first participants at HAX, Jasen Wang, was invited to develop his idea for a DIY robotics kit. His company Makeblock now has over 200 employees and is selling to schools in Europe and North America. Other ideas tested at HAX recently include an at-home insect harvesting kit (for eating), solar-powered agricultural sensors, and a cell-phone-controlled sex toy. The accelerator brought 82 start-ups to exhibit at the Consumer Electronics Show in Las Vegas this past January.
With this kind of output, a lot of hope is riding on Shenzhen to become a new design powerhouse. However, the culture of copying and modifying, which has been identified by many as a key strength, also poses a threat. Companies like DJI, whose popular Phantom drone helped popularize aerial photography, have had to work extra hard to protect their engineering secrets—and yet DJI knockoffs can still be spotted throughout Huaqiangbei. HAX holds lectures from lawyers who advise the participants how to protect their patents from being stolen by Chinese manufacturers. For Shenzhen to realize its ambition of becoming a desirable design capital, it will need to prove that it is a place not only where stuff can get made but also where designers can feel some certainty that their ideas will be protected.