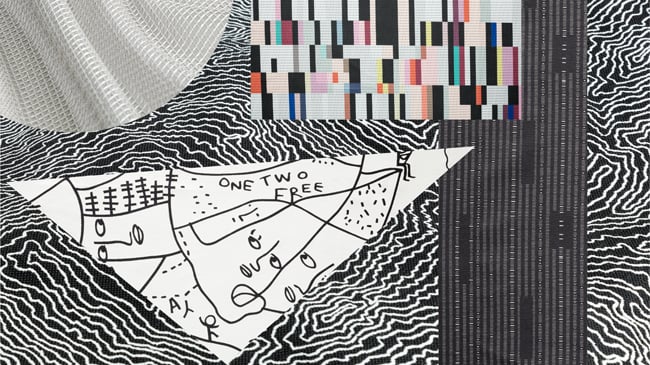 September 20, 2016
Showcase: The Most Innovative Textiles Available Today
The most innovative textiles—in material, construction, performance, and aesthetics—available today.
Photography courtesy Nicholas Calcott
---
Despite the multitude of fashion and design weeks around the world, innovations in textiles don't get their due, argues Lidewij Edelkoort, trend forecaster and educator at the New School's Parsons School of Design. "It is often textile design that drives form and innovation in these fields," she says. "Fabrics are able to give content and texture as well as emotional values to a product." So this year, Edelkoort and the Cooper Hewitt, Smithsonian Design Museum have teamed up with a host of other organizations to launch the inaugural Textile Month in New York. As part of this focus on fabric, Metropolis continues its effort to showcase the most innovative textiles—in material, construction, performance, and aesthetics—that are available today.
Carnegie Alu Net / ZigZagZurich Earth
CARNEGIE ALU NET
This window covering is an open-net knit fabric that controls heat and glare while still being as transparent as possible. The back of the fabric, developed by Création Baumann, is metallized with aluminum, and it comes in an array of six colorways.
ZIGZAGZURICH EARTH
Two founding members of the Memphis group, Nathalie Du Pasquier and George Sowden, have come together as CoopDPS to create a collection of textiles and textile products for ZigZagZurich. The Earth pattern, shown here as an upholstery fabric, is also available as a blanket, wall-covering, and curtain.
Wolf-Gordon Ritual / Momentum Textiles Well Well Well
WOLF-GORDON RITUAL Amsterdam-based designer Mae Engelgeer reinterpreted traditional weaving techniques for the Level collection, playing with simple graphic elements and textures at different scales. Ritual is a rayon upholstery textile with a pattern of dots and dashes that carries through the rest of the collection.
MOMENTUM TEXTILES
WELL WELL WELL
Artist Shantell Martin created the pattern for this textile in her trademark whimsical style, with a marker on a wall. The meandering lines, with faces, birds, and handwritten messages, were translated into cotton fabric on a special loom that could capture the full width of the drawing, without a repeat.
Designtex Pixel / Luum Angulo
DESIGNTEX PIXEL
Part of a collection designed to showcase the potential of digital printing on a variety of surfaces, Pixel is printed on Designtex's textured, recycled polyester Hyphen fabric. Artist Jenny McGee Dougherty developed the pattern of colored blocks suited to public areas in workplaces as well as hospitality and education facilities.
LUUM ANGULO
Because it has a pattern that stretches and compresses in one direction, and an ombré stripe that runs perpendicularly, Angulo has a strong visual impact when upholstered on furniture. The 100 percent cotton pile gives it a soft hand feel, but it is a durable fabric rated at 51,000 double rubs.
Unika Vaev Vanguard / Brentano Solstice
UNIKA VAEV VANGUARD
At NeoCon this past June, Unika Vaev unveiled the Revue collection, which innovates with three different kinds of Jacquard construction. The Vanguard upholstery fabric from that collection uses a flat weave that interlaces yarns to form a graphic two-color pattern. Vanguard is available in ten colorways.
BRENTANO SOLSTICE
Part of the Cityscape collection, Solstice is an indoor-outdoor fabric that is stain-resistant, durable, and lightfast. Woven with a solution-dyed acrylic and polyester warp, the pattern evokes constellations, and the colors mimic the gradients in the sky at dawn and dusk.
Geiger Corded Stripe / Maharam Inlay
GEIGER CORDED STRIPE
Part of a menswear-inspired collection designed in collaboration with BassamFellows, Corded Stripe recalls the patterns of traditional neckwear. Produced on a specialty wire velvet loom, the fabric incorporates yarns in six colors (Deep Sea colorway shown here), making it easy to coordinate with other textiles.
MAHARAM INLAY
Woven with an end-on-end nylon warp, Inlay has intricately detailed micro patterns and structures, such as the subtle plaid in the navy blue background and the bands of colors overlaid upon it. Designer Hella Jongerius has been collaborating with Maharam for 15 years, and this latest textile showcases her mastery of color and weaving technique.
Camira Fabrics Zig Zag / HBF Textiles Honest Square
CAMIRA FABRICS ZIG ZAG 
Design studio Parris Wakefield Additions developed this colorful print for Camira's new Synergy fabric, a wool blend that is soft to the touch. In addition to this print, Synergy is available in 75 solid color options.
HBF TEXTILES HONEST SQUARE
Designer Christiane Müller adds texture and softness to corporate interiors—and improves the acoustics of spaces—with the Honest Square fabric. Müller turned to the architectural world for inspiration for her collection; this textile reflects her exploration of forms and volumes.
Marimekko Räsymatto / Pallas Textiles Athalie
MARIMEKKO RÄSYMATTO
​Designed by Maija Louekari, the print on this heavy cotton fabric was inspired by traditional woven rugs from Finland. The classic version of the print is monochrome, and new colors have recently been introduced.
PALLAS TEXTILES ATHALIE
The Papillon collection is distinguished by the use of chenille yarns, which give the fabrics a fuzzy, soft texture. Athalie combines multiple colors of the yarns in a close, detailed pattern and is available in 14 colorways (Rio shown here).
Luna Textiles Cloud / Arc-Com Atomic
LUNA TEXTILES CLOUD
Made entirely of wool, with a soft felted texture, Cloud is nonetheless durable enough for heavy contract use. The textile is intended to emulate the fabrics of high-fashion menswear and comes in a palette of three neutrals and four colors (Canary Heather shown here).
ARC-COM ATOMIC
With a pattern based on diagrams of atomic bonds, this fabric is woven out of polyester and nylon, with a Crypton stain-resistant finish. It is bleach cleanable and can withstand 150,000 double rubs in the Wyzenbeek method, making it highly suitable for a wide range of commercial applications.
Mayer Fabrics Vollis Simpson Collection / Bernhardt Textiles Facet
MAYER FABRICS
VOLLIS SIMPSON COLLECTION
Named after a renowned folk artist, this collection is a collaboration between Mayer Fabrics and Sunbrella Contract. The textiles draw upon various sources connected to Simpson, such as road signs, wheel spokes, and the sculptures known as whirligigs. The Wilson fabric (shown here) is named after the artist's hometown in North Carolina.
BERNHARDT TEXTILES FACET
Jewelry designer and architect Anabela Chan drew upon two of her passions— travel and gemstones—for her first textile collection. Facet was inspired by the way loose gemstones scattered on a surface catch the light. Woven out of cotton, rayon, and nylon, the fabric is available in eight colors (Citrine shown here).
Knoll Textiles Vatera / Robert Allen Contract Hewn Spiral
KNOLL TEXTILES VATERA
With the blurred lines in the large-scale pattern and the texture of viscose slub yarns, KnollTextiles creative director Dorothy Cosonas achieved a handmade aesthetic in this upholstery textile. It's part of a collection inspired by an heirloom rug in her family.
ROBERT ALLEN CONTRACT
HEWN SPIRAL
The Luxe Naturals collection from Robert Allen Contract seeks to mimic the texture of natural fibers and reflect the aesthetic of the maker movement, while retaining the durability and functionality of contract fabric. Hewn Spiral, for instance, is made from space-dyed yarn to give the look and feel of an embroidered surface.