May 7, 2019
The New Book Single-Handedly Showcases Hand Drawings by 43 Contemporary Architects and Firms
In this article, Metropolis excerpts the introduction and multiple drawings from the book, which was authored by Nalina Moses and debuts today.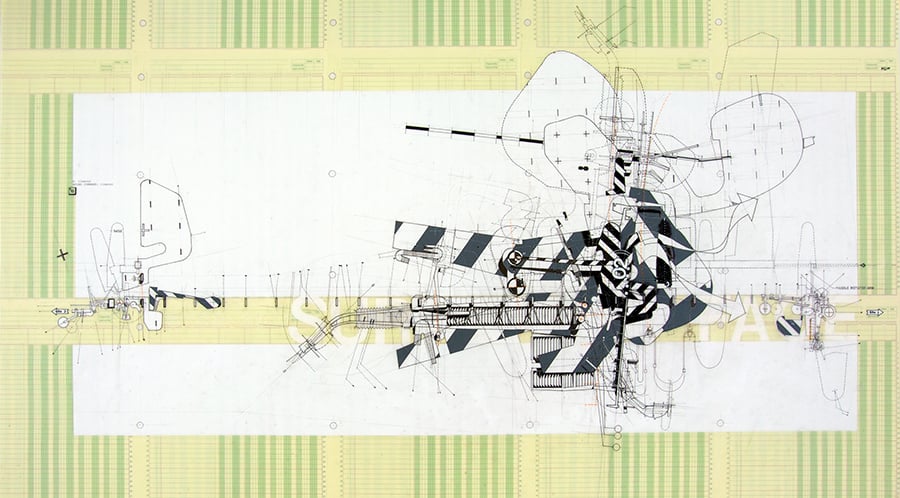 ---
The following text is excerpted from the introduction of  Single-Handedly: Contemporary Architects Draw by Hand (Princeton Architectural Press, 2019), written by Nalina Moses.
Linked to a single imagination, a hand drawing sets the architect at the center of a building's mythology. The drawings, personal visions, are alive with the propulsive energy of a dream or even a nightmare. As she documents an informal refugee settlement in her city, an architect confronts her own anxieties of displacement. In response to a deteriorating urban environment, an architect imagines a post-industrial landscape where machines are adapted to produce plants and oxygen.
The most dazzling hand drawings are visionary rather than propositional, transmitted directly from the head to the hand. These structures can disregard dictates of physics, economics, and plain good taste, and are imagined so richly that they form their own plausible worlds. An exterior perspective envisions a city's downtown a century from now, where skyscrapers hover above traffic on arched steel buttresses. An interior perspective reveals a hall lined in shimmering glass tiles, where a woman mounts a vertiginous run of stairs. What world does she live in, and to what place is she headed?
As practiced today, architecture is a collaborative art, with many parties and individuals exerting significant influence. The notion of a master architect is regarded with cynicism, if not outright contempt. As collaborators demand adjustments, overarching design ideas that are singular, eccentric, or progressive become especially vulnerable during the tumult of design, development, budgeting, and bidding. As a result the building might be realized as a collection of unconnected or conflicting ideas, attitudes, and parts.
Hand drawing returns building design to a single imagination, and the building to an organically conceived whole. This personal approach promises a more efficient design process and a more inspired and characterful architecture. With hand drawing, architects can resume their traditional role as creators.
Architects can also resume their role as visionaries. The empty page is an unregulated space, a field with infinite imaginative potential. It makes possible all architectures, whether rigidly pragmatic, unquestioningly traditional, or disruptively innovative.
Moving with and against the grain, depicting real and fantastic structures, hand drawing richly complements the work of the computer. The hand brings a formal intelligence, assertive sensuality, and emotional immediacy to the page that the computer, right now, cannot.
You may also enjoy "10 Buildings That Helped Define Modernism in New York City."
Would you like to comment on this article? Send your thoughts to: [email protected]