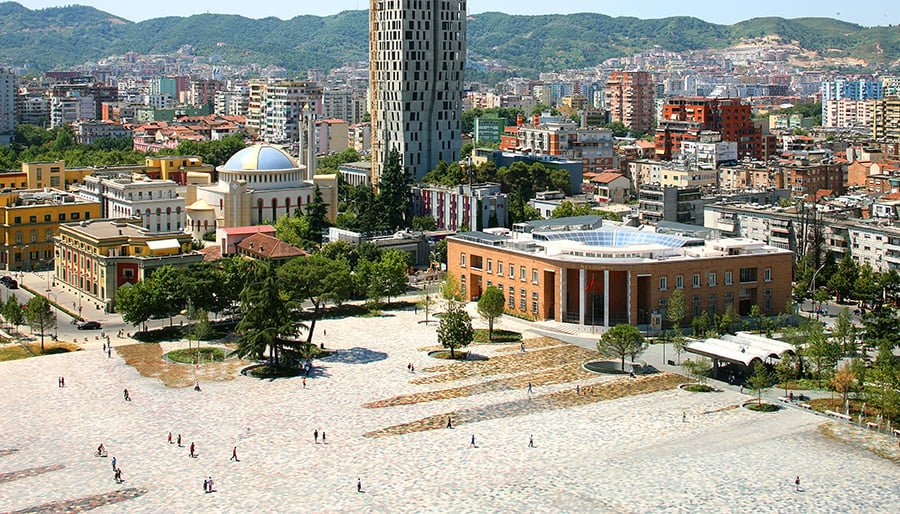 July 25, 2019
Design Cities 2019: Tirana, Albania
The 430,000-square-foot Skanderbeg Square should intimidate but doesn't. That has a lot to do with the plaza's intricate design.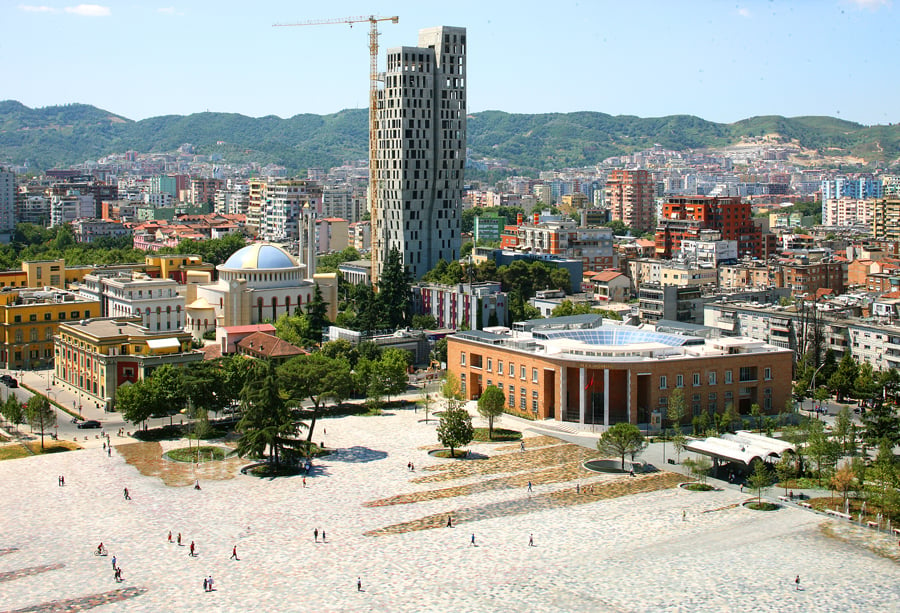 ---
To understand the current shape of Albania's capital city, Tirana, you must know two names. The first is Enver Hoxha, the communist ruler for four decades who rebuilt the country after the Second World War with Soviet and later Chinese support, then steered it toward extreme political, economic, and cultural isolation. The second is Edi Rama, Albania's current prime minister and a former mayor of Tirana, who also happens to be an artist.
When Rama took charge of Tirana in 2000, the city of some 400,000 people was on a chaotic path toward development. Decades of underinvestment were compounded by a rush of unsanctioned construction in communism's wake. So, in addition to painting the city's Hoxha-era facades with bright colors and patterns, Rama razed illegal buildings, planted trees, and oversaw an ambitious master plan, significant parts of which are only now beginning to materialize.
Skanderbeg Square, Tirana's civic heart, provides the best view of the transformation. The renovation of the square, completed in 2017 under the mayorship of Erion Veliaj after years of delays, was led by 51N4E, the talented Belgian practice that serves as something of an unofficial architect of the Rama regime. (The artist Anri Sala, a former student and close friend of the prime minister, collaborated on the project, along with landscape design firm Plant en Houtgoed.) The vast, empty square is in fact a low pyramid, with a gentle 3 percent grade that drains the water from fountains and elevates a person's eye level relative to the surrounding monumental edifices (the opera, national museum, and national bank, all in an official style).
From the square, one can also glimpse an emerging skyline of irregularly shaped high-rises. By 2024, if all goes according to plan, Downtown One, a 37-story tower designed by MVRDV, will dwarf both 51N4E's Plaza Tirana hotel and Archea Associati's 4 Evergreen. Perhaps by then, the market will have finally eclipsed communism.
You may also enjoy "Design Cities 2019: Buenos Aires, Argentina."
Would you like to comment on this article? Send your thoughts to: [email protected]