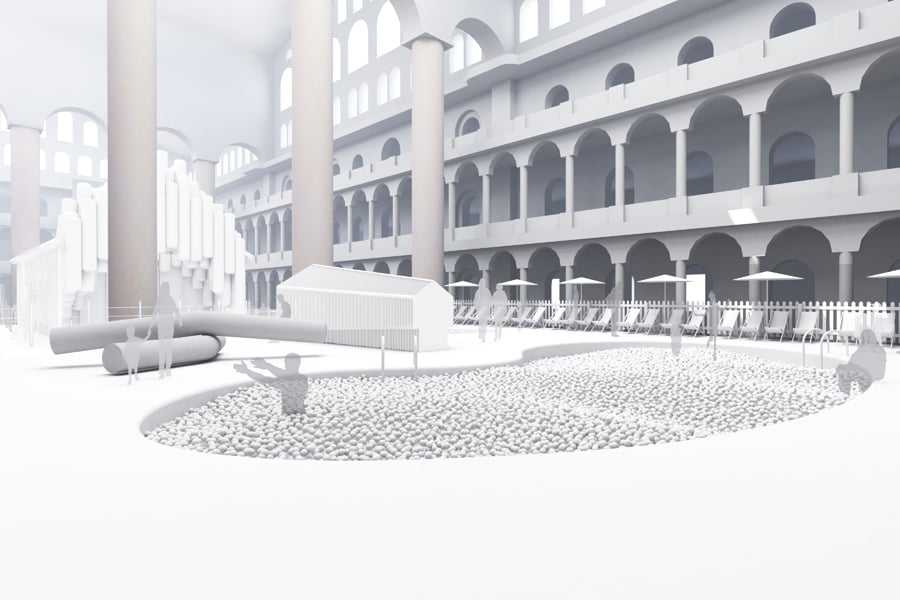 July 3, 2018
Snarkitecture Turns 10, and Celebrates With a House Party (at the National Building Museum)
The firm's new exhibition at the museum reflects on a decade of inventive installations and designs.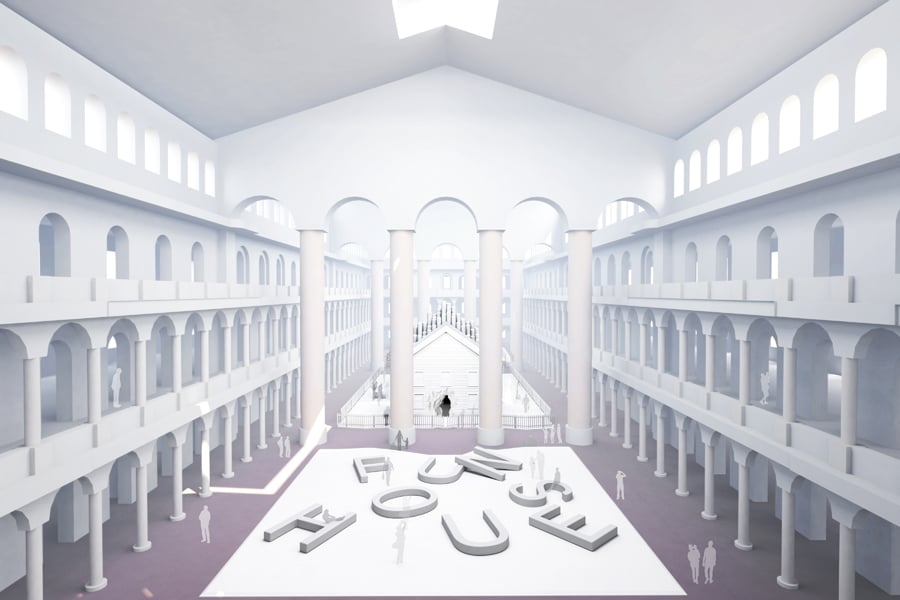 ---
To celebrate the tenth anniversary of Snarkitecture, principal Alex Mustonen says the Brooklyn-based design firm didn't want to just fill a gallery with the usual photos and sketches. Their idiosyncratic practice has always been about creating unconventional experiences—be it via cast Jordan V sneakers or a gigantic marble run—so they felt a retrospective on their work should surprise people, too.
The result is Fun House, an exhibition-installation combo that will open July 4 at the National Building Museum (NBM) in Washington, D.C. From a distance, the installation looks like a model of a suburban house, constructed with Snarkitecture's signature material, white EPS architectural foam. But the surprises start as soon as you approach the entrance, which is not a front door but an excavated cavern just big enough to squeeze through, an homage to Dig, the firm's 2011 project at the Storefront for Art and Architecture in New York.
"With each project you learn things," says Mustonen, who runs the 10-person firm with partners Daniel Arsham and Ben Porto. "There are things that you plan for, and elements that perform in unexpected ways, and we wanted to present past projects in a way that would upend expectations even for people familiar with the work."
This is the second time Snarkitecture has designed a summer installation for NBM. Two years ago, after being recommended for the gig by Bjarke Ingels, they made (literal) waves with The Beach, a 10,000-square-foot ball pit that mimicked a day at the beach. The project drew around-the-block lines and has since toured the world.
---
The Beach reappears at Fun House in the form of a smaller, kidney-pool-shaped ball pit, while the different rooms of the house will present viewers with a dizzying marble run, reminiscent of Loop, a 2017 installation in Seoul for fashion brand COS and an expansive foyer of billowing white tubes adapted from Drift, the entry pavilion they created for Design Miami/ in 2012.
"The Beach was one really busy space," said Mustonen, "Fun House brings the experience down to a domestic scale, so that you have a large area that's filled with all these discrete moments. We're interested to see how people respond to the idea of being invited into Snarkitecture's house—something everyone has some kind of association with."
Cathy Frankel, vice president for exhibitions at NBM, says after the success of The Beach, the museum wanted to challenge Snarkitecture to diversify. "We've watched their work, and they're always thinking about how people react to the spaces they're in," says Frankel. "We thought it'd be fun to see what they could invent while also bringing their recent work together."
---
The NBM commission coincided with the firm's plans for a ten-year retrospective, though Mustonen hopes Fun House can also travel to new venues as The Beach did.
The past few years have been especially busy for the practice, with projects including two futuristic Kith footwear stores in New York and Los Angeles and dynamic installations from Indiana to Asia. The firm has just released a monograph, published by Phaidon, that reviews some of these commissions.
The book, unlike Fun House, can't go beyond pictures and interviews, but the visual juxtapositions between phone-sized pillows and cavernous white rooms give a sense of how Snarkitecture's projects, as the introduction to the volume puts it, "reformulate any given code, or rule, totally, constantly and strikingly consistently."
And as if warning the reader not to jump to conclusions about the firm, the margins of every page offer a cunning challenge: the left side of each spread says, "Not art," and the right says, "Not architecture."