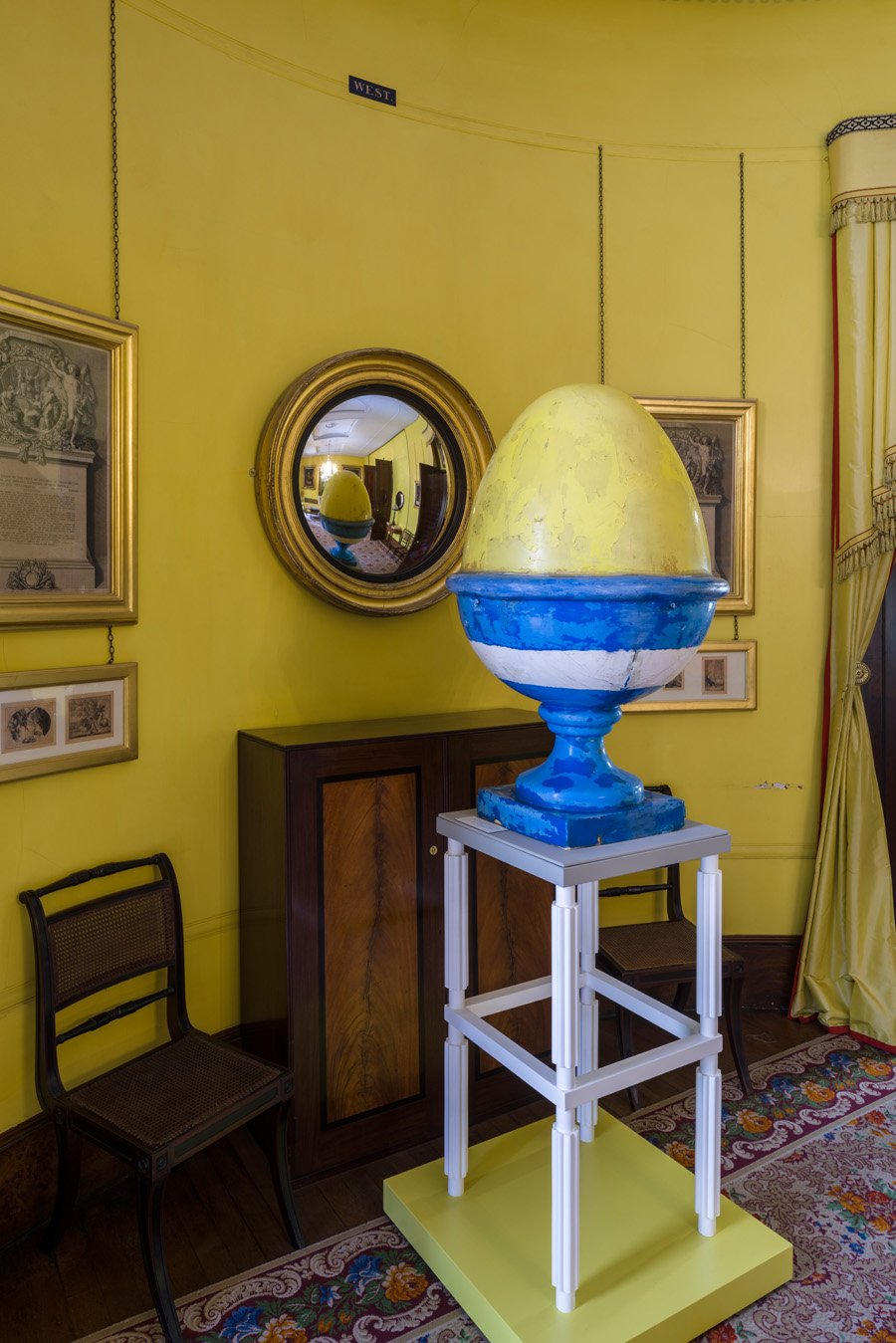 May 18, 2018
A New Show in London Celebrates Postmodernism's Comeback
On View at the Sir John Soane's Museum, Return of the Past presents a broad, if not myopic, view of '70s and '80s English buildings.
The Return of the Past: Postmodernism in British Architecture is as focused on its context as its content. Housed in the labyrinthine Sir John Soane's Museum in central London, the exhibition wears the influence of the great English neoclassicist and hoarder par excellence on its flamboyant sleeve. As curator Owen Hopkins points out, "This stuff needed context. One of the driving ideas of the Postmodernist movement was that architecture has a context" and indeed any attempt to turn the wunderkammer that is the Soane museum into a sort of white cube exhibition space would be ridiculous.
In the first room of the exhibition, which sets its sights on the late-1970s and early-1980s—the so-called "radical moment" of Postmodernism in British architecture—objects are placed nonchalantly amidst the paraphernalia of Soane's south drawing room. The room itself thus becomes a Postmodern installation, where chairs designed by figureheads Terry Farrell, Piers Gough, and Charles Jencks sit among the ornamental busts, antique furniture, and a portrait of Soane himself, as if posthumously absorbed into his heterogeneous collection. Particularly effective are paintings of Jeremy Dixon's Royal Opera House in Covent Garden by Carl Laubin. The light and perspective of the paintings recall Joseph Gandy, the great painter and creative partner of Soane, while fashion and architectural details from the 1980s give the paintings an uncanny edge.
Moving into the museum's main gallery spaces, the exhibition takes on a more orthodox pose, with large cabinets (designed by Caruso St John Architects) displaying projects by Postmodernism's biggest names—CZWG, Jeremy Dixon, John Outram, and James Stirling. Hopkins has avoided photos in these displays, choosing instead to express their work through drawings, models, and press clippings in order to explore "the process and rigor that went into these buildings." For example, Terry Farrell's sketches working towards the MI6 building in Vauxhall are a fascinating study in the massing, color, and form that would eventually define the bizarre, hulking icon of British defense.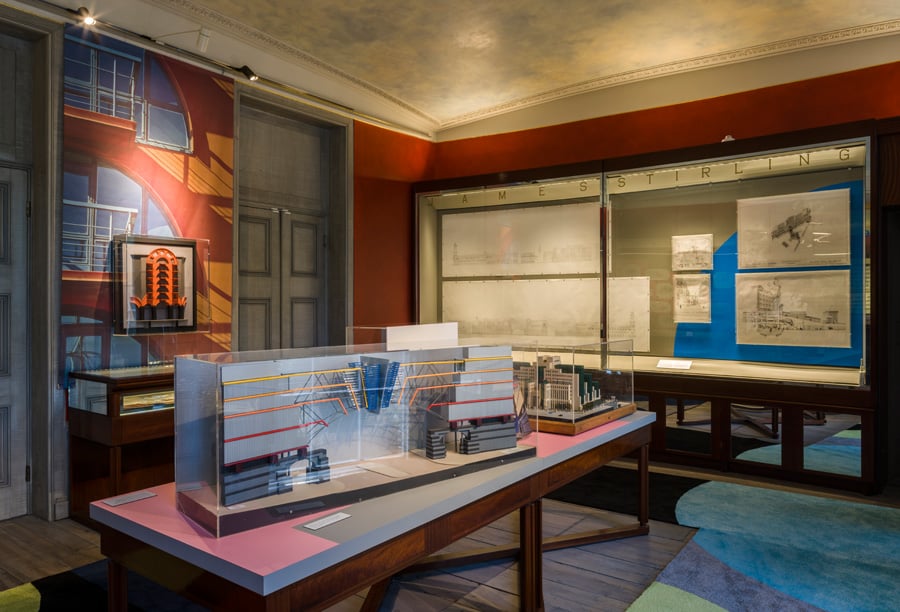 Also interesting is a small cabinet looking at the late '80s-era Cascades project in Canary Wharf by Rex Wilkinson of CZWG. The project is represented through contemporary press clippings and promotional materials, which describe "luxury rooms with luxury views." Cascades is a stone's throw from the Ronan Point tower block which partly collapsed following a gas explosion 50 years ago this week. Ronan Point would become a poster child in the argument against Modern architecture—the British Pruitt-Igoe—and, more specifically, high rise living until a more luxurious incarnation spread across the capital and the typology was made palatable again.
The debates around high rise living continue to echo around contemporary Britain. The anti-tower brigade crassly reared their heads post-Grenfell (even Mayor Sadiq Khan got on board) while luxury towers proliferate across the city and Postmodernism is having its revisionist moment in the sun. The Soane exhibition coincides with the landmarking of 17 Pomo projects last week while a number of major publications have come out in the last 12 months—a far cry from Robert Venturi's declaration, "I am not now and have never been a Postmodernist." Hopkins' use of clippings here is a nice nod to Postmodernism's roller-coaster ride in the court of public opinion.
Less impressive, however, is the glaring omission of Denise Scott Brown, Joanna van Heyningen, Eldred Evans, and other women Postmodernists in the show. More than anyone, the Postmodernists understood the importance of representation, and so to produce an exhibition that fails to complicate the notion that architecture is done by white men seems like a failure on its own terms. Postmodernism is, according to Hopkins, "an architectural sensibility that favors complexity over simplicity." But with a focus on already familiar projects—albeit with access to less familiar artifacts of their creation—this exhibition does seem to betray a simplistic approach. As demonstrated with the exhibition's intelligent dialogue with the Soane museum, there is so much space for a critical discussion of Postmodernism to be had through curatorial practice. Unfortunately this oversight reeks of an unwelcome Return of the Past.
You might also like, "The U.K. Landmarks 17 Postmodern Buildings."