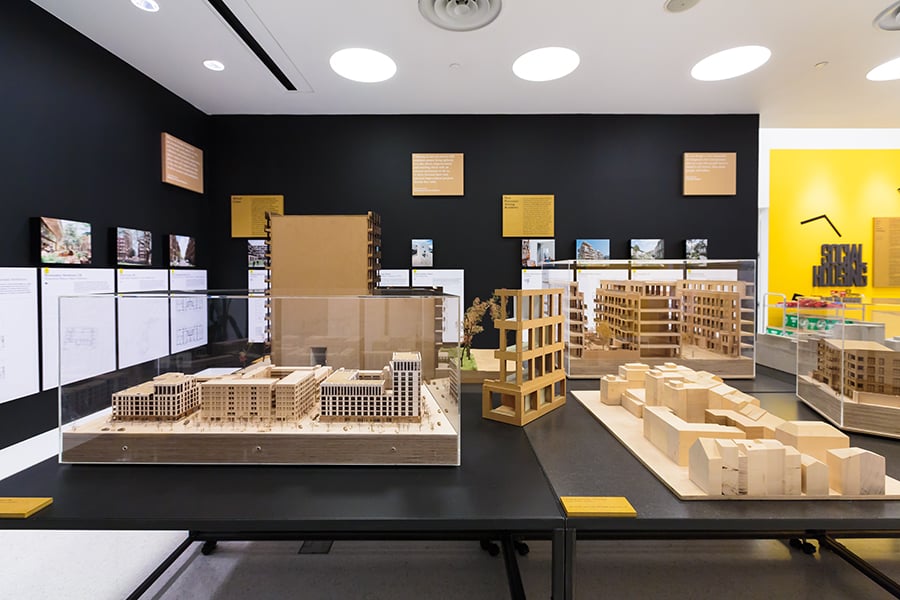 February 20, 2018
New Exhibition Highlights the Best of European Affordable Housing Architecture
Social Housing – New European Projects, which is on view at the Center for Architecture in New York, showcases 25 stand-out projects.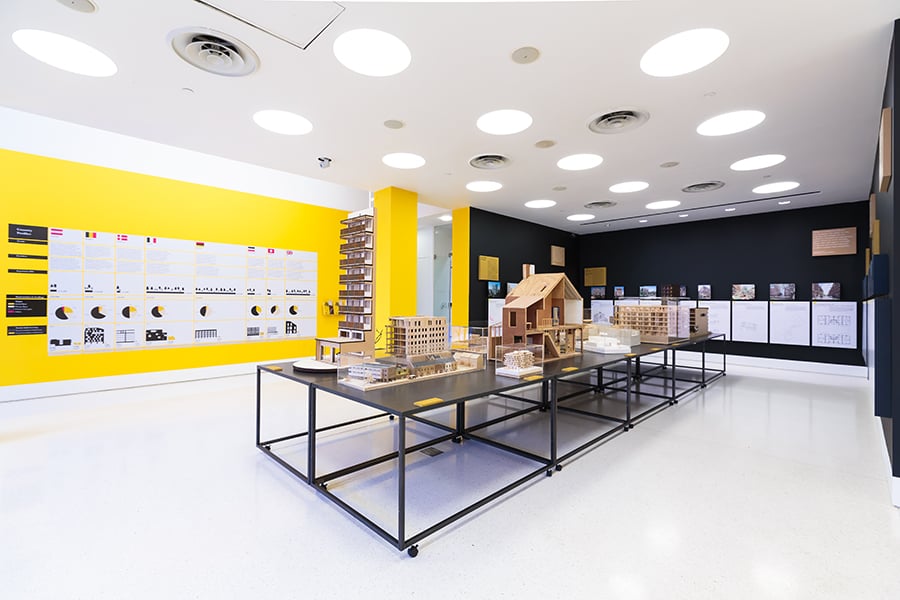 ---
The U.S. is facing a bona fide affordable housing crisis. From Miami to Los Angeles to Denver, many urban centers are facing their own challenges. New York City is not exempt and is looking to stay on the offensive: Mayor Bill de Blasio recently increased the city's affordable housing goals, from building or preserving 200,000 affordable units by 2024 to 300,000 by 2026. Additionally, New York's Public Design Commission (PDC) has been working with numerous groups—including AIA New York chapter (AIANY)–to formulate a new report (due to this spring) on how to deliver enough high-quality affordable housing. Justin Garrett Moore, the executive director of PDC, says the city wants to "push how we're accomplishing affordable housing," not just politically, but architecturally as well. Those ambitions are serving as the backdrop for Social Housing – New European Projects, which opened at the Center for Architecture last week.
The exhibition, which spans two floors of the Center, showcases 25 European social housing projects by 20 different firms. The projects—which are represented by a short description, drawing (usually a plan), rendering, and model—are organized thematically. Some themes are purely architectural, such as challenging sites or renovation strategies, while others are more socially or politically–oriented, such as strategies for mixed-use housing or co-op models of ownership.
As its name suggests, Social Housing has its roots in Europe. Two and a half years ago, the Royal Institute of British Architects (RIBA) commissioned London-based Karakusevic Carson Architects to assemble a collection of recent innovative, top-quality projects to be showcased in a book and exhibition. RIBA wanted "a manual, a how-to for housing," says Paul Karakusevic, whose firm specializes in social housing. His team reviewed some 500 submissions before selecting the 25 finalist projects. Both the Social Housing exhibition and book debuted last year before traveling to New York.
Overall, the individual project descriptions are short and concise—don't expect comprehensive recommendations on how to translate European models to an American political context. Rather, Social Housing seems to simply remind architects that housing is a nuanced typology where architecture, social structures, and politics closely interlock. A cookie-cutter approach would obviate the many successful examples on view at the exhibition. As Benjamin Prosky, executive director of AIANY and the Center, said at the opening, the exhibit is meant to be a "helpful place for people to learn, discover, see other examples."
Social Housing – New European Projects is on view through May 19. On March 20, the Center is also hosting a panel discussion with Lorcan O'Herlihy (founding principal, Lorcan O'Herlihy Architects) Brian Philips (principal, ISA – Interface Studio Architects LLC) and Lawrence Scarpa (principal, Brooks + Scarpa).
You may also enjoy "Can the Design of L.A.'s New Juvenile Detention Facility Change the Future of Youth Incarceration?"