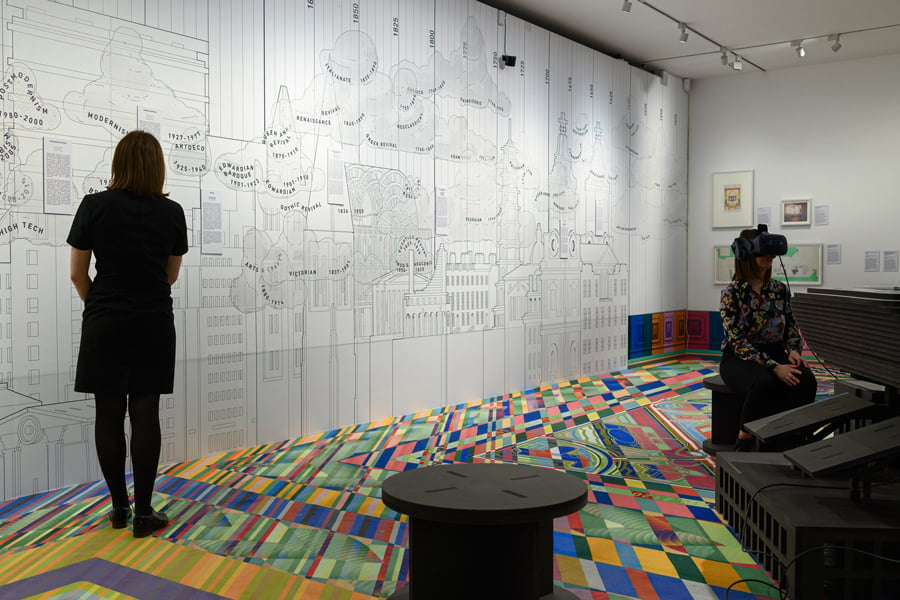 March 11, 2020
From the Printing Press to Pinterest, Surveying Mass Media's Influence on Architecture
Freestyle, organized by London design studio Space Popular, is an immersive tour of U.K. architectural history.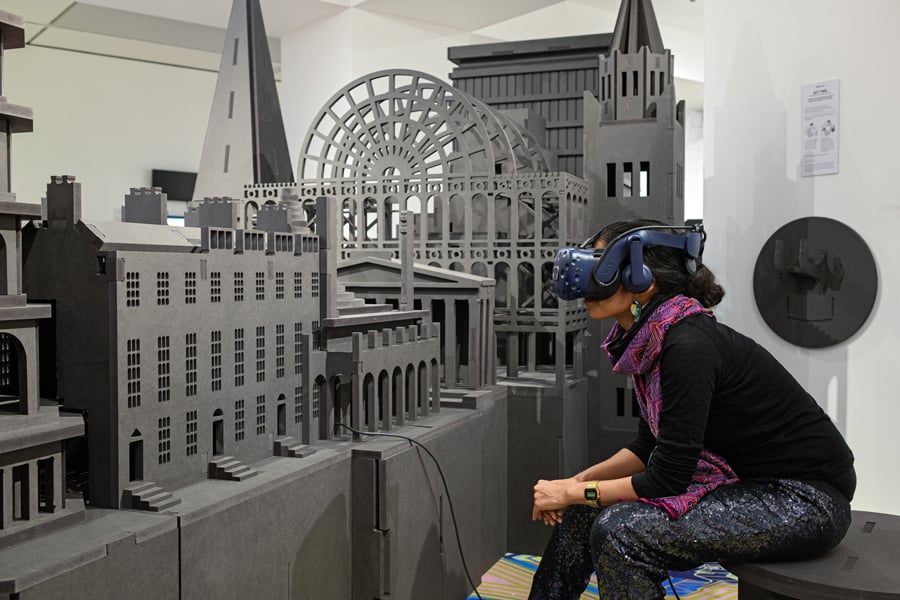 Why do St. Paul's Cathedral and a water pumping station in East London—two buildings separated by more than 500 years—both have Classical columns? Why does Brighton Pavilion look like it's been plucked from East Asia and why does a Chinese pagoda reside in West London's Kew Gardens? The answer, according to a new exhibition at the Royal Institute of British Architects (RIBA), is a matter of taste.
Freestyle: Architectural Adventures in Mass Media, organized by London-based studio Space Popular, is a freewheeling, whirlwind tour of six centuries of architectural style in the U.K. Using virtual reality, the exhibition plunges into the world of the printing press, Pugin's Gothic Revival style, the post-digital age, and everything in between; the goal being to describe how mass media has influenced architecture.
In England, the Building Better, Building Beautiful Commission has sparked a debate on style that many architects thought had died decades ago (see cartoonist Louis Hellman's 1990s critique of the so-called style wars). However, as the late commission chair Roger Scruton and politicians weigh in, perhaps a proper introduction to style is just what Britain needs.
The notoriously tight and troublesome exhibition gallery at RIBA is once again put through its paces. At Freestyle, a large matte black-timber model collides buildings from 600 years of British architectural history occupies most of the space, resting on a kaleidoscopic carpet.
At first glance, the model seems little more than an exploration in form and architectural language, but it comes alive once visitors don virtual reality (VR) goggles. Then, accompanied by narration, a miniature 3D model manikin occupies (virtually) the model's courtyard and begins to tell the story of mass media and architectural style. On cue to the figure's gestures, forms like ancient arches and the Gutenberg printing press rise up around the visitor. This is all part of the first of four "acts," wherein different aspects of mass media's impact on architecture are demonstrated.
As the journey continues, Napoleon on horseback and an ancient Egyptian sphynx appear in the background, and the world of Sonic the Hedgehog also makes an appearance. The model changes as visitors enter the Postmodern era—John Outram's Isle of Dogs Pumping Station bursts with as much color as the carpet nearby. Through this move, the curators subtly make clear that supposedly populist architecture has always been around, and that no style can be wholly attributed to one individual. The experience, furthermore, amplifies how enriching VR can be—it's one thing to read about architectural history, but it's another to be immersed in it.
The narrative of the virtual world still remains relevant to the real and tangible: Visitors see one of 16th-century Italian architect Sebastiano Serlio's seminal books opening in the virtual courtyard, while the real artifact sits in a display cabinet only feet away.
Furthermore, the eye-gaugingly colorful carpet designed by Space Popular remains present in both the "real" and virtual worlds, allowing visitors to maintain a sense of physical orientation while immersed.
But what of world and style of tomorrow? That question remains unanswered in the show. According to the narrator in Freestyle's virtual world, the Internet age does not present a crisis; rather, "all this data just needs to be sorted."
"We do not attempt predictions about the future of style, or what architecture will look like," Space Popular, founded by Fredrik Hellberg and Lara Lesmes, says in their own treatise. "All we do know is that whatever currents do form in style, they will emerge from increasing freedom, and be shaped by our collective care."
You may also enjoy "As Gottfried Böhm Turns 100, an Exhibition Foregrounds His Concrete Religious Architecture."
Would you like to comment on this article? Send your thoughts to: [email protected]