November 8, 2017
"Starship Chicago," a Documentary on Helmut Jahn's Controversial Thompson Center, Is Free to Watch Online
The 1985 building, threatened with demolition, is a riot of glass, mirrors, and blue- and salmon-colored panels that swirl around an enormous 17-story atrium.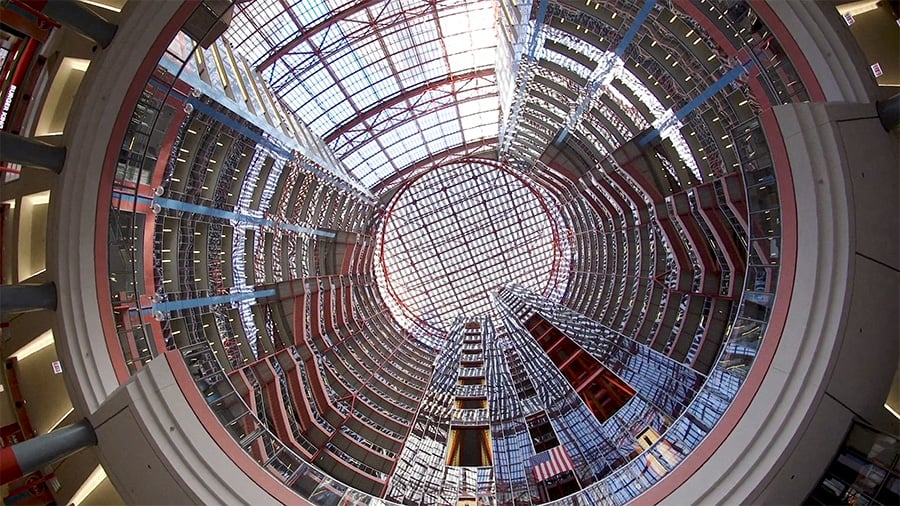 "What if I hate the building? … I think it's a piece of shit."
So says Stanley Tigerman at the start of Starship Chicago, a new documentary on the Windy City's polarizing 1.2 million-square-foot James R. Thompson Center. The 1985 state government building, which does easily resemble a spaceship that landed in the Loop, was designed by Chicago-based architect Helmut Jahn. The Center is a riot of glass, mirrors, and blue- and salmon-colored panels, all swirling around an enormous 17-story atrium. Much decayed after decades of deferred maintenance, the building's fate has been in limbo for years. Starship Chicago, which features interviews with Jahn, Governor Thompson (who commissioned the project), Tigerman, and a host of architects and preservationists, also delves into the complex legacy of Postmodern architecture (or at least buildings labeled "Postmodern") as those structures reach a perilous age: old enough to warrant demolition but too young to be widely recognized as significant.
This is the second documentary from filmmaker Nathan Eddy. His first, The Absent Column, looked at Chicago's Prentice Women's Hospital Building, a Modernist structure designed by Bertrand Goldberg, the architect behind the iconic Marina City. (Despite the efforts of architects and preservationists to propose adaptive re-use schemes for Prentice, it was demolished in 2014.) The James R. Thompson Center–originally the State of Illinois Center–was also a bold design for its time: it deployed an enormous curved facade in the right-angle city of Mies van der Rohe while using a large atrium to connect locals to local government. "This was a building that sought to open itself up, to create a more interactive relationship between people and their government," says Chicago Tribune architecture critic Blair Kamin in Starship Chicago. The documentary, in a way, tries to give the building a voice by explaining the meaning of this public space and its atypical color palette (a nod to America's red, white, and blue), among other aspects of its design.
But it's no small challenge to foster support for Postmodernism, a movement with a mixed record among the general public. But "Postmodernism" is also a blanket term applied to a wide range of buildings that broke from Modernism's mold. "People like myself and [London-based architect] Adam Nathanial Furman see the beauty and the importance of Postmodern architecture and the architects who were experimenting with new forms, colors, context, and references in the 1970s and 1980s and the 1990s," Eddy told Metropolis. "I'd like to point out we never use the phrase Postmodern at all in the film—my job is not to assign labels; it is to celebrate the joy of architecture and more deeply connect people to their built environment."
As for the Center's fate, its site is being offered to Amazon as part of the tech giant's request-for-proposals for its second headquarters. Before that, Chicago Mayor Rahm Emanuel and Illinois Governor Bruce Rauner have clashed over what to do with the site. At one point, in a bid to get Mayor Emanuel on board with his plan, Governor Rauner offered to allocate future property taxes from the building's sale to Chicago public schools. As Eddy told Metropolis, "The Thompson Center is currently being offered up as a sacrifice to Amazon and I would assume anyone else who will take the building off the State's hands. It's hard to know for sure because Governor Rauner won't talk to me—I know I'm sort of a pain in the neck but that's one of the great things about living in a democracy."
Whatever fate befalls the Center, it's just one of many prominent buildings of that age whose fate will be determined in the near future. Eddy was in New York for a screening of Starship Chicago at the Architecture and Design Film Festival when news broke of plans to radically alter the base of Philip Johnson's Chippendale-topped AT&T Building. Eddy promptly organized a protest, which drew no less than architect and preservationist Robert A.M. Stern.
"I'm not interested in being the patron saint of misfit architecture," Eddy added. "I am a storyteller and a pushy person who is not afraid to stick his neck out for the causes and the buildings I believe in." Speaking of the Thompson Center, he concluded, "We are going to win this one I swear to you we are."
Starship Chicago is free to watch on the Mas Context website.
You may also enjoy "'Hands off My Johnson,' Say Architects and Preservationists at AT&T Building Redesign Protest."