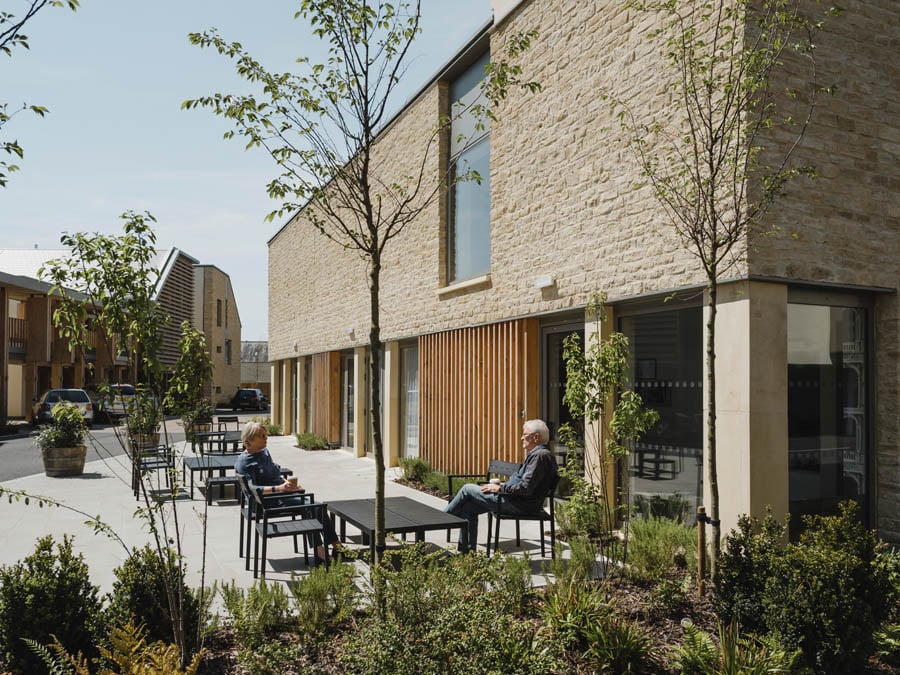 September 26, 2019
What's Behind the U.K.'s New Approach to Designing Retirement Communities?
Steepleton, by architects Proctor & Matthews and developer PegasusLife, is part of a change in how the country views housing an aging population.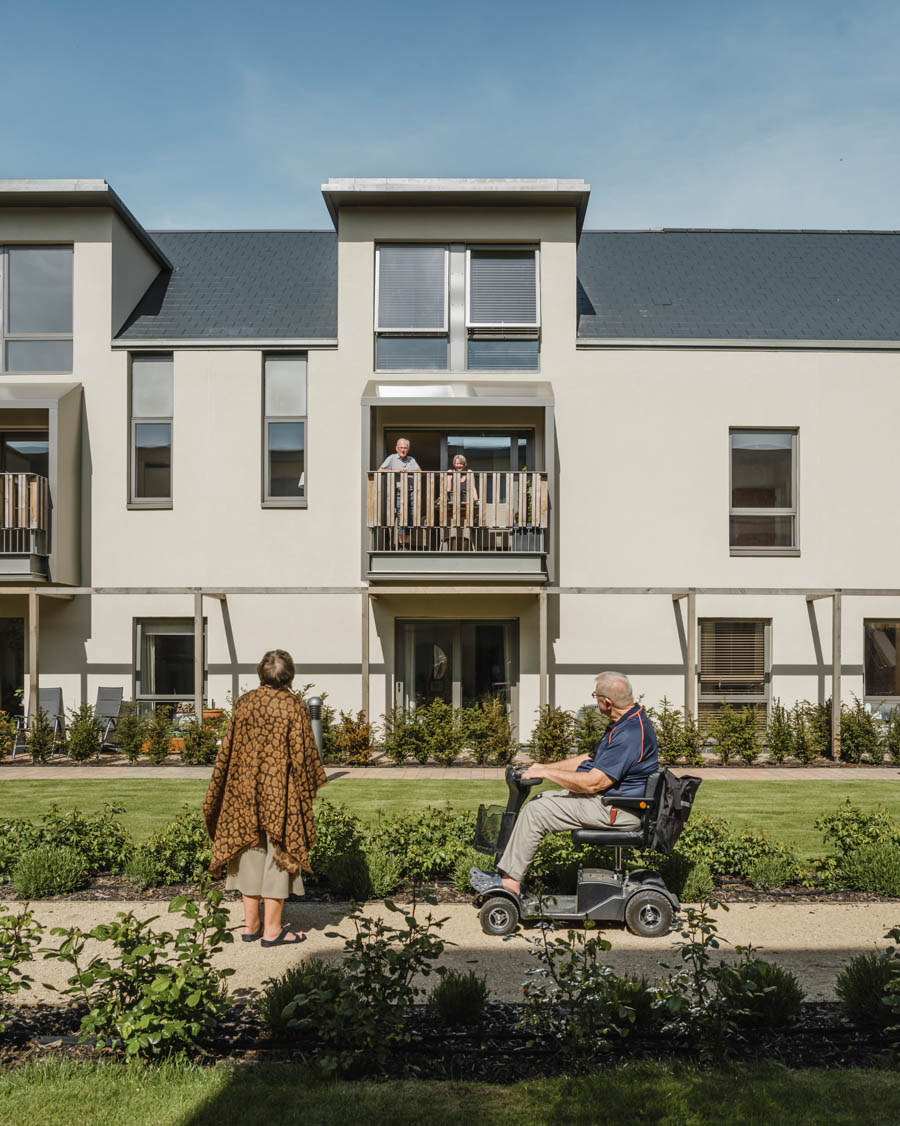 Amid the rolling hills and rough-hewn farmhouses of England's picturesque Cotswold region, a lively hive of over-55s has taken root in the country village of Tetbury. One resident harvests radishes from the many vegetable patches planted around the 12-acre expanse, while another takes a dip with her visiting grandchild in the naturally filtered pond at the development's core. Wind chimes echo throughout a cloister where residents gather among fragrant lavender and rosebushes and exchange stories over tea. Since its opening in April, the Steepleton Tetbury Retirement Community has already become a postcard of senior living that's deeply integrated with its local surroundings.
"Senior living shouldn't be seen as the end of the line, but a new lease on life," argues Stephen Proctor, cofounder of Proctor & Matthews Architects, the London-based practice behind Steepleton's design. Working in collaboration with PegasusLife, a developer specializing in retirement homes, Proctor & Matthews took inspiration from historic almshouses—a typology common in the surrounding area—as well as the regional Arts and Crafts movement. At Steepleton, historical building design is happily married to a strikingly contemporary, light-loving style that dismantles the traditional image of retirement homes as somewhat grim and dull.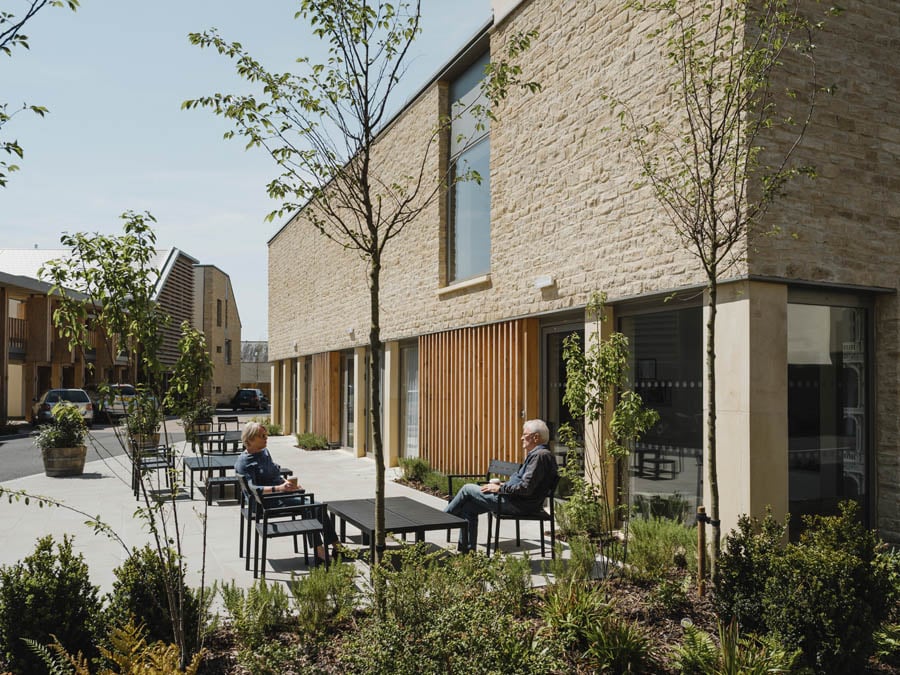 Twin gables, pronounced chimneys, local Cotswold stone, and handsome stable doors sourced from Cumbria make up Steepleton's sophisticated architectural language. Arranged as six separate buildings, each with its own productive garden, the development aims to nurture a strong sense of community and charm. "We wanted to create a space where different residents and generations of visitors would want to hang out, combating the risks of loneliness facing the elderly," explains Proctor.
Within each building's courtyard, an ambulatory encourages plein-air mingling among residents. Many have already made these passageways their own, installing potted olive trees and wind chimes around their front doors. Many residents keep their doors wide open in the summertime to allow conversation to flow from indoors to outdoors. The cloistered timber loggias, rustic materials, and abundant space for socializing make Steepleton feel more like a village within a village than an isolated retirement home.
Inside the 113 one- and two-bedroom units that compose Steepleton, double-aspect windows flood the living areas with light. Complete with on-trend furnishings, such as millennial-pink retro peg-leg armchairs, midcentury coffee tables, and brass and marble light fixtures, the units could just as well be in Brooklyn. But thankfully, unlike the stereotypically shoebox-size apartments in the New York borough, Steepleton's homes range from 644 to 1,128 square feet, for single or double occupancy.
"Early on in our brief, we were reminded [by PegasusLife] that the people moving into this accommodation were the punks and rebels of '70s Britain," says Proctor with a grin. "They have a totally different attitude toward design."
As spunky as its residents might be, Steepleton owes its success in equal part to its broader community focus, which remains a cornerstone of the developer's vision. (In a thoughtful design move, each unit looks out onto the streets of Tetbury.) Steepleton's central "village hall"—comprising a street-facing café, restaurant, library, and lounge, all nestled in a barnlike structure—is open to the public, encouraging a healthy dose of social exchange. Steepleton's fitness center is also a public resource, which locals can access with a membership. While the pond is currently available only to residents and their guests, the architects think it may well become another Tetbury hot spot.
PegasusLife has made a name for itself reinvigorating the once-neglected retirement home sector with unexpected locations and cutting-edge design; its roster includes award-winning projects by leading U.K. practices including Morris+Company, Coffey Architects, and Allies and Morrison. At two dozen developments and counting, the company is paving the way for a generation of places you'd actually want your parents (or yourself) to live in.
As mean life expectancy continues to climb globally, and some 22 million U.K. residents—a third of the total population—are now over 50, demand for affordable retirement homes will mushroom in the coming decade. PegasusLife is undoubtedly progressive in its design philosophy, but it remains a profit-seeking enterprise. With units beginning at £300,000 (around $363,000), Steepleton is one of the company's more budget offerings. (Units at No. 79 Fitzjohn's Avenue, a PegasusLife development in North London, start at £2,500,000, or just over $3 million.)
While Steepleton allows prospective residents a six-month rental trial and provides help-to-buy schemes, there is no opportunity to rent long-term—a growing desire among U.K. retirees, whom the Financial Times has deemed the new "generation rent." It's necessary to reconcile private-sector profits and relative affordability to ensure that this new typology will—like its residents—only get better with age.
You may also enjoy "This New Hollywood Landmark Is Best Understood Inside Out."
Would you like to comment on this article? Send your thoughts to: [email protected]