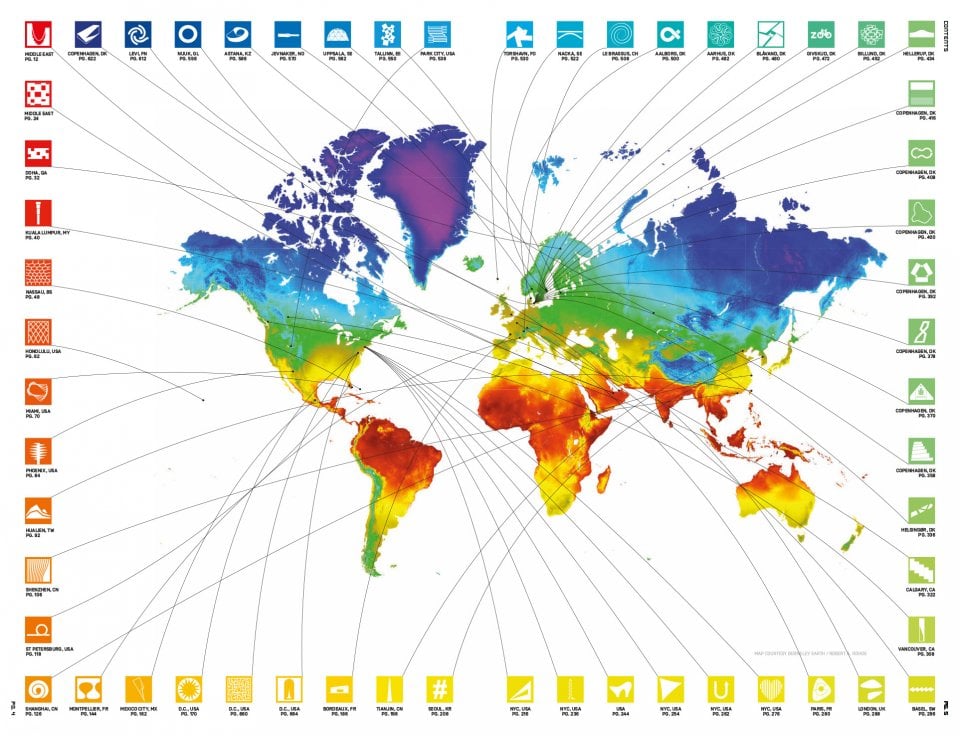 February 12, 2015
Bjarke Ingels on Play, Process, and Practice
In a recent podcast, the architect spoke at length about BIG's evolving design approach.
Architect Bjarke Ingels in conversation with "Archinect Sessions."
Courtesy Paul Petrunia/Archinect
In the last year, Bjarke Ingels Group (BIG) has made inroads into Washington, D.C., a city not known for its adventurous architectural tastes. Last summer, the firm's installation, Big Maze, captivated visitors to the National Building Museum. The project, it turns out, was a primer for a retrospective exhibition, Hot to Cold: An Odyssey of Architectural Adaptation, which opened at the museum late last month. More than 60 models suspended in the Great Hall trace the global panorama of BIG's work, with projects such as the "Magic Carpet" Media Headquarters for the Middle East and a proposal for Greenland's National Gallery organized by climatic region. A separate room containing photographs by Iwan Baan and a screening of Ila Bêka and Louise Lemoine's film, The ∞ Happiness, depict the daily life of BIG's visionary, yet pragmatic housing developments. (Bêka and Lemoine were selected as 2015 Metropolis Game Changers).
On the occasion of the exhibition's opening, "Archinect Sessions" sat down with Ingels for a lengthy candid discussion. The "radically adorable" architect reflected on his changing practice, while also touching on aspects of his design process. We've parsed the talk and distilled it into five provocative talking points
---
On a new generation of architects
"Once again we see the architect as not isolated from society…but rather, someone who can play a key role in society and, maybe, in helping society formulate where they want to go by manifesting concrete visions of a potential future. … Our generation, what we represent, is a greater belief in the profession and a greater belief in the profession's capacity to actually create concrete visions that can propel society as a human project forward."
On the influence of Danish culture
"There is a deeply rooted environmental concern in Scandinavia…and very high environmental standards set out. … As a result, nobody questions the environment as a priority in Denmark. Also, Denmark is the most socially equal country in the world, the financial distance between the richest and the poorest is the shortest in Denmark. … I think this is why the whole exhibition is focusing on these two elements, the environmental impact and the social impact, as the two crucial dimensions of architecture."
A global map illustrating the climatic diversity of BIG's projects. A forthcoming book from Taschen will further probe the idea of adaptive architecture and will include new essays by Bjarke Ingels.
Book images courtesy BIG/Taschen
On the importance of play and playfulness in design
"The creative moment comes through playful experimentation. … There is something about the elements of a joke that are a little bit like the elements of a breakthrough idea. A joke, you have a story that builds up to a punch line and establishes a situation that is recognizable as part of everyday life so people can think along with it and then the punch line is a natural, an obvious consequence, of the buildup, but it's completely unexpected. So, it turns everything upside down but it still makes perfect sense. In the same way you can say that a great idea is an analysis and a buildup that establishes the world as you know it and then the consequence is totally obvious and totally unexpected at the same time. … It shows that within the confines of reality as you know it there is space for a completely different interpretation that you hadn't seen coming but that still opens a whole new potential world."
Tests demonstrating the feasibility of smoke rings BIG envisions for the Amager Bakke Waste-to-Energy Plant in Copenhagen.
On the underestimated value of a positive work environment
"In some circuits there is a misconception that great work can only come through excruciating pain. One of the key issues in creating a company that can take on great challenges, complex projects and huge responsibility, is actually that you build a company culture where retention is a major part of it, because if people don't stay you have to start from scratch every time, whereas I think the companies that have been very successful in creating continuity can really go in incredible places."
On growing a business
"I think every six months, almost, I have found that I've had to somehow slightly alter how I would do things, because things have changed a little bit all the time. … We've tried to always be conscious about creating positions that free me up to do what I think I do the best, and definitely what I enjoy the most, which is designing houses."
You can listen to the podcast in its entirety here.