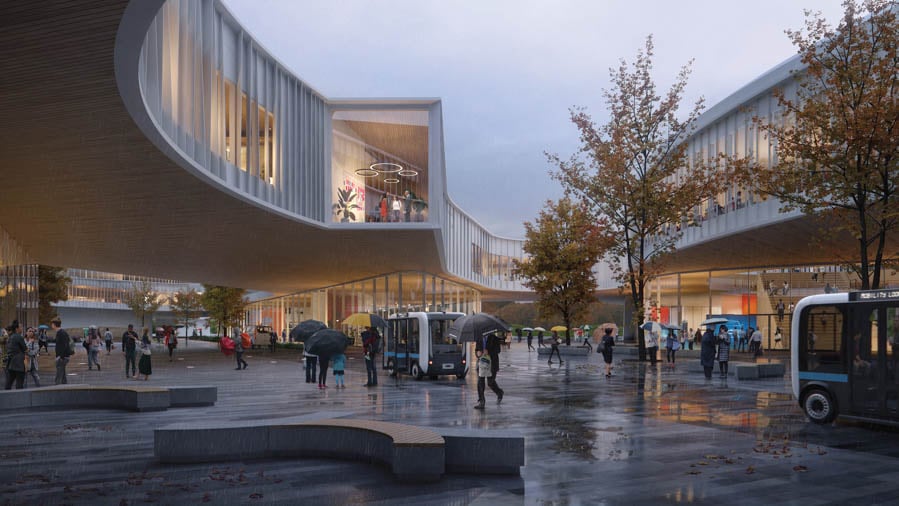 February 25, 2020
How Tech and Design Are Forming a "Symbiotic Relationship"
The January/February issue of Metropolis looks at how tech and design are creating new frontiers in our built environment and shaping how we live and work.
Sustainable architecture and design depend on data, or at least they should. With so much at stake, every design decision is best taken on the basis of accessible, reliable information. The success of popular standards like LEED, Living Building, and WELL depends on a broad culture of transparency in the AEC industry, rather than strictly on legal compliance. So the organizations behind these standards have worked tirelessly to incentivize manufacturers, contractors, designers, architects, and clients to make data available to the industry at large. In theory, more people than ever before have the facts they need to address the climate crisis and secure the future of life on the planet.
In practice, of course, the quality of this data and the tools needed to analyze it are imperfect or growing rapidly outdated. And much of it—chemistries of products, solar analyses, water management strategies—isn't validated by post-occupancy evaluations of how buildings actually perform.
Luckily, an ecosystem of technology ("Sustainability Tools Up: 3 Promising Tech Innovations to Help Architects Reduce Their Carbon Impact") is now emerging to tackle this issue. There is much to celebrate about new tools like EC3, mindful MATERIALS, and PODD—they have grown out of architecture and design practice, address different stages of the design process (including post-occupancy), and, best of all, are either open-source or free to access. This is only the start of what the industry needs to tackle global challenges, but it bodes well for progress.
The tech sector, for its part, has been turning to architects and designers to resolve some thorny issues. Given the recent backlash against tech giants as they've exacerbated certain problems in cities and neighborhoods—inequity, gentrification, homelessness—architects are trying to find more thoughtful real estate and urban responses to tech disruption. Manhattan's Company Building ("Tech Start-ups Find a Shared Home at The Company Building in Manhattan") is one such experiment; the slew of speculative architecture and planning proposals surrounding driverless vehicles ("In the Driverless City, How Will Our Streets Be Used?") represents another important point of symbiosis between design and tech.
For the third year, our March issue will showcase the state of North American architecture and design. After traveling to Georgia, Minnesota, Missouri, North Carolina, Texas, and the Pacific Northwest in past years, Metropolis will examine the best that the Midwestern and Southern states have to offer, alongside brief excursions to Mexico and Canada. As different ideas of America will no doubt be debated in the political arena this election year, we hope you will engage with our ongoing coverage of how Americanness presents itself in the work of architects and designers.
Scroll through the slideshow below to see new architecture, design, tech, and culture from the January/February issue of Metropolis: