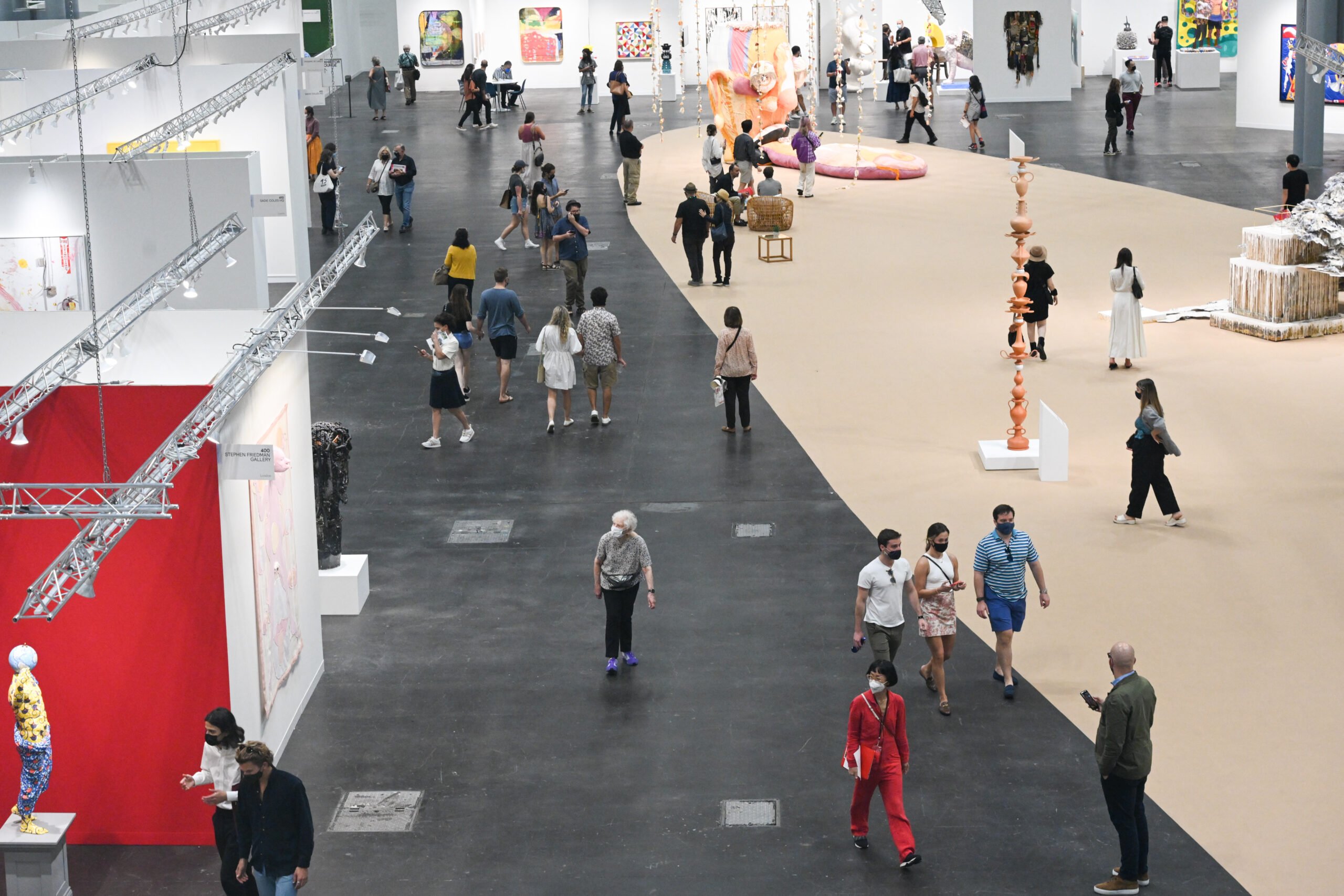 September 9, 2022
The Armory Show Addresses "Fair Fatigue" with a Flexible Layout by Frederick Fisher and Partners
"We hear a lot about fair fatigue," Kelley continues. "We wanted to create a sensory experience for viewing art while also designing spaces of respite." In order to get to the final scheme for the 2022 exhibition, Frederick Fisher and Partners developed multiple iterations that considered the notion of balance, sensory nodes, and cognitive mapping, which Frederick Fisher describes as a "Mental picture" that helps visitors "intuitively get around." To employ these concepts, the design team settled on a layout that reflects a miniature map of New York City complete with zones, aisles, and lounges inspired by the Big Apple's streets and neighborhoods from Chelsea to Hudson Yards.
In terms of differences between the 2021 and 2022 layout, Kelley notes that the team wanted to "keep what works" rather than "reinvent the wheel." One of the most important decisions in the 2022 layout was widening the aisles to a spacious 15 feet, giving visitors more room to spread out and making the experience less claustrophobic. Another element that remains consistent from last year is the choice to include a central ellipse made of ultra-thin carpeting that the firm refers to as the "agora." When visitors are here viewing some of the large-scale installations, resting, or grabbing a glass of champagne, they are able to experience a more intimate, human scaled-environment in such a large space while also maintaining clear sightlines to the fair's major zones and circulation paths to the 240 gallery booths.
"The thing I think is unpleasant about art fairs is the regimentality," notes Fisher. He explains that the figure-ground ellipse breaks up the showcase into four quadrants, pulling and pushing the various zones and districts while opening up opportunities for wayfinding. It also illustrates a key value at the firm: "Bringing domesticity to an institutional environment."
In addition to creating a welcoming atmosphere through a seemingly simple design intervention, the layout's function was officially tested last year when a major gallery dropped out of the show at the last minute due to the Delta variant of COVID-19 . "After that, we really learned how flexible our plan was," Kelley says. The solution was as simple as shrinking the central ellipse, but it was a move that allowed the booths to remain in place, pleasing both the gallerists and curators who have clear ideas about where they want their booths to be located.
The enormous scale of the Javits center was not designed to display gallery-scale paintings and sculpture, Fisher says, ultimately he concludes, "our job is to make a canvas and art is the subject. It's the job of the artists and curators to bring [the space] alive."
Would you like to comment on this article? Send your thoughts to: [email protected]