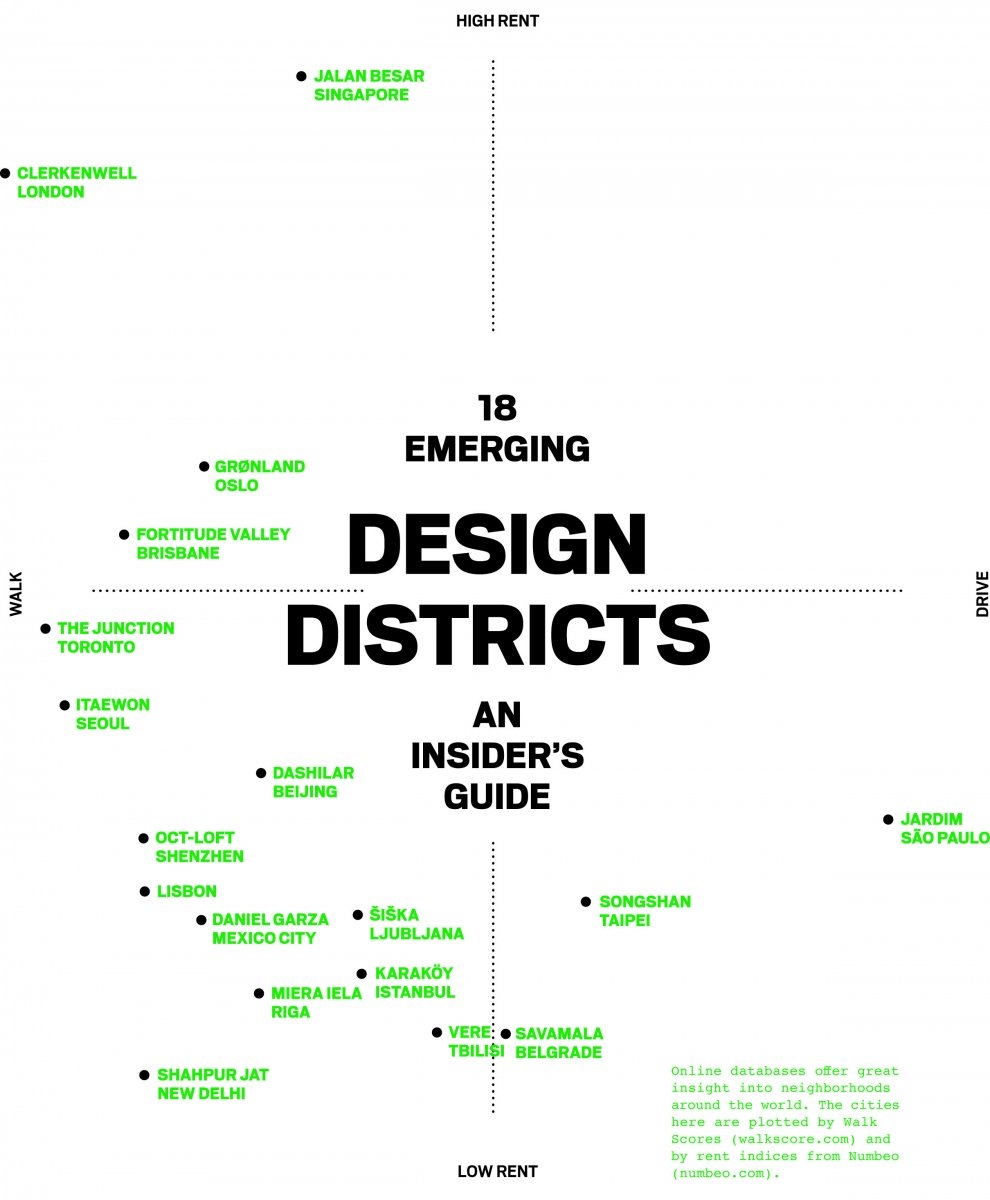 July 22, 2014
The Metropolis Guide to Emerging Design Neighborhoods
An insider's look at 18 up-and-coming design districts from around the world
The design community is an increasingly global one, but that doesn't mean it's uniform. Around the world, creative types foster design culture at a micro level in the neighborhoods they call home. Call them hyper-local hot spots: These are places where, within a few blocks, you can find the best design showrooms or shops, the bookstore that carries architecture monographs, a cluster of independent and artist-run galleries, or maybe a café or bar where the design crowd hangs out. The specifics vary according to the local scene, but these are all destinations where you can discover design where it lives. —Lara Kristin Herndon
| | | |
| --- | --- | --- |
| Jalan Besar, Singapore | Oct-Loft, Shenzhen | Itaewon, Seoul |
| Savamala, Belgrade | Dashilar, Beijing | Songshan, Taipei |
| Grønland, Oslo | Vere, Tbilisi | Shahpur Jat, New Delhi |
| Fortitude Valley, Brisbane | Karaköy, Istanbul | Šiška, Ljubljana |
| | Miera Iela, Riga | Clerkenwell, London |
| | BIP/ZIP, Lisbon | Daniel Garza, Mexico City |
| | Jardim, São Paulo | |
| | The Junction, Toronto | |
---
JALAN BESAR, Singapore
A former industrial neighborhood becomes the heart of a young creative community.
---
Courtesy the General Co
Chye Seng Huat Hardware, now a coffee shop. Upstairs is the General Co., a design store that stocks a carefully curated collection of international design brands and local objects.
Chye Seng Huat Hardware used to be a neighborhood hardware store in Jalan Besar. Today it serves Third Wave coffee. This conversion is symbolic of how rapidly this industrial area has changed. Together with the design-store-cum-craft- workshop space The General Co above the café, the building has become a landmark of Jalan Besar's retooling by Singapore's emerging creative economy.
Just two metro stops east of Singapore's historic center, City Hall, or a 15-minute drive from the picturesque Marina Bay waterfront, Jalan Besar was swampland that developed as the former colonial town expanded in the late nineteenth century. First home to mills, abattoirs, and brick kilns, the area evolved in the twentieth century with an industrial community that built rows of Art Deco shop houses still standing today. Many have now been creatively repurposed.
Since Chye Seng Huat (which means "to flourish") opened two summers ago, the neighborhood has percolated with a slew of cafés and creative outfits. Affordable rents at the city's edge are the draw, but so is the history, culture, and grit. New establishments are nestled amid traditional kopitiams (coffee shops) and workshops left over from Singapore's yesteryear. At night, the neighborhood features a lively mix of supper spots and dodgy karaoke bars—Little India's 24-hour Mustafa Centre shopping mall is just a short walk away.
Flanked by the four-lane Jalan Besar (Malay for "big road") and Rochor River, this neighborhood is a kind of drip-coffee cone, filtering a creative brew into Singapore's commercial and cultural center. Will it last? By the end of the year, Lavender Food Square Centre, Jalan Besar's iconic late-night food emporium since the 1980s, will make way for a commercial development that real estate agents are already promoting as "hip." —Justin Zhuang 
Neighborhood Picks
The Somewhere Else offices
Courtesy Somewhere Else
Somewhere Else
After leaving Singapore's leading creative agency, Asylum, Yong has built his own name with branding work for fashion clients like misomber Nuan and magazine distributor Allscript.
The Actually+ Store by Tripple
Courtesy Tripple
Tripple
In just two years, Bjorn Yeo's studio has snagged major projects including branding last year's National Day parade—an annual celebration of Singapore's independence.
Garage Interactive
Fresh from NYC's design and technology studio Firstborn, Edwin Toh's new digital outfit has already won accolades for its work on LUXASIA and Unlisted collection.
---
SAVAMALA, Belgrade
The neighborhood plays host to a vibrant group of designers determined to remake the image of Serbia.
---
The Nova Iskra coworking space, designed by Petokraka
Courtesy Relja Ivanić
Until recently, Serbian architects and designers were well aware that their capital wasn't widely known for its creative class. "You probably know the word 'Balkan' for negative connotations—we want to turn it into something promising," says Belgrade-based designer Maja Lalić, who studied architecture at Columbia University before moving home to develop the city's cultural infrastructure. Her efforts are starting to pay off—Belgrade's riverfront Savamala neighborhood is transforming into a design destination, thanks in part to Lalić's vision as founder of the Mikser Festival.
Since 2009, the annual event has taken over Savamala with five days of design tutorials, exhibitions, and neighborhood tours, which feature the area's historic Art Nouveau facades, Communist-era printing presses, and the recent arrivals: gourmet restaurants, bicycle shops, and popular nightclubs. Last year, Lalić also established the Mikser House design center as a year-round platform for expanding the festival's cultural and commercial endeavors. The Balkan Design Store, for instance, sells the work of post-Yugoslav designers. The Nova Iskra design incubator opened nearby in 2012 with rentable workstations and equipment for local designers and entrepreneurs; young talents, like New York–based Ana Kraš, are emerging from the communal work spaces with minimal, functionalist furniture.
Mikser began as a grassroots response to the city's largest and longest-running architecture festival, Belgrade Design Week. Now in its ninth year, that event focuses on internationally renowned designers—Rem Koolhaas, Daniel Libeskind, Karim Rashid, and Patrik Schumacher have all presented as part of founder Jovan Jelovac's mission to "get them to teach Serbia and the region, network with the best local creatives whom we present to them in return, and forge connections and, hopefully, even collaborations." —Anna Kats
Local Talent
Rade Kosanovic
The product designer showed at this year's International Contemporary Furniture Fair.
Vladimir Paripovic
The architect and designer also works in Barcelona and Istanbul.
Ana Kraš
The 30-year-old Belgrade-born furniture designer now lives in New York city.
Neighborhood Picks
Porcelain cups from Gallery 1250
Courtesy Gallery 1250/Lumina Images
Gallery 1250
A porcelain and handmade ceramics gallery and shop
Kako.Ko Design Studio
Furniture designer Vesna Pejovic joined forces with Jelena Milojevic in 2007.
The Off Guide event
Courtesy Sasa Arsi
Dis-Patch
This collective conducted a co-working event called Off Guide at the 2012 Mikser Festival in Savamala.
---
GRØNLAND, Oslo
The district is beginning to supplant Grünerløkka as a new center for design.
---
Exterior of the gallery 0047
Courtesy 0047
With a strong economy, low unemployment, and a healthy social safety net, Norway ranks high on the quality-of-life scale. For creative professionals, its appeal is even more substantial. Besides its solid legacy as the source of many great names in Scandinavian design, the coastal nation is home to an egalitarian society where access to culture is considered a basic human right.
It's more than just a nice idea; when it comes to supporting culture, the Norwegian government puts its money where its mouth is. Enriched by profits from the petroleum industry, the state provides subsidies for artists and funding for cultural programs at a level most other countries can only envy. One government program, begun in 2004, dedicates one percent of the budget to cultural spending, and was recently renewed with an added emphasis on architecture and the visual arts.
Throw in a thriving music scene and a redeveloped waterfront, and the capital city of Oslo is an inevitable destination for young, creative types; indeed, several neighborhoods can be said to compete for the title of emerging design quarter. Grønland, situated in Oslo's Old Town, has begun to eclipse recent favorite Grünerløkka.
Grønland is home to a range of artist-run gallery spaces, all within walking distance of each other in an area that, as a former immigrant neighborhood, is a melting pot of cultures and nationalities. Yet the sense of national identity is still strong. The area is home to the Norwegian National Opera and Ballet, a beloved landmark—designed by Oslo-based firm Snøhetta—featuring a dramatic ski-slope roof that doubles as a public plaza. It's the perfect embodiment of a populist ideal, a cultural icon that truly belongs to the people. —LKH
Local Talent
Courtesy Noplace
Noplace
This independent contemporary art gallery has a focus on the avant-garde.
Tett, Ikke Trangt, a cartoon about cohousing by Eriken Skaaja Arkitekter
Courtesy Eriken Skaaja Arkitekter
Eriksen Skaaja Arkitekter
In 2008, Arild Eriksen and Joakim Skaaja founded their firm to work on housing, urbanism, and research.
Vivii
Housed within the grønland menighetshus, a congregation hall designed by Ove Laurentius Ekman in 1913, Vivii was founded by former New Yorker Esperanza Rosales and features an international mix of art and film.
Neighborhood Picks
Courtesy Anna Tsitsishvili
The Norwegian National Opera and Ballet
Designed by Snøhetta, the building's sloping roof doubles as a public space.
Operaen.no 0047
This architecture-focused gallery styles itself as "an independent platform for research, debate, production, and exhibition in the fields of art, architecture, and urbanism."
---
FORTITUDE VALLEY/NEWSTEAD, Brisbane
Once full of warehouses, the two neighborhoods now form the teeming hub of an emerging creative scene.
---
Chester Street Residence by Alexander lotersztain
Courtesy Florian Groehn
The past five years have seen the Australian city of Brisbane emerge from the shadows of Sydney and Melbourne to develop its own design culture, fueled by the laid-back lifestyle that comes with subtropical living—and the freedom of being a young city with no reputation to live up to. This burgeoning creative scene takes its home in an area of two adjacent inner-city neighborhoods: Fortitude Valley and Newstead. Formerly an untoward, industrial area, this pair of neighborhoods still retains many warehouses, which are now home to several studios, as well as the designers themselves, who flock to the converted loft apartments.
The result is a tight-knit community that not only collaborates professionally, but can also be seen reveling in the neighborhoods' restaurants, bars, cafés, and craft breweries (many of which they've designed themselves). Among these is the master-planned urban community Gasworks, which opened last August and is built with the original Gasometer Frame (constructed in the 1860s and having long stood neglected) at its heart.
The design scene in Brisbane—Australia's third most populous city—is increasingly earning international recognition. Every few years, Fortitude Valley hosts Brisbane Indesign, when studios and showrooms open their doors to celebrate the city's thriving design community. On the international stage, three of the city's young designers—Jason Bird, Alexander Lotersztain, and Björn Rust, who together are known as Quench collective—recently exhibited their works at WantedDesign in New York.
Brisbane's Gallery of Modern Art also has been a driving force for the design scene. Much to the frustration of other Australian cities, it has secured several exclusive exhibitions—including Andy Warhol and Valentino retrospectives, as well as last year's California Design 1930–1965: Living in a Modern Way, featuring works by Charles and Ray Eames, Henry Dreyfuss, Dorothy Wright Liebes, and Raymond Loewy. —Mikki Brammer
Local Talent
Custom lights from Luxxbox
Courtesy Luxxbox
Jason Bird
Through his studio Luxxbox, Bird creates furniture, lighting, and objects, and also has an outpost in Northern California.
Stools from Derlot
Courtesy Derlot
Alexander Lotersztain
In the past ten years, the Argentina-born lotersztain has invigorated the city's scene, designing the Limes Hotel and other epicurean venues, in addition to his brand, Derlot.
Ingrid Richards and Adrian Spence
These partners in life and work branched out with their own practice eight years ago and have helped shape the face of Fortitude Valley.
Neighborhood Picks
Limes Hotel
When hotelier Damian Griffiths built the 21-room hotel in Fortitude Valley—Australia's first Design Hotels property—in 2008, it heralded a new era for the neighborhood.
---
OCT-LOFT, Shenzhen
Planned as a special economic zone, the center anchors a community of more than 6,000 firms.
---
The 2014 OCT-LOFT Creative Festival
Courtesy OCT-LOFT
Designated as a special economic zone in 1979, Shenzhen has developed into a major hub for the design industry in southern China. By some estimates, more than 6,000 design firms now call the city home. Like Lower Manhattan, Shenzhen is a dense financial center whose population swells during the week with commuters who live elsewhere. A young demographic and two local universities (Shenzhen University and Shenzhen Polytechnic) make for a diverse and multicultural environment where experimentation is encouraged and global design culture thrives.
In 2005, a group of buildings—located on a former industrial site—was designated as a cultural complex, to be overseen by Shenzhen's state-owned He Xiangning Art Museum. Named the OCT-LOFT Creative Culture Park (OCT stands for Overseas Chinese Town, the theme-park-heavy tourism zone where it's based), the project was intended to attract artists and designers with a mix of studios, galleries, shops, and restaurants, combined with exhibitions, concerts, and events. And it's worked. OCT-LOFT is now home to a vibrant cultural scene where visitors can view local and international art and design, hear live music, and enjoy workshops and studio tours.—Lara Kristin Herndon
Neighborhood Picks
Old Heaven Books
A book and record store, café, and event space owned by Teng Fei, a key figure in Shenzhen's indie music and cultural scene
OCAT
The OCT Contemporary Art Terminal is an outpost of the He Xiangning Art Museum.
Urbanus Architecture & Design
Run by Xiaodu Lu, Yan Meng, and Hui Wang, Urbanus is an influential architecture practice and think tank.
---
Historically a retail district in the Old City, the area is now home to studios, galleries, and craft shops.
---
Micro-Hutong by standardarchitecture
Courtesy standardarchitecture
Beijing has been the site of some kind of human settlement since the dawn of mankind. With its mix of ancient and modern, the city has plenty of challenges that design-minded types love to tackle. But efforts to establish a global design community in the city are a more recent development. Beginning in earnest with the establishment of Beijing Design Week (BJDW) in 2011, architects and designers have noted with interest the opportunities the city presents for solving modern problems like rapid urbanization, shared roadways, and sustainable living. The eight-day BJDW, held September 26 through October 3, now draws creative professionals to China's capital city in increasing numbers.
Dashilar, a zone of streets and shops within the old city, has benefited from the influx of creative culture. Once a bustling retail district with a long history as one of Beijing's major commercial zones, the area had fallen on hard times during the nineties and the early years of the new millennium. Dashilar now finds itself the epicenter of the reemerging design culture. Look no further than Yangmeizhu Street, where a number of design studios and craft shops have opened in recent years. —LKH
Neighborhood Picks
Ubi Gallery
This gallery displays and sells creative jewelry and contemporary ceramics by local artisans.
Book Design Shop
This Yangmeizhu Street design-centric bookstore doubles as an exhibition space.
Micro-Hutong
One of the pilot projects in BJDW 2013, this experiment in hyper-compact living- space design is currently a public event space, designed by architect Zhang Ke of standardarchitecture.
---
The district is an epicenter for makers inspired by both Europe and Asia.
---
Invisible tables by ROOMS
Courtesy Anna Tsitsishvili
In Tbilisi, a new generation of designers looks to the city's historic admixture of Occidental and Oriental influences to redefine Georgian design. "There is almost too much visual information to take in," says designer Tamar Tsintsadze of minimalist furniture company Baum. "We liberate our furniture from both Europe and Asia, without losing our cultural distinctiveness."
Others embrace the city's eclectic fabric. "Our design, like Tbilisi, is a mix of Asian and European cultures," explains Nata Janberidze, one half of design studio ROOMS. Impressed by Janberidze and partner Keti Toloraia at Salone Satellite in 2010, Marcel Wanders began manufacturing the wooden Position floor lamp, a play on the ubiquitous metal Tolomeo desk lamp. After residential and commercial projects across the Georgian capital, the duo is designing its biggest Tbilisi space yet: the Rooms Design Hotel in the central Vere neighborhood. In Vere's nearby Rose Revolution Square, architect Ketuna Kruashvili of NOAStudio is building an ethnographic museum-restaurant on similar principles. "It's very important to respect your history and traditions without imitating them," she says. —Anna Kats
Local Talent
ROOMS
Furniture designers Keti Toloraia and Nati Janberidze exhibited at the 2014 Milan Furniture Fair.
Baum
Led by furniture designer Tamar Tsintsadze, Baum is a partnership of artistic women who create innovative and affordable home furnishings.
NOAStudio
This multidisciplinary firm also operates out of Porto, Portugal, and is led by Ketuna Kruashvili, Mika Kruashvili, and Cesar Ribeiro.
---
On the Bosphorus, the neighborhood combines urban chaos with an emerging design culture.
---
Apartment by Sema Topaloğlu
Courtesy Sisters Agency
Like the overlapping calls to prayer that weave the city into a single fabric five times a day, the layers and contradictions that are Istanbul both vex and enrich each other. The waterfront district of Karaköy embodies the city's penchant for chaos, reconciliation, and creativity—and in recent years, has begun to draw artists and designers in droves. Once the city's ancient commercial quarter, Karaköy has long been a bustling crossroads. Since the country's first private modern and contemporary art museum opened there in 2004, its narrow streets are no longer just home to auto- repair and parts shops, simit bakeries, and kahvehanes (men's coffeehouses). You'll now also find galleries, such as Egeran (with its undulating glass facade), boutique hotels, colorfully tiled eateries like Karabatak and Karaköy Lokantasi, wildly expensive "junk" shops, a Brooklyn-style flea market called Souq Karaköy, and even a motorcycle garage that turns into a meyhane (tavern) late at night. —Shonquis Moreno
Neighborhood Picks
Sema Topaloğlu
Topaloğlu's craft-focused workshop creates interiors, architecture, and furniture.
Selda Okutan
The most contemporary jewelry shop in the city sells work by Okutan, as well as emerging talents like Arman Suciyan and Burcu Büyükünal.
333 km
This furniture and product design showroom has a wood workshop in the back.
---
MIERA IELA, Riga
This "Peace Street" serves as the unofficial home to Latvia's Young Talents.
---
Exhibit at Tabakas Fabrika
Courtesy Vents Aboltins
Situated at the mouth of the Duagava River on the Baltic Sea, this port city has a long multicultural history, with its sheltered natural harbor making it a trade hub since Viking times. More recently, Latvia changed hands several times (from German to Polish to Swedish to Soviet control) before declaring independence in 1990. This diverse history makes itself felt in Riga's architecture, with Art Nouveau buildings rubbing shoulders with ancient stonework and modern structures, and several blocks of well- preserved nineteenth-century wooden architecture still standing in the center of town.
Throw in decent rail connections and an international airport, and Riga draws creative types from all over the Baltic States. Events like the Blank Canvas Street Art Festival and Riga Fashion Week—which celebrated its 20th season last April—bring a global mix of artists, designers, architects, and urban planners.
With Latvia's admission to the Eurozone in January 2014, and a recent EU forecast predicting its GDP growth as the highest in the union, things are heating up. Riga is this year's European Capital of Culture. "Latvian design has developed greatly in the last couple of years," says Daina Ruduša, project coordinator for the Latvian Institute. Miera Iela, or "Peace Street" in Latvian, is the epicenter. "It is a creative quarter, run largely by young artists and entrepreneurs," Ruduša says. —LKH
Neighborhood Picks
Tabakas Fabrika
The 118,000-square-foot former tobacco factory is now a multidisciplinary arts space.
Buteljons
A workshop that sells glasses, bowls, and mugs made from upcycled wine and beer bottles; guests can bring in their own glass to have it transformed.
m50
This store has handmade clothing, design, and craft items with a nod to traditional Latvian techniques.
Tasha
A source for handmade wool sweaters, bags, and pillows with a Bohemian flair
---
An innovative neighborhood-funding initiative has helped spread the gospel of design.
---
Courtesy A Vida Portuguesa
Shortly after its introduction in 2010, the city of Lisbon's BIP/ZIP program became a lifeline for architects and designers faced with Portugal's austerity-led recession. BIP/ZIP, which stands for Neighborhoods and Areas of Priority Intervention, aims to provide dozens of urban sore spots with social (and often design) solutions, while promoting long-term involvement and investment. As each project needs at least two stakeholders to apply for city funding, NGOs, foundations, universities, parishes, and boroughs must work together on proposals to improve public space, services, or intergenerational integration. Last year, 49 proposals out of 108—everything from boat-building workshops for teenagers to town square designs and "made in the 'hood" product lines—received about two million euros in public funds. Why focus on a single neighborhood when opportunities for design are everywhere? —Frederico Duarte
Neighborhood(s) Picks
AtelierMob
Andreia Salavessa and Tiago Mota Saraiva run a cross-disciplinary platform for the development of ideas, research, and design.
Arquivo 237
The leading contemporary art and design gallery was founded by João Abreu Valente, a graduate of the Design Academy.
A Vida Portuguesa
This store has products typical of the old Portuguese way of life.
---
The upscale district is a magnet for design connoisseurs.
---

Exterior of Decameron Design
Courtesy Pedro Vannucchi
Brazil is in the midst of a design boom. Rich in natural resources and fueled by Italian, Japanese, and German cultural influences in a heady, postcolonial mix, this equatorial nation is blessed with a tropical climate, a recovering economy, and a young population that fuels demand for the work of a talented generation of young Brazilians —architects and designers steeped in the particular brand of warm, luxe, relaxed Modernism for which Brazil is famous.
The vanguard of the design culture is centered in São Paulo—only fitting for a city whose motto translates as "I am not led, I lead." São Paulo boasts the largest economy in the Southern Hemisphere, and the atmosphere is urban. But a recently implemented ban on outdoor advertising has begun to lend the cityscape a slightly more settled appearance. Home to several 2014 World Cup matches as well as a world-famous gay-pride parade, São Paulo is too large and diverse to take in without breaking it down to the human scale.
The district of Jardim is a place to do just that. A constellation of upscale neighborhoods richly veined with consulates and museums giving it a quietly cosmopolitan vibe, this quarter offers an impeccable roster of international design brands. For a strictly design-centric experience, start your walking tour on the Alameda Gabriel Monteiro da Silva, considered the heart of the "design district." —LKH
Neighborhood Picks
Decameron Design
This award-winning furniture retailer presents the work of Brazilian heavy hitters like Marcus Ferreira and Aristeu Pires.
Furniture by Estúdio Cipó and lamp by avaf
Courtesy Galeria Nacional
Galeria Nacional
Founded and curated by Marcelo Maia Tilkian, this store promotes Brazilian design.
---
In 15 short years, the district has reinvented its scruffy and quiet image.
---
Work by M-S-D-S Studio
Courtesy M-S-D-S
In the past five years, a vibrant design and art scene has flourished in the Junction, an impressive fact given the West End Toronto neighborhood's history. Fifteen years ago, it was both scruffy and neglected. The place was dry: A law prohibiting the sale of booze was enacted at the turn of the twentieth century, when the Junction was a raucous railway and meatpacking district called West Toronto, teeming with late-night carousers.
After that rule was overturned in 1998, the sad, vacant storefronts began to fill up with bars, and young creatives snapped up the still-affordable rental units and studio spaces around them. The biggest transformation has occurred along the major intersection of Dundas West and Keele. In 2009, Mjölk set up shop, selling exquisite Japanese and Scandinavian pieces out of a Victorian building revamped by Studio Junction. Meanwhile, Smash and Metropolis Factory offer up ever-popular industrial vintage. The newest of the stylish coffeehouses and eateries include the indie café Full Stop—its walls filled with supergraphics and coat hooks—and The Passenger, a locavore restaurant infused with Art Deco and steampunk. The neighborhood's metamorphosis came full circle with the recent opening of the mid-rise Duke Condos.—Elizabeth Pagliacolo
Local Talent
M-S-D-S Studio
Designers Jonathan Sabine and Jessica Nakanishi recently debuted their terra-cotta planters for Umbra.
Interior by Mason Studio
Courtesy Peter A. Sellar/Photoklik
Fugitive Glue
Jano Badovinac's products merge industrial heft with high design.
Mason Studio
Ashley Rumsey and Stanley Sun designed the Duke condos show suite.
Kafé Nordic
Courtesy Nordic Bros Design Community
ITAEWON, Seoul
Once a hot spot for American GIs and the city's red-light district, Itaewon has gentrified in recent years while managing to keep its core identity intact. The neighborhood's gritty history and relative affordability are attractive to designers, such as local studio Millimeter Milligram, and design shops, like the new Kafé Nordic lounge and the fashion house Comme des Garçons.
Fujin Tree 355
Courtesy Sun C.C.
SONGSHAN, Taipei
Taipei will be the World Design Capital for 2016, and the up-and-coming design hub is the Songshan district, anchored by the SongShan Creative and Cultural Park. The large-scale event and exhibition space is housed in a former tobacco factory dating to 1940, and the area around it has begun to attract design-oriented retail like the multibrand store Fujin Tree 355.
The Wishing Chair Store, designed by HFOA
Courtesy Henri Fanthome/HFOA
SHAHPUR JAT, New DelhI 
Delhi's designers tend to gravitate to the dusty, labyrinthine rural enclaves in the city, carving out studios and cafés amidst traditional sweet shops and cattle sheds in places like Shahpur Jat. Dastkar, one of India's largest organizations dedicated to craft, moved into the area in 1997, sparking a series of showroom openings and bringing in the design crowds.
BiO 50 Biennial of Design
Courtesy Lucijan & Vladimir
ŠIŠKA, Ljubljana
This year, Ljubljana hosts its 24th design biennial. While other parts of the Slovenian capital may garner more attention, the northern district of Šiška is rapidly becoming one of the city's trendiest neighborhoods. This is in large part due to the Kino Šiška, Ljubljana's five-year-old center for "urban culture," which hosts music and cultural festivals as well as design workshops.
Courtesy Sophie Mutevelian
CLERKENWELL, London
Said to be home to more creative businesses and architects per square mile than anywhere else in the world, this neighborhood has been gentrifying since the 1980s and now hosts a popular design festival. The fifth edition, held last May, included showroom events, installations, and workshops hosted by local architects and studios such as Paul Archer Design and four23.
The Archivo Diseño y Arquitectura
Courtesy Rafael Gamo for Archivo Diseño y Arquitectura
COLONIA AMPLIACION DANIEL GARZA, Mexico City
Home to both the Casa Luis Barragán as well as the architect's first work, this neighborhood has been undergoing a transformation as a cultural corridor focused on design. In 2012, architect Fernando Romero and his wife, Soumaya Slim, opened the Archivo Diseño y Arquitectura, a repository of historic objects and documents as well as a lively platform for events.