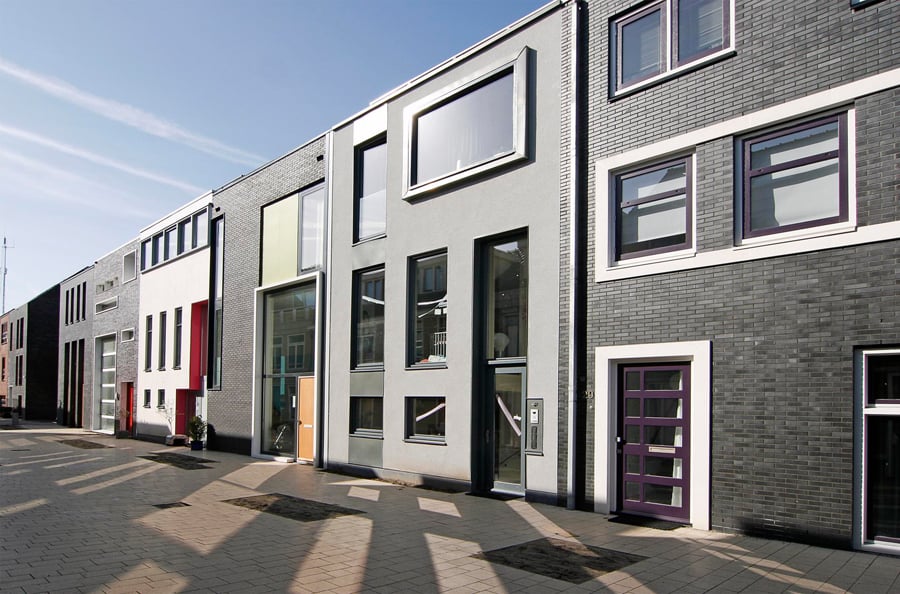 June 24, 2020
The Pandemic and Protests Have Highlighted Just How Unequal Our Cities Are
With a new urban crisis surfacing, designers from around the world propose radical changes to transportation, cooperative living, and public space.
Six-feet markers, "essential travel only," signs mandating the wearing of face masks, "closed until further notice"—our cities have acquired a new language in the fight against the spread of the novel coronavirus. If cities were long on the defensive with disease, that dynamic became even clearer, when the National Guard—excluding the thousands of police officers who are so heavily armed they may as well also be—were deployed to pacify the recent proliferation of protests against police brutality.
Civil unrest and disease are not new; cities have dealt with them before. But the reaction to protests and the pandemic is indicative of what cities' priorities are: control is more important than public health. Millions of dollars are readily spent on the police and military, yet when it comes to a pandemic, appropriate life-saving PPE provisions seem hard to come by.
This disparity has been highlighted by those calling to defund the police, and its ramifications for how people live in cities have become a flashpoint sharpened by the pandemic. In light of the lack of funds in other areas, cities have been forced to choose the most economical option when it comes to safeguarding citizens. As a result, public spaces (mostly parks) have seen benches and seating areas cordoned off, while other public areas have simply shuttered, as opposed to grappling with how they may be adapted to make inclusive, accessible, and safe environments for all.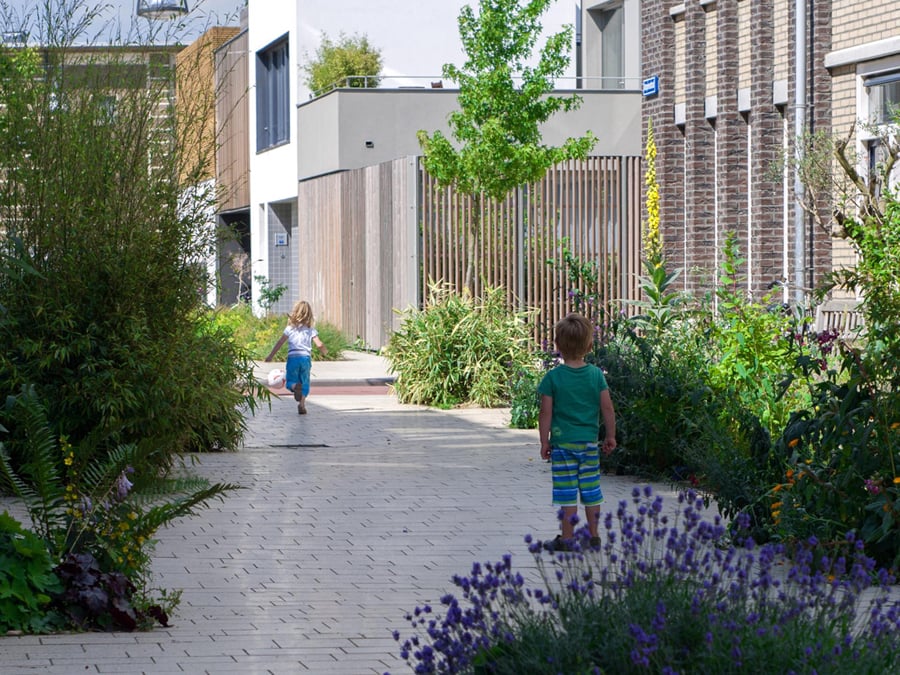 The not-so-great outdoors
The move to close such spaces is a particularly vicious move for the elderly or disabled, who rely on occasional rests while going for a walk. Furthermore, these actions (and inactions) protect the wealthiest and harm the poorest: Wealthier citizens have access to outdoor space through personal gardens, and data shows that the wealthiest have fled the city altogether, making the great outdoors a luxury the poor increasingly cannot afford.
One saving grace has been the public park, a place where many have taken to socialize and get some fresh air. The popularity of parks right now may be alarming for health officials, but the solution should not be to close them, but better facilitate social distancing, as can be seen with the social circles painted onto the grass in Brooklyn's Domino Park.
Working from home is also a point of divergence in the reconfigured city; indeed, it is an option vast swathes of the population have adopted, often after being required to do so. But unless one can afford a studio or home office, working at the kitchen table will have to suffice. This has opened up a slew of remote working possibilities.
Frances Holliss is director of the Workhome Project, a London-based research and advocacy group that provides designers with resources to create spaces that facilitate home-based labor. "Working from home gives people more control over their lives," she told Metropolis, "but it is a skill, and you have to develop it. Ignore the spaces, it's about discipline: It's not checking your phone in bed, for example; the mobile phone blurs the boundary between home and work for everybody." This is particularly true in the United Kingdom, where Britons spend more time looking at screens than sleeping and 80 percent of smartphone users check their devices within 15 minutes of waking up.
"The U.K. has some of the smallest space standards in Europe—and that creates a very tight fit," said Holliss, adding that housing regulation is thin when it comes to home-based work. Moreover, the market dictates that it's more valuable to not allocate space for work when it could be a bedroom. Holliss also noted that student housing regulations are even more lenient, producing harsher consequences in times like these. Imagine having only one room to eat, sleep, and study!
Creating room to adapt
A possible method to improve home life—particularly when we're forced to stay home for prolonged periods of time—is to give residents greater domestic spatial agency, as can be seen in ideas from the Netherlands, the U.K., and Spain.
The Dutch city of Leiden, for example, offers a housing scheme masterplanned by MVDRV that may be better suited to pandemic conditions. Eighty percent of the 360 terraced houses in the urban scheme, dubbed Nieuw Leiden, facilitate home-based work and include either a studio, workshop, or office. "People really wanted to experiment," said Nathalie de Vries, founding partner at MVRDV and partner in charge of the project. "We wanted to prove that there were lots of possibilities. You have no garden, but you can build a rooftop terrace or balconies."
Domestic principles were challenged more rigorously in Home Economics, the British Pavilion at the 2016 Venice Biennale. "Future-proofing our homes means abandoning architecture's reliance on technology or specific pieces of furniture," the pavilion's curators, Shumi Bose, Jack Self, and Finn Williams, postulated.
This approach was employed by Barcelona-based studio MAIO for a project titled "110 Rooms." The 22-dwelling scheme's spatial ambiguity and lack of hierarchy (no "master bedroom" here) lets residents determine how spaces are used. Shared kitchens and outdoor spaces are also integral to the project; and at first glance, such a scheme seems fitting for pandemic, particularly as home cooking surges in popularity.
But Anna Puigjaner, cofounder of MAIO, says the project "doesn't go far enough." Shared spaces may create a community, but in doing so, they detach themselves from the wider community, beyond the development. The Comedor Comunitarios city-backed community kitchens in Mexico City, argues Puigjaner, are a better form of urban infrastructure: They transform the cooking area, once a private domestic space, into an indispensable community asset.
"The pandemic has made us realize how much people relied on these infrastructures," added Puigjaner. "Areas without such infrastructures are now relying on community support and volunteers."
Social divide
The pandemic has also made us acutely aware of the necessity of other domestic infrastructure—chiefly the internet. Once considered a luxury, an internet connection is now a must if one has to work from home. However, for many, working from home isn't an option. Blue-collar labor often requires employees to be physically present. The majority of essential workers—nurses, fire officers, supermarket staff—receive low wages, meaning they have to live outside city centers. As a result, simply getting to work is a health risk.
"If the current pandemic leaves a trace, it will widen the gap between manual and technological labor," urbanist and author Richard Sennett remarked in a recent online lecture. "Denser cities are more energy-efficient, but there is going to be a conflict between the competing demands of public health and the climate."
In light of the pandemic, some have argued that urban sprawl is more conducive to healthy cities with disease less able to spread. This notion isn't new. Tuberculosis had the same impact, which in part contributed to the desire for healthier cities and in turn led to slum clearance, the rise of garden cities, and planning ideals which riffed off of Corbusier's Plan Voisin. Urbanist Jane Jacobs most famously criticized this approach, advocating for cities focused around the pedestrian rather than the automobile. Beyond the fact that 39,888 Americans died from traffic-related deaths in 2018, vehicles pollute cities and can lead to further deaths. With people staying home, fewer cars on the road hasn't reduced traffic deaths either: "Even with the stay-at-home orders still in effect, we're currently at the same amount of [traffic] fatalities that we had at this time last year," the LAPD recently announced.
Using public space, for good and bad
Cities and suburbs organized around the car also create road infrastructure optimized for troops to march down, a planning move borrowed from Georges-Eugène Haussmann, whose wide streets were primed for Napoleon III's troops to be deployed around Paris and pacify and protest. (This idea was almost taken further and to nightmarish levels with Germania, Adolf Hitler and Nazi architect Albert Speer's plan to redevelop large sections of Berlin.)
American cities have also followed Haussmann: Humvees rolled and thousands of troops from the National Guard marched down the streets of Los Angeles, Washington, D.C., Minneapolis, and more in response to the Black Lives Matter protests. Tear gas, rubber bullets, heavily armored vehicles, and police kettling techniques have been used to disperse and control citizens, particularly those who broke local curfews.
Other cities—most notably London—have freed themselves from responsibility altogether, encouraging the rise of privately-owned public spaces where even photography can be banned. (One can imagine that protest might not fare better.)
In some places, roadways have become a sites of opportunity for hospitality businesses, which have been allowed to host socially distant patrons. Vilnius, the capital of Lithuania, was one of the first to adopt this strategy, letting restaurants and bars spill out into roads. Stockholm, Prague, and others have since emulated this approach, subsequently eschewing the car—albeit temporarily.
Getting around the city in a pandemic
But if cars are out of the cards, how will people safely travel around cities? Cycleways—a tried and tested piece of infrastructure—are being rolled out even more in London, Milan, New York, Philadelphia, Bogota, and other cities as cycling numbers explode. (Due to its skyrocketing popularity, there is now a world-wide shortage of bicycles and parts.)
In light of this, London design studio PriestmanGoode has reworked a train seat to increase bike storage, facilitating cycle travel for the first- and last-mile legs of journeys. This has the double benefit of making use of spare space on trains, where commuter numbers have decreased.
However, cities must be sure to distribute such infrastructure equally to avoid further amplifying social divide. In the United States, research shows that wealthier, predominantly white neighborhoods get the best and sometimes the only upgrades to bicycle paths.
A different tactic is also being pursued in London. Skyroom proposes housing key workers on the rooftops of existing developments—where suitable, of course—allowing nurses, for example, to live near hospitals. In doing so, the company rightly highlights the need for cities to provide quality affordable housing for those who are essential to its functions. That's a need that will certainly outlast the pandemic.
And so, as the pandemic has heightened our awareness of the narrowness of the food aisle, it has also heightened awareness of just how unequal our society is. The current urban crisis feels like a crucial opportunity to make the changes that will put humanity in better stead to create a more equal (and climate-resilient, it must not be forgotten) society. And to do so, cities must sacrifice conventional systems of control, opting instead to work with residents toward a better future.
You may also enjoy "Rethinking and Planning for the New Restaurant Experience"
Would you like to comment on this article? Send your thoughts to: [email protected]
---
Register here for Metropolis Webinars
Connect with experts and design leaders on the most important conversations of the day.